So as many of you know, I am a big proponent of real-is-always-better. I also adore breakfast. A few months back, I posted about my discovery of real granola and abandonment of commercially produced dry cereal. But in an attempt to get rid of ingredients I can barely pronounce, I also abandoned instant oatmeal as well. Truthfully, the presence of "instant" in the name is a dead give away that a food has little nutritional value because it must be processed into oblivion to make it instant. But for those of you who do love oatmeal as much as I do, fear not. The real deal doesn't take that long to prepare. You can easily put together all of the popular flavors found in variety packages with even more nutrition because you're using fresh ingredients. And guess what? Yeah, it tastes even better.
When picking oatmeal, you have two options – Rolled Oats (similar to those in the instant packages but less processed) or Steel Cut Oats. Personally, I like the texture of Steel Cut better. That said, I tend to buy more rolled oats because I use them in other dishes, like the granola. Rolled oats are much faster cooking, but if you don't like the texture of traditional oatmeal, give the Steel Cut a shot.
Now to the oatmeals… Your typical instant variety box contains: Plain, Apple Cinnamon, and Maple and Brown Sugar. Your fruit box contains: Blueberries and Cream, Strawberries and Cream, Mixed Berry, Peaches and Cream, and Bananas and Cream. Unfortunately, peaches aren't in season yet, so this post doesn't have Peaches and Cream. That said, I make a mean Peaches and Cream. Perhaps I'll update in a couple months.
Note that for all of these, I was cooking just for me. I typically prepare half a cup of dry rolled oats for these variations. If Mike is eating with me, I double it. Anyway, here we go…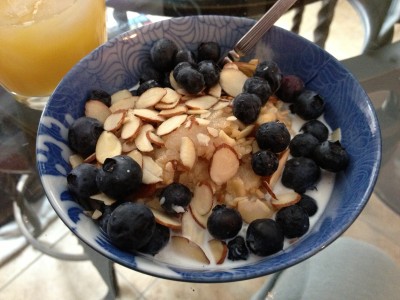 Blueberries & Cream
For probably my favorite hot cereal concoction, prepare your oatmeal. Add in half a cup of fresh blueberries, a handful of sliced almonds, a teaspoon or so of sugar, and a splash of half-n-half. Stir it all up. Lip smacking yummy.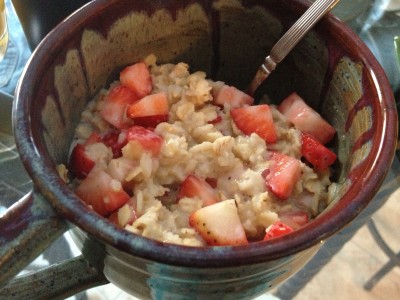 Strawberries & Cream
Prepare your oatmeal. Dice four ripe strawberries. Stir these in with a teaspoon or so of sugar and a splash of half-n-half. I promise you will never want to go back to the powder packet again.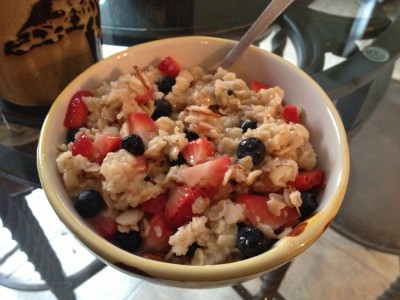 Mixed Berry
Cook your oatmeal. For this one, I used strawberries and blueberries because they are what I had. Raspberries make a fantastic addition if you have them on hand. Dice two ripe strawberries, and add them and a quarter cup of blueberries to your oatmeal. Add a handful of sliced almonds and a tablespoon of honey.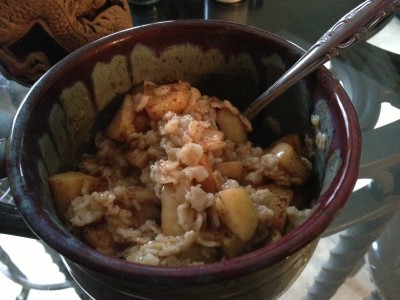 Apple Cinnamon
This one is a little more involved, but it's well worth the effort. Dice a small apple, variety of your choosing. I used a Gala here. Add a tablespoon of butter to a skillet and melt. Add the apples and sprinkle them generously with cinnamon. Cook until they are tender, stirring frequently. Prepare your oatmeal. When apples are finished, add to the oatmeal with a teaspoon of brown sugar and sprinkle again with cinnamon. Stir it up, and eat it up.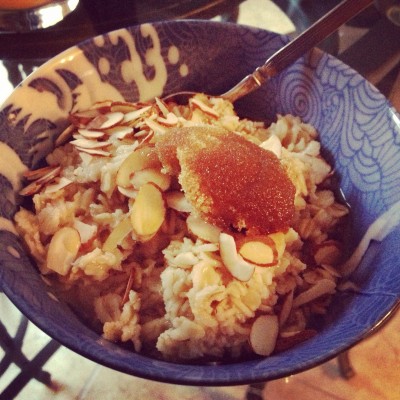 Maple & Brown Sugar
This one's easy peasey. Prepare your oatmeal. When finished, add a handful of almonds and a teaspoon of brown sugar. Drizzle all of it with real maple syrup. Stir it up, and ask yourself why you ever bought the powder packet in the first place.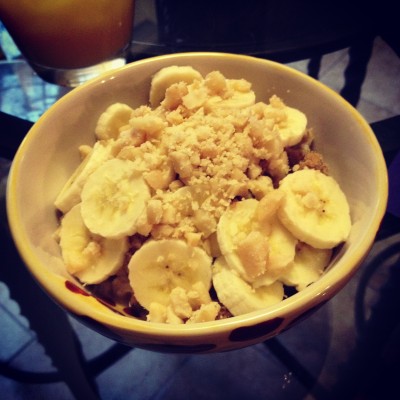 Banana-Mac
Okay, this isn't Bananas and Cream, but let's be honest, everyone avoids eating the Bananas and Cream. However, you won't avoid eating this. I was inspired to this variation after our honeymoon in Hawaii. There, the Banana/Macadamia Nut combination is extremely popular. I had never even considered putting the two together, but when I tried it there, my taste buds exploded. So, prepare your oatmeal. In a mortar and pestle, crack 8-10 macadamia nuts. Slice or dice a small banana. Add the banana, macadamia nuts, and a teaspoon of brown sugar or honey. Now, that said, if your banana is very ripe, you won't even need the extra sweetener. So bear that in mind. Stir it up. This goes best with coffee and an orange juice. Actually, it would probably go best with that POG juice I got in Hawaii, but I can't seem to find it here in North Carolina.
I know that instant is convenient, and I know that we are all pressed for time. But in reality, rolled oats take at most seven minutes to cook on the stovetop. It's really not that significant of a time commitment. Doing it this way is worlds healthier for you, and the flavors….oh, the flavors.