Ask my mother; I have been a lover of cereal since I was a tyke. It didn't matter if the pantry contained a box of Cinnamon Toast Crunch, Fruit Loops, Life, or Cracklin' Oat Bran. I downed both kid and adult cereals without discrimination, and when I grew into a freshman enrolled in a college with an awful cafeteria, I even lived off the stuff for months until I changed schools.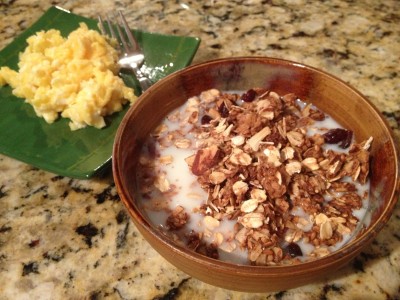 Unfortunately, my love of cereal became tainted later in life when I began to actually read the ingredients. Filled with chemicals, some to preserve, some to color, and some to add "nutritional value", I became very skeptical of how beneficial my cereals really were. Were they helping me or hurting me? While I never definitively answered that question, I decided nearly five years ago that if I couldn't pronounce the ingredients on English labels I probably shouldn't be eating them. So I stopped. That simple. Call me old fashioned, but human beings have survived millions of years eating grains, fats, plants, eggs, dairy, and meat. I think I'll stick to those and avoid the Red 40.
So after I just stopped buying processed food and started making my own (like folks used to do), I embarked on a mission to make cereal. Granola was the best candidate. It requires little to no processing and incorporates whole grains (a.k.a. cereals), nuts, and fruits. I like all of that. After a lot of researching and even more testing and tweaking, I crafted what is now my favorite cereal of all time.
Here's what you need: rolled oats, sliced almonds, flax seeds, quinoa (optional), cinnamon, butter and/or coconut oil, brown sugar, honey, almond extract, and whatever dried fruit you want to mix in. Cranberries are good complement to the almond in this version. I use banana chips in the variation I've included at the end.
Here's what you do: Preheat the oven to 350 degrees Fahrenheit.
In a large mixing bowl, combine 2 1/4 cups of rolled oats, 1/2 cup of sliced almonds, and 1/4 cup of flax seed. If you are including the quinoa, use 1/4 cup and 2 cups of rolled oats. Basically, you want your grain/nut mix to be 3 cups. Add one teaspoon of cinnamon, and mix it thoroughly with a fork.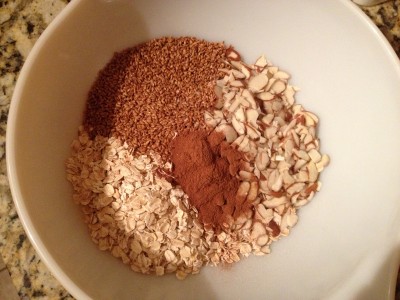 In a small saucepan, melt 3 tablespoons of fat on low temperature. My favorite combination is 2 tablespoons of butter and one tablespoon of coconut oil. You can of course use all butter or all coconut oil.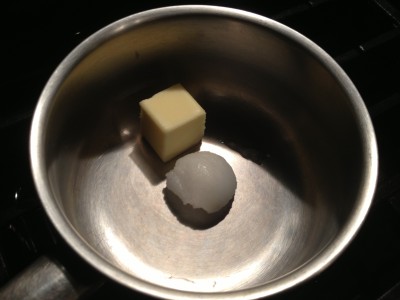 That said, remember that coconut oil melts much differently than butter, moving from the solid to liquid stage in a significantly smaller degree span. It will be liquid before it is actually hot enough to melt the brown sugar, so cooking the caramel will take longer. Just be patient. Once the fats are liquefied, add 1/3 cup of brown sugar. Stir this continuously even though it's on low. You don't want to burn it. After a couple minutes, add 2-3 tablespoons of honey and keep stirring.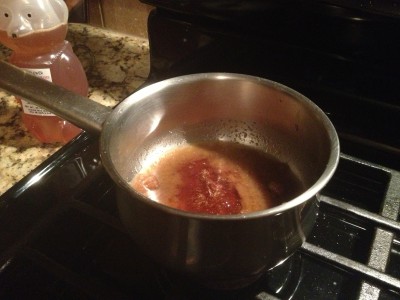 After another minute, add one teaspoon of almond extract. Beware. The alcohol in it will bubble excitedly. Don't let it scare you. It won't catch fire unless your caramel is too hot. Continue to cook and stir the caramel until the sugar crystals begin to disappear.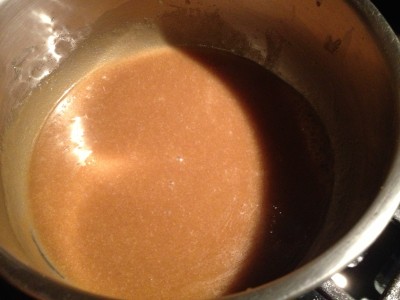 Pour the caramel over the grain/nut mixture and stir until this liquid is incorporated.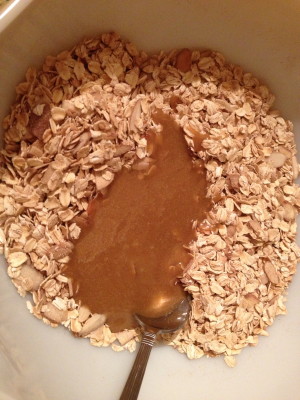 The result should be chunky and shouldn't have much dry grain. If you see a good bit in the bottom of the bowl, keep stirring to break up more clumps.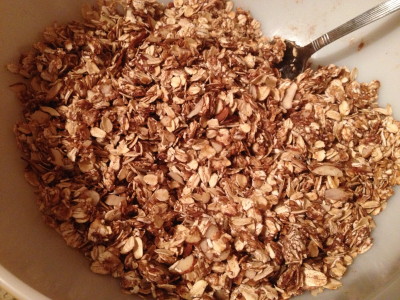 Pour the granola (I think we can all it that now) into a greased baking pan and pop it in the oven. Set the timer. While you'll bake it for 30 minutes, you do need to stir the granola every 10 minutes to be sure it browns evenly and doesn't scorch. Once finished, allow it to cool completely before messing with it.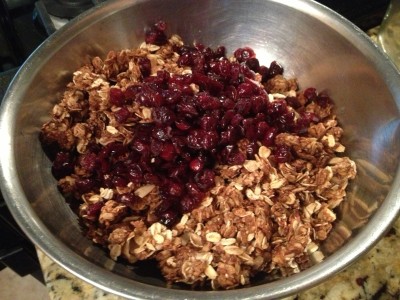 After the granola is cooled, you'll find that it's hard. This is a good thing! Great cereals are crunchy. Break up the granola so the pieces are your desired size, mix in a cup of dried cranberries (or whatever fruit you choose) and store in an airtight container…but not before you make yourself a bowl.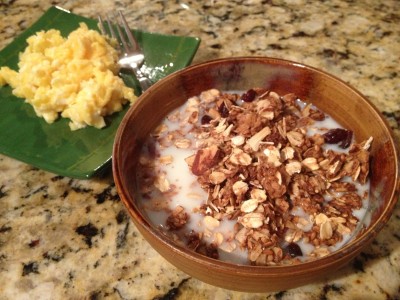 That's it. It is literally that easy to make a tasty cereal, including only ingredients you can pronounce. Thank goodness!
Thank Goodness Granola
2-2 1/4 c. rolled oats
3 tbsp butter and/or coconut oil
1/2 c. sliced almonds
1/3 c. brown sugar
1/4 c. flax seeds
2-3 tbsp honey
1/4 c. quinoa (optional)
1 tsp almond extract
1 c. dried cranberries
In a large mixing bowl, combine oats, almonds, flax seeds, quinoa (opt), and cinnamon. Be sure the grain/nut mixture adds up to 3 cups. Melt fats on low in a small saucepan. Once liquefied, add brown sugar and stir continuously. In 2-3 minutes, add honey. In one more minute, add almond extract. Cook until the sugar crystals begin to disappear. Combine caramel with the grain mixture, and mix well – until there is little/no dry grain. Bake in a 350 degree F oven for 30 minutes, stirring every 10 minutes. Cool completely. Break up cooked granola, and mix in dried cranberries. Store in an airtight container.
The HannaH Banana Variation: Substitute chopped pecans for the almonds, vanilla extract for the almond extract, and banana chips for the cranberries. Prep as you would the original version. It's always best if the pecans are off Grandpa's trees 🙂