So I have already told you about my Saudi tutors at UNCC and how they introduced me to some wonderful food. Right before Ghamid Fadel left to go back home, he told me that he wanted to prepare a meal for me, my supervisor Ms. Kathy, and the others who were working that day. The whole office was buzzing all morning, and when Ghamid finally arrived, we were greeted by the most amazing smell that I couldn't identify.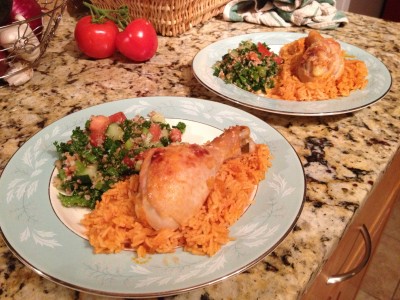 Ghamid had made Kabsa, and he was gracious enough to give me his recipe. I am forever grateful because it is one of my and Mike's favorites, and when I made it for my family, they raved about it. Kabsa is actually a spice mix, and it can be used on a variety of meats. However, Ghamid used chicken, and I continue to use it. (One day, when I'm feeling super adventurous, I'll try it on lamb.) I have done a little searching for what spices are actually in the mix, but I have found little that actually agrees. So while I know ginger, cardamom, and peppercorns are a big part, I don't really know what's in it. As a result, I've been unable to make my own, but some day, I will hopefully decipher it.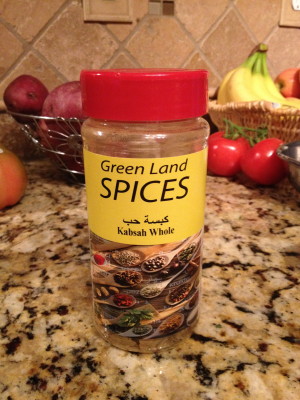 In the meantime, whole Kabsa spice is available at any Middle Eastern market. In Charlotte, we have several. Mike and I go to Halal International. Not only can I get Whole Kabsa, the meat there is outstanding. You can get ground lamb, which is actually very hard to find in a regular Charlotte grocery.
So get ready to make my favorite chicken dish. I hope it becomes one of yours. There are several steps, and it takes some time. But trust me, it's worth it.
Here's what you need: Chicken (I like to use Cornish Hens actually, but this time a pack of five legs was $3.50), a medium onion, olive oil, tomato paste, sea salt, whole Kabsa spice, and Basmati rice.
Here's what you do:
Chop your onion. I do a fine chop.
Heat olive oil in a large saucepan. You want enough oil to coat the bottom of the pan. Cook the onions until they are golden brown.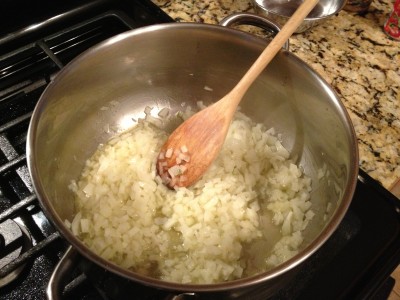 Turn the stove to low. Add one can of tomato paste and +/- a tablespoon of Kabsa spice. Kabsa spice is powerful. I typically use a little more than a tablespoon, but if you're starting out, I'd start with less and add more if you taste and want it to have a little more kick. Stir it up, and cook five minutes. Stir it frequently. You really don't want it to stick.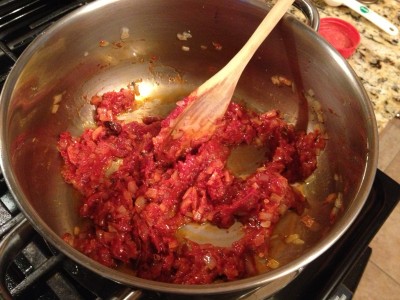 In another large saucepan, boil a lot of water.
Add your chicken and a little water (no more than ½ cup). Roll the chicken piece around to get them well covered. Cook for 5 minutes, stirring frequently. You really don't want it to stick here either.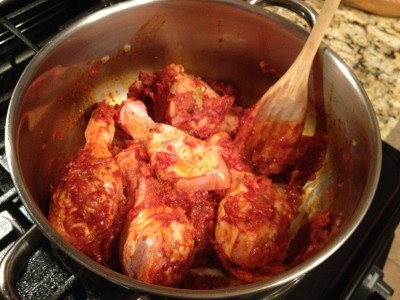 Pour the boiling water over the chicken, and be sure that the water covers all of it. You probably want to turn up the heat a little at this point. Cook the chicken for 10-15 minutes. Add salt to taste.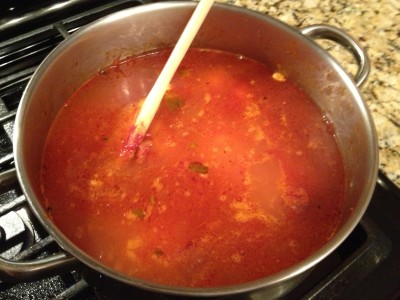 Preheat your oven to 400.
Place some basmati rice in a large saucepan. (I usually use the one I boiled the water in.)  And add soup from your chicken pot instead of water. Remember that you want a 1:2 ratio of rice:water. Cover the rice, turn the burner to low, and cook 15 minutes or until all of the liquid is absorbed.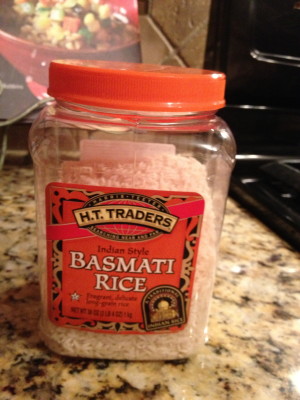 Move the chicken pieces into a casserole dish and pour a cup or two of the soup over the chicken. You want the liquid to come about half way up the pieces. Sprinkle with sea salt. Place the chicken in the oven and cook until brown. I usually leave it in until the rice is done. Chances are you will need to turn the boiler on for the last few minutes to get a nice golden brown skin.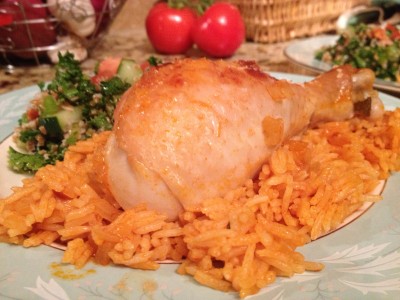 Now that the rice is done and the chicken is brown, plate it up. I suggest Taboule on the side. Talk about making your taste buds dance. The flavors in this dish were unlike any I had ever tasted until that fateful day Ghamid brought Ms. Kathy and I lunch. I still thank him, and I hope you love it enough to thank him too.
Kabsa
| | |
| --- | --- |
| 1 medium onion, chopped | +/- 1 tbsp Whole Kabsa spice |
| Olive oil | Chicken pieces |
| 1 can of tomato paste | Basmati rice |
| Sea salt | |
In a large saucepan, heat enough olive oil to cover the bottom of the pan. Add onion and cook until golden brown. Turn the burner to low. Add tomato paste and the Whole Kabsa spice. Cook 5 minutes, stirring frequently. Add the chicken pieces and a little water. Cook for 5 minutes, stirring frequently. Boil water in a large saucepan. Pour the boiling water over the chicken until it is fully covered. Turn the heat up so the chicken simmers. Cook for 10-15 minutes. Preheat the oven to 400. Move the chicken to a casserole and add some of the soup so that the liquid comes about half way up the chicken pieces. Sprinkle with sea salt. Transfer to the oven. Cook rice in the soup mixture for 15 minutes. If need be, turn the broiler on for the last couple minutes to get nicely browned chicken. Enjoy!