Taboule – Totally Terrific Salad
As I mentioned before in my post about folding paper cranes, I have employed many incredible people from many different cultures and areas of the world – a privilege and one of the highlights of my work life. The first Saudi people I ever met were students at UNCC, students I ended up hiring, and I learned a great deal from them. One of the things I learned is how much I love their food.
As it turned out, Ghamid Fadel is a good cook. I learned this fact from Khalid and Raed, who both raved about the food Ghamid made. (Ghamid was modest and didn't brag.) I was lucky enough to eat one of Ghamid's dishes, Kabsa, before he returned to his home country, and at some point, I will share that recipe. However, tonight I want to share a dish that he introduced to me even before I ate Kabsa for the first time.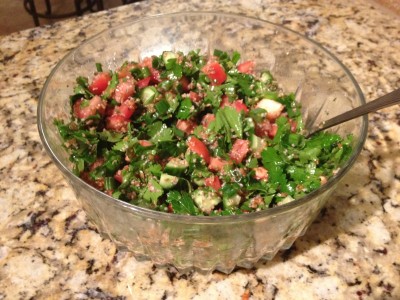 Taboule is a Middle Eastern salad made with tomatoes, parsley, cucumber, and a lot of other yummy ingredients. It seems that many cultures claim to be the originators of the dish. But no matter where it truly came into being, it was a fantastic development, for it is popular in many Middle Eastern and Mediterranean countries. Now after all of the preliminary and introductory matter to this recipe, I will be honest and never call my Taboule recipe authentic. The Taboule version I share here is actually a combination of two recipes – the one that Ghamid gave me and one that I got from a friend's mother-in-law, who is Lebanese. There were elements of both recipes that I really love, so I just smashed them together into what may be my favorite salad of all time.
Here's what you need: one bunch of green onions, fresh mint, a lemon, tomatoes (two regular ones or 5-6 roma will work just fine), cucumber (one regular or three of the Persian variety), one bunch of parsley, bulgar wheat (you can get this at any Middle Eastern market, some Asian markets, and a few grocery stores), olive oil, salt, dry mint, and cayenne pepper.
Here's what you do:
Wash all the fresh ingredients, and pull out a big sharp knife and a cutting board. All of the work for this salad is in the prep.
Put half a cup of bulgar wheat in a measuring cup and rise until the water is clear (or mostly clear). By the time you are done rinsing, the bulgar will have increased in volume. Fill the measuring cup with warm water to 1 full cup. Set it aside.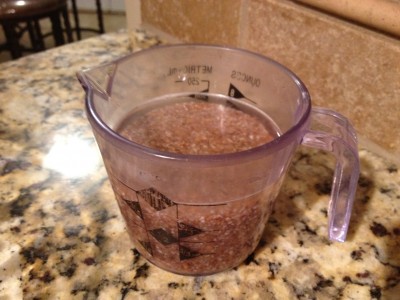 For this salad, do not use a metallic bowl. Bulgar wheat absorbs flavors readily. Be safe and use ceramic, glass, or bamboo.
If you are using a regular cucumber, seed and dice it. For this batch, I had Persian cucumbers in the refrigerator, so I didn't bother to seed them.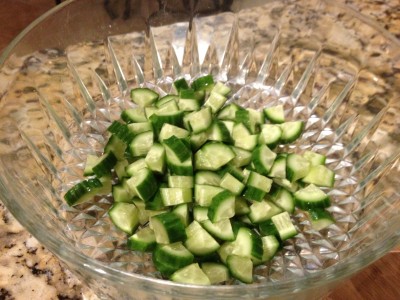 Chop a sprig or two of fresh mint leaves. (I used two because I was out of dried mint this time.)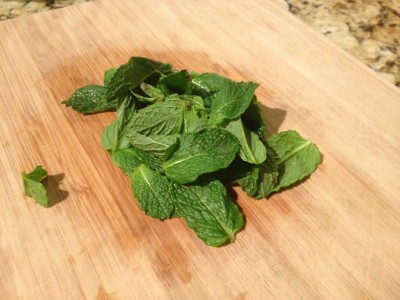 Dice your tomatoes.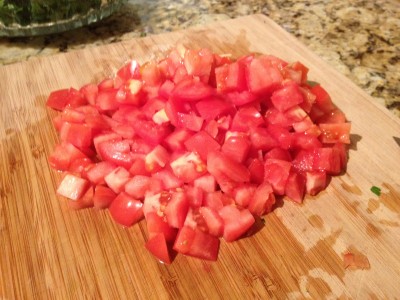 Now it's time for the parsley. I'm sorry. You're going to have to pick the parsley, and there is no fast way to do this. You could, of course, put the parsley in the food processor, but if you do, you will have parsley stems in your Taboule and, believe me, parsley stems are not as tasty as parsley leaves. If you end up with a giant bunch of parsley, you may want to use on ¾ of it rather than the whole bunch.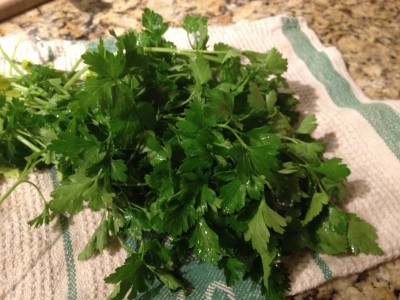 Now that you have all the vegetables in the bowl, squeeze the excess water out of the bulgar wheat. I do this by pushing my fist down in the measuring cup and letting the water run out into the sink. Dump the bulgar into the bowl.
Cut the lemon in half and squeeze the juice of both halves into the bowl.
If you have the dried mint and didn't use double fresh mint (no I am not referring to the chewing gum), add one tablespoon.
Drizzle with about ¼ cup of olive oil and add about a teaspoon of salt. Finish off by sprinkling with cayenne pepper.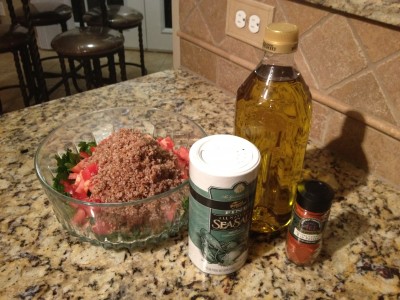 Stir it up. Taste it and adjust. Typically what I adjust is salt, olive oil, and/or lemon.
It is best to let the salad sit in the refrigerator for an hour or so to let the flavors meld together. But there are definitely times, we don't wait that long, and Mike always tastes multiple times even if we do…just to be sure it's right.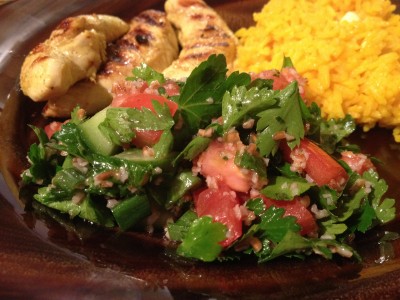 So serve it up with some Kabsa (that recipe will come later) or Curry Chicken Tenders (that will also come later), thank Ghamid and Mama Carley, and eat up. Healthy, light, and delicious.