Kru Story: Chapter 2 – No Good Time
Having passed my second pretest for Level 2 and declaring my desire to be a Kru, my Ajarns invited me to test for Level 2 six months later in February 2016. I was about to learn how fraught with difficulty the journey to Kru actually is – a significant portion of that being outside of Kru training and the actual test.
About a week and a half before my Level 2 test date, I sprained my right knee during sparring. It was bad. I actually thought the knee came out of joint (and in hindsight, based on future issues that surfaced, it probably subluxated). So began years of battling one injury after another. Of course, my test date was pushed out. I was invited to test again in August 2016. In June, I began training – staying after classes for rounds with the upper level students and Krus, practicing the Ram Muay (the ceremonial dance done prior to a Muay Thai fight). Two weeks prior to that test, Arjarn Dr. King announced in class that she wanted me to test for Kru in the summer of 2017. I was so honored and so excited. With an invitation, my goal was actually something attainable.
But six days prior to my second Level 2 test date, Mike and I went hiking at the Dupont waterfalls in Western NC. I slipped on a wet rock, grabbed hold of branch over head to break the fall, and dislocated my right shoulder. As we hiked the two miles back to our car, I cried. Mike asked me if it was because I was hurting or disappointed. I told him it did hurt, but I was upset because of the test. Two months training hard, I was ready, but once again, forced back.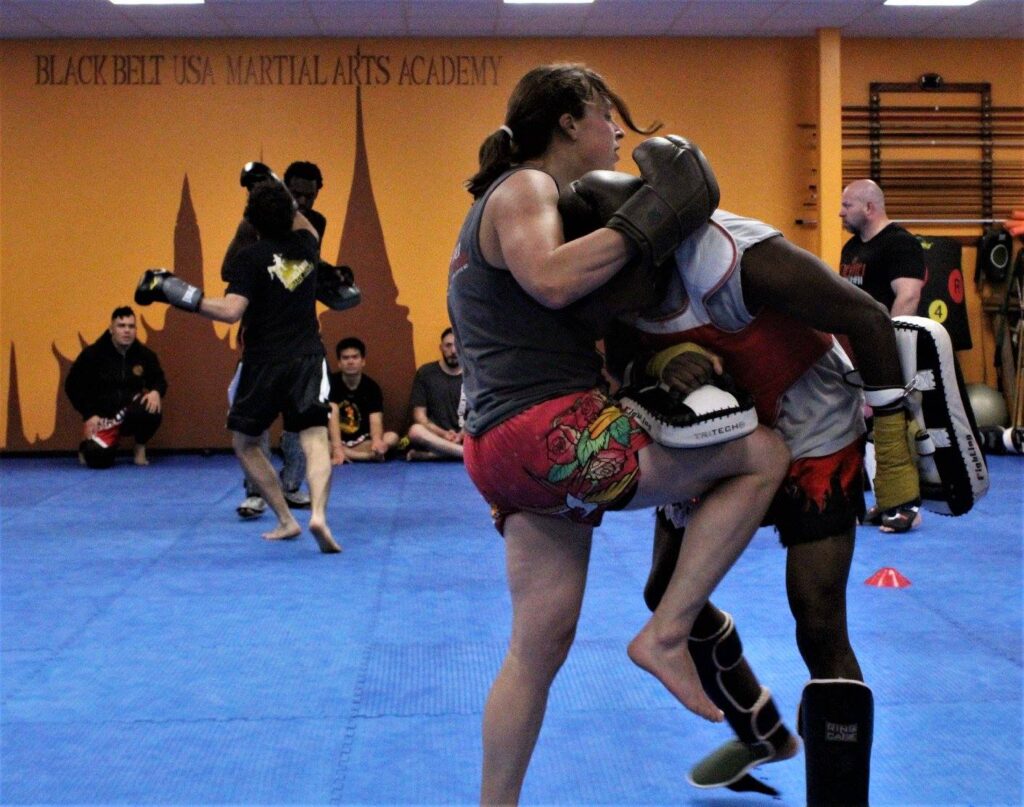 Finally, in December 2016, I took my Level 2 test. Once again, staying after class for prep, and fortunately, staying healthy and uninjured this time. My Level 2 test was a formidable physical challenge, even though I knew both of my pad holders and they had trained me for the test. My first round was Terence. He is my size; for the longest time, we actually weighed the same. While I took some hard hits in Round 1 (as one always does during a test), I was able to push Terence around pretty well. Maybe too well actually, because my final pad holder was Craig. I should have saved my energy. Craig is a big man – not tall, but big. He's done a lot of power lifting, and after my test I nicknamed him "The Boulder". Why? Because Craig doesn't move unless he wants to. Landing forward and trying to push him back is basically like running into a rock wall. It was not pretty, especially beginning at about 1:30 of that round, but I survived. (If you're really interested you can find the videos on my personal Facebook.) And finally, I had taken and passed my Level 2. I could focus on prepping for my Kru test.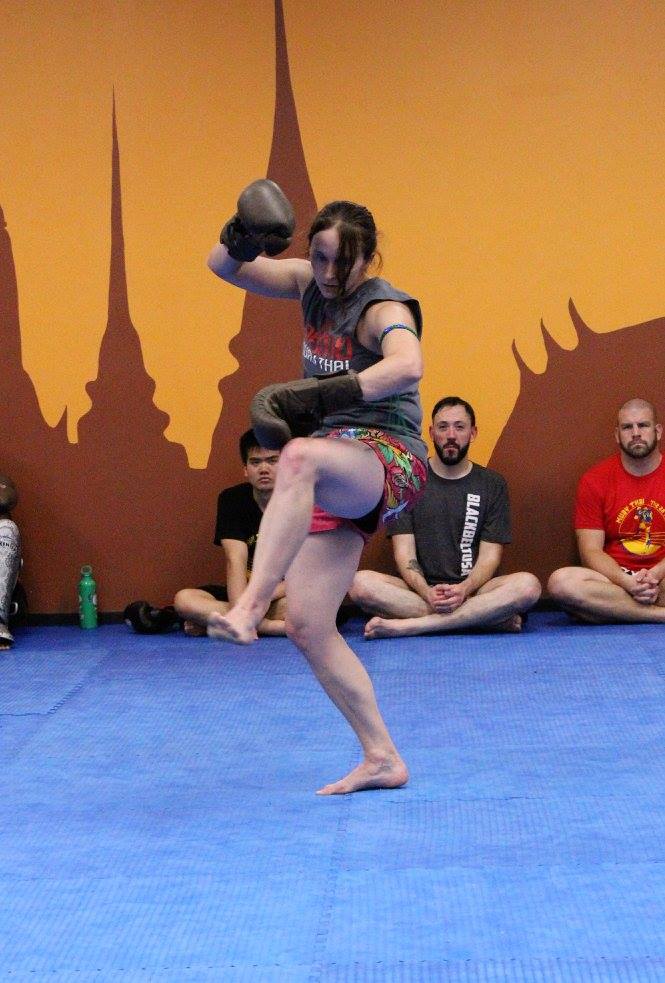 But in early-May 2017, during a jump punch combo in class, I landed with my right knee locked. There was a pretty terrible pop, a very uncharacteristic scream, and my teammates had to move me out of the center of the mat. I didn't get it looked at immediately, partly because our insurance year changed on June 1, partly because I'm hardheaded and have a denial problem when it comes to injury. Leaving out a lot of detail here, I was eventually diagnosed with a detached ACL, and I needed a new one. Of course, I didn't test for Kru in summer of 2017. Instead, I got a new ACL made out of a piece of my hamstring tendon that July. I did show up to see my teammates Craig and Jabari test in August, but I was hobbling in one of those hinged braces until mid-fall.
So now, I'm going to gloss over a full year. It was filled with physical therapy, easing my way back into training, and accepting a very different role at BBUSA while I recovered. If you want to read more about that, I have a post about it. It was rough year, and without the help and patience of my teachers and teammates, I wouldn't be writing about my Kru journey today.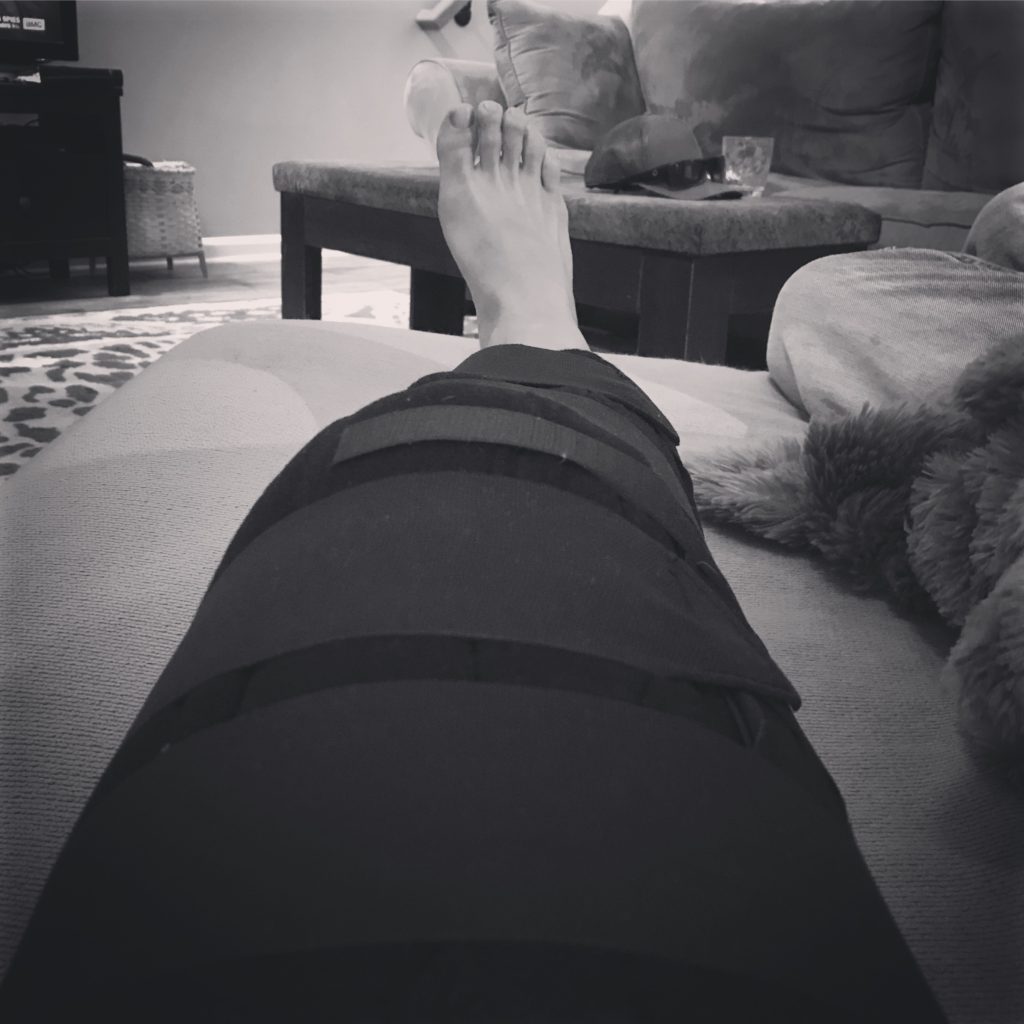 By summer of 2018, my knee was recovered enough that I was fully back to training and leading classes. That wasn't to say I was 100% normal. I still struggled, believe it or not, with changes in the hamstring that donated so generously to my new ACL even more so than the actual knee. My right kicks are still not as explosive as my left kicks because my right hamstring simply doesn't respond like its counterpart. Relearning the Ram Muay was a significant challenge, again primarily because of the hamstring loss. Summer of 2018 was far too early in my recovery to hope to do my Kru test, even though I did participate in the seminar where the Kru tests were held that year. My test would be pushed off to Summer 2019.
In Summer 2018, I also came to a very real realization – there is NEVER a good time for a Kru test. When I say "good time", what I mean is a time when you actually feel ready – physically, mentally, and emotionally.
In Summer 2018, my duties also changed at work. Since leaving my career in education, I have been a developer for a small pharmacy software company. No, I didn't go to school for it, but as I explain to everyone who asks, if your dad owns a bagel shop when you're a kid, you know how to make a bagel. My dad was/is a software developer, so yes, I was coding when I was kid, teen, and now again as an adult. I work for my dad's company, and two years prior, we had taken on the monumental task of converting his legacy pharmacy system to modern, n-tier architecture. That summer, we began converting the live legacy systems to the new version, which included significant on-site debugging, development, and training. And I was the travel person.
I would leave home Monday morning, stay all week working on site in a pharmacy, and come home Friday night, do my laundry, work some more, and do it all again Monday morning. This meant I had to make some serious adjustments and get creative with my training. I only had Saturday mornings available to train at Black Belt USA, and honestly, most of the Krus and more advanced students don't attend that class, especially once I started going. I was leadership so everyone else was off the hook.
So what did training look like from July 11th 2018 through June 16th 2019 (when I thankfully got a 2.5 month break in travel) ?
Running
A whole heck of a lot of running. Let's be honest. I had always hated running. It just wasn't my thing. I did began doing it (indoors on a treadmill) during my ACL recovery; it was a part of rehab. Knowing that travel was coming up, I kept my rehab momentum going in the running department in early 2018. Once I started traveling, I moved my running outdoors (at least until it got cold that winter). Yes, running is good cardio, but no, it isn't like doing rounds. That said, I credit it with me being as fit as I was when my serious Kru training began.
Intervals
I've actually been doing a form of intervals for many, many years. We used to do similar conditioning routines in gymnastics. I'd do a variety of of body weight exercises for twenty minutes changing up what I was doing every 50 seconds and doing them as fast as I could while maintaining form. It's not quite our Muay Thai circuit, but it was better than nothing.
Yoga
I started doing yoga while I was traveling in Western NC. They had some really nice studios in Morganton and Black Mountain. Yoga really helped my flexibility (obviously) and my overall strength (not so obviously). At this point, I swear by it and still do it regularly, even if it's at home, all alone, and just the half primary series I learned while in Morganton.
Meal Prep
Okay this isn't really training, but it kinda is. The first six months of my travel, I tried to eat out. Even being in Black Mountain which is full of great restaurants with healthy options, I started gaining weight, even while running daily. And that just made everything else harder. After Christmas when I went back on the road, I started carrying a cooler. I brought food with me for breakfast, lunch, and dinner. It was hard. Really hard. Especially when I was having to work a full week of food prep into a weekend that was already filled with packing up yet again, training when I could, and yes, still…writing code and debugging.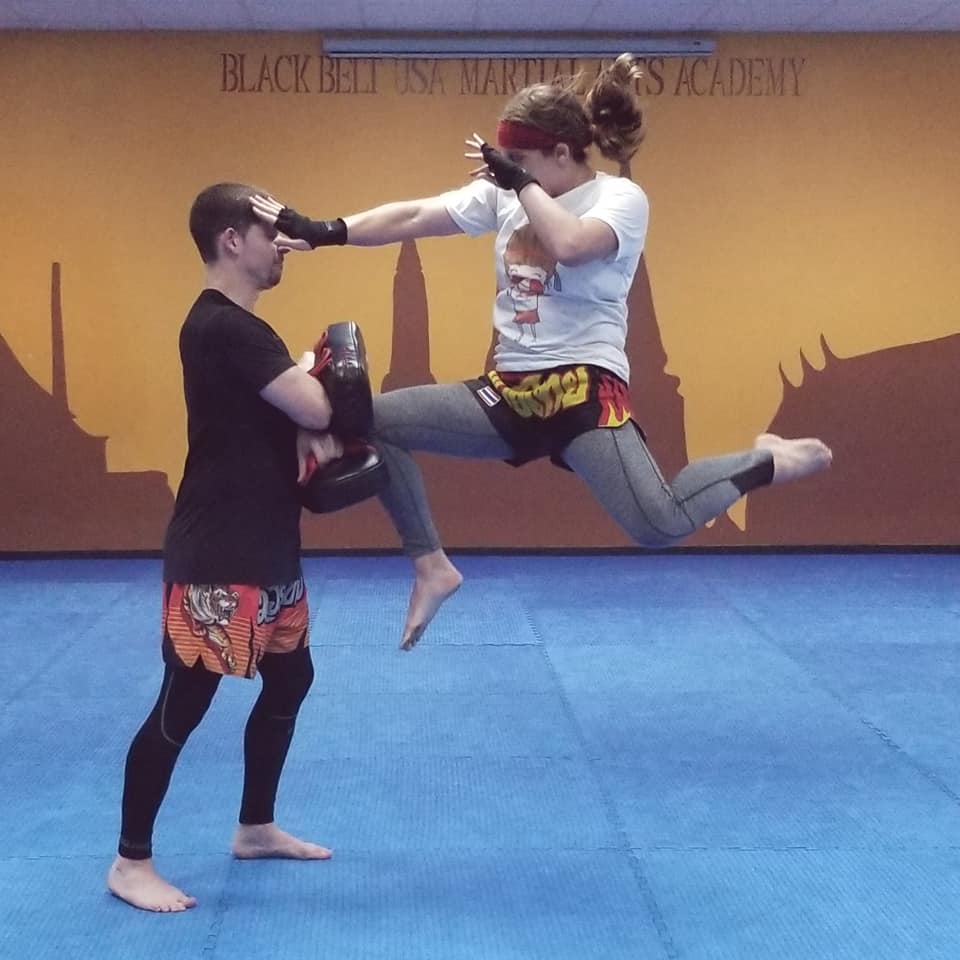 Seriously, what a horrible time to do a Kru test! Right smack in the middle of 1.5 years on the road, when I was only training Muay Thai one day a week, sleeping in my own bed only a couple nights a week, and working 50-70 hour work weeks. But at this point, my test was literally going to be two years after what should have been my first Kru test. So the reality was – there was NEVER going to be a good time. Whether it was an injury, work, or some personal matter, something was going to happen that would be ample reason for me to back down. I was never going to feel "ready". I was never going to be able to devote as much time to training as I felt like I should.
But now with nine years of training, several injuries, and years of leadership under my belt, I was not backing down. This wasn't a matter of timing. This was a matter of me simply choosing to do what was difficult.
So, case closed. Testing was happening in August 2019, one way or the other. On to Chapter 3…