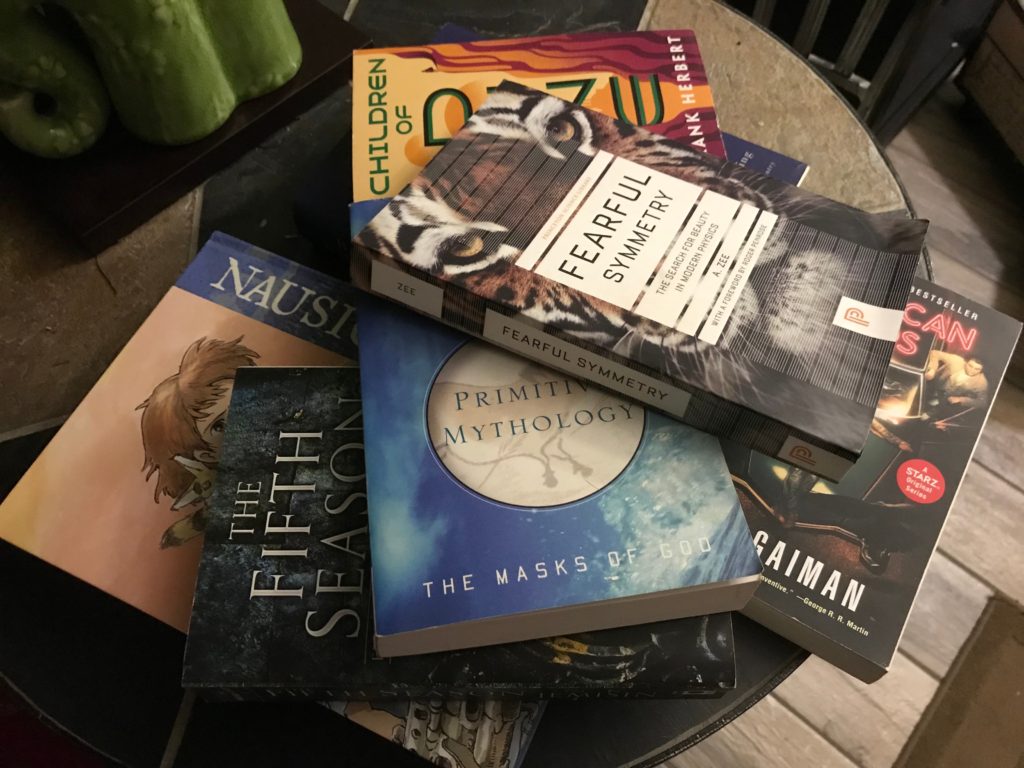 Well another year has passed, and it is time for another reading list. Turns out, this one is not quite as extensive as years passed. As indicated in my previous post, last year was a year of prioritizing in order to make it through the work project. I never stopped reading, no matter where I was, but there are certainly fewer book in this year's list than last year's. This year was once more a smattering of genres, though it was quite Science Fiction heavy because, once again, a bit of escapism was called for.
So without further ado, here we go…
---
Celtic Fairy Tales
Joseph Jacobs, Ed.; John D. Batten, Illus.
A collection of fairy tales from Britain, Scotland, Wales, and Ireland. This book is quite old and filled with many delightful tales that the editor collected from traditional oral storytellers. The accompanying illustrations are of an old style that complements them well.
---
Fearful Symmetry
A. Zee
University of California – Santa Barbra's theoretical physicist Anthony Zee explores how the concepts and principles of symmetry inform and inspire modern theoretical physics research. Filled with awe and beauty, this book was my first science read of the year. While this book does present some very complex concepts, Zee's writing is very accessible, so give it a shot. Highly recommended.
---
The Fifth Season
N. K. Jemisin
The first book in Jemisin's Broken Earth trilogy. Far in the future, seismic activity has restructured the entire surface of the planet, and periodically a "season" occurs that brings massive destruction and death. The orogenes, a human sub group that is not considered human by the majority, can effect seismic activity, but they are feared, isolated, and exploited by society. Essun, an orogene in hiding, begins a journey searching for her daughter as the new Season begins. This was the first book of Jemisin's I had ever read, and it is stunning (as is the whole trilogy). Genuine Sci-Fi/Fantasy creativity and astonishing narrative voice have catapulted her into the top five on my favorite author's list. She employs the most fascinating narrative/person shifts I have ever encountered in writing to a brilliant effect. Read this book. Read the whole trilogy.
---
The Obelisk Gate
N. K. Jemisin
The second book in Jemisin's Broken Earth trilogy, and it is just as stunning as the first. As Essun struggles to survive with the new community that has taken her in, she continues searching for her daughter Nassun. The closer she gets to Nassun; the more she uncovers about the history of the world and the instability of the whole planet. The social dynamics in these books are familiar in their strangeness. Jemisin weaves this in with a deft hand.
---
The Stone Sky
N. K. Jemisin
The final book in the Broken Earth trilogy. In a colossal clash of relationships, identity, and social structures, Essun seeks to heal the wrongs that triggered the Seasons, but in order to do so, she must heal her relationship with her daughter. As you can see, I just couldn't stop reading them. (Rather telling.) Seriously, I cannot say enough about this trilogy. At this point, I can only add that all of the books are award winners, and The Stone Sky won both the Hugo and Nebula in 2018, which is a massive accomplishment for any writer in the genre. Jemisin is one of twenty-four writers to do so.
---
Foundation
Issac Asminov
I was overdue reading this book as it is a true Sci-Fi classic. Using "psychohistory" to predict the future, exiled mathematician Hari Seldon builds a community that is intended to save humanity when the ruling empire inevitably collapses. Through the hundreds of years that follow, the way the community saves humanity must change. This was an excellent read, highlighting how conflict helps societies grow and mature.
---
A Brief History of Nearly Everything
Bill Bryson
A fascinating journey through a myriad of sciences, highlighting what we know and what we don't know about the world we live in. This book was a gift, and honestly, I was a little skeptical because – how could one book cover so much, be well-researched, and not be a total bore? But I was surprised by how much I learned and what a great read it was. You should give it a chance too.
---
The Hounds of the Morrigan
Pat O'Shea
Through an old book he acquires at a used book store, young Pidge frees an ancient evil. With his sister Bridget, he embarks on a journey through the fairy world to recapture that evil and set the world right. Reading this book felt like being a kid again with all the wonder, magic, fear, and daring that comes with it.
---
The Snow Queen
Hans Christian Anderson; Vladyslav Yerko, Illus.
Anderson's classic tale exquisitely illustrated. I actually spent a lot of time looking at the pictures this time.
---
The Masks of God: Primitive Mythology
Joseph Campbell
The first volume of what Campbell considered to be his masterpiece. Primitive Mythology explores the myths and rites of ancient cultures from all across the globe. As with all Campbell works, the reading itself can be challenging if you are unaccustomed to the field of study, but give it a chance if you have any interest in mythology at all, it is eye opening on so many levels.
---
American Gods
Neil Gaiman
This book came highly recommended by a dear friend. It is a fast paced read that is engaging, entertaining, and filled with mythic references from all over the world of course…because it's "American". Just before Shadow is released from prison, his wife dies in a car accident. As he attempts to sort out his life, he meets Mr. Wednesday, a strange old man who offers him a lucrative job. But Wednesday is a bit more than just a strange old man.
---
Nausicaä of the Valley of the Wind, Vol 1
Hayao Miazaki
In a future, post-apocalyptic world, Princess Nausicaä works with nature to ensure her people in the Valley of the Wind have a good life. But after the crash of a large aircraft, Nausicaä gets pulled into a war between two neighboring kingdoms. This is honestly the first manga I have ever read. I have loved the film for many years, but I am so glad I picked this up. The manga is so much richer. I bought the bound volumes. They were hardcover, and included some large color plates and even a poster. Miazaki's masterful storytelling ability is world renown. This will not disappoint.
---
Nausicaä of the Valley of the Wind, Vol 2
Hayao Miazaki
As the war escalates, Nausicaä fights to preserve life on both sides and heal the earth, which is rising up against humans threatening to end the war by extinction. This really is a second volume in every sense. The volumes do not have their own arc because they are simply the issues bound together. Nausicaä is by far one of the most amazing female characters I have ever encountered. If you haven't read this, you really should.
---
Children of Dune
Frank Herbert
The third book in Herber's Dune series. About twelve years after Paul Atredies walkes blind into the dessert of Arrakis, his twin children Leto and Ghanima must struggle against family, hostile Houses, and their own prescience in order to survive, while everyone around them attempts to use the twins for their own ends. This was one of my favorite books in this series so far. It's predecessor, Dune Messiah, while brilliant in its own way and essential to the series overall, simply did not have the arc Children of Dune possesses. If you were reading this series and put off by Dune Messiah, keep reading. It's worth it
---
The Masks of God: Oriental Mythology
Joseph Campbell
The second volume of Campbell's Masks of God. This book explores the larger religions of the Oriental branch (Funny how most religion and language can be traced back to one of two primary branches, huh?). Included religious centers are Egypt, India, China, Japan, and Tibet. Many religions are covered and connected back to material Campbell covered in Primitive Mythology. Highly, highly, highly recommended, but if you are going to bite this off, know that the Masks of God volumes are meant to be read in order. You will be lost if you start anywhere other than Primitive Mythology.
---
So that was it. Only fifteen. Which seems remarkably slim for me, but given the travel and insane work hours I was logging, I suppose this was actually a triumph. (You all saw what happened to my writing last year!)
I have plenty on the docket for 2020. A few are currently stacked up beside me (I'll keep them secret until next year this time.) , and if you've made it through my list, I hope you've found a book or two to add into your 2020.
Happy Reading!