2017 was quite a year for me (though that fact isn't very evidenced here). I designed the UI architecture for an enterprise software project, have written hundreds upon thousands of lines of code, had an ACL surgery, and begun physically working my way back. I've written far fewer sentences than I would have liked and not hammered anywhere near enough metal, but I suppose some years are like that, and I haven't stopped writing sentences or hammering. There's something to be said for that.
What has been satisfying this year is what I have read. As I prep for the transition to 2018, I went back and compiled a list. It made me smile because I didn't realize how much I'd accomplished in that area. A handful of these were rereads. Either, it simply felt appropriate to revisit, I wanted to read a whole series and it had been so long since I read the first one I was too rusty to jump in, or a movie was coming out. But the vast majority were new adventures – adventures I very much enjoyed. So here it is, in chronological order, my 2017 in books. I hope you find some here to include in some of your 2018 adventures in reading.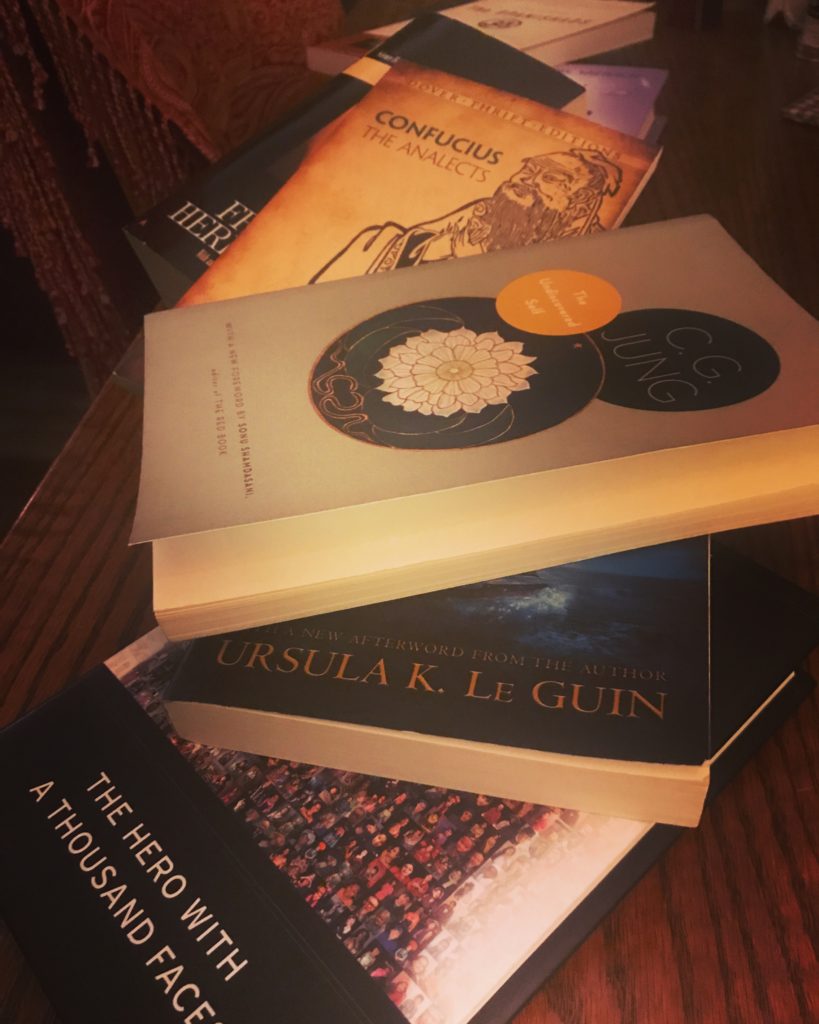 Good Omens 
Neil Gaiman & Terry Pratchett
An angel and a demon team up to stop the Apocalypse because they really enjoy aspects of their jobs (influencing humanity) and living in human society. They really don't want to lose that.
The Hero With A Thousand Faces
Joseph Campbell
The definitive work on comparative mythology. Highlighting differences and similarities between mythologies across the planet, it delves into mysterious depths of what makes us human.
Misadventures of an Urban Nerd: I'm BB
Charles Easley
The first book of the Misadventures of an Urban Nerd. Young BB struggles to balance being himself with the expectations of his family and community.
The Laws of Manu
Doniger/Smith translation
One of law books upon which ancient Hindu society was based.
A Wrinkle in Time
Madeline L'Engle
The first book of the Time Quintet, and a children's literature classic. Meg Murray, her little brother Charles Wallace, and her friend Calvin O'Keefe journey across the galaxy to save her father – a renown physicist – from a dark power.
A Wizard of Earthsea
Ursula Le Guin
The first book of The Earthsea Cycle. Wizard Ged must save Earthsea from a malevolent force he unleashed through a misused spell he worked as a student.
A Wind in the Door
Madeline L'Engle
The second book of the Time Quintet. Meg Murray, along with her friend Calvin and the school principle who terrifies her, must journey inward in order to save her brother Charles Wallace after he falls deathly ill.
The Tombs of Atuan 
Ursula Le Guin
The second book of The Earthsea Cycle. Tenar, the young high priestess to the Old Powers, discovers the wizard Ged seeking a treasure in the subterranean Tombs of Atuan, a scared, dark place into which only she is allowed to venture.
A Swiftly Tilting Planet
Madeline L'Engle
The third book of the Time Quintet. Charles Wallace Murray, embarks on a journey across space and time, making small changes along the way to prevent a devastating war in the future.
The Furthest Shore
Ursula Le Guin
The third book of The Earthsea Cycle. When the wizards, sorcerers, and witches of Earthsea began losing their power, Archemage Ged embarks on a journey with Arren, the young prince of Enlad, to discover the origin of the phenomenon and how to remedy it.
Many Waters
Madeline L'Engle
The fourth book of the Time Quintet. Twin bothers, Sandy and Dennys Murray, find themselves in another time and place after playing with some of their physicist father's technology. They must discover where/when they are, how to help the family that takes them in, and how to return to their own time.
We Have No Idea
Jorge Cham & Daniel Whithson
Using an abundance of footnotes and cartoons featuring cats, Whiteson (professor of Particle Physics at UC Irvine) and Cham (creator of PHD Comics and a roboticist) explore how much there is in the physical universe about which we really have no clue.
Tehanu
Ursula Le Guin
The fourth book of The Earthsea Cycle. Now a mother of grown children, Tenar of the Ring takes in a disfigured child who is far more than she seems to be.
Zen Mind, Beginner's Mind
Shunryu Suzuki
A collection of informal talks by the late Zen master Shunryu Suzuki given to his students.
An Acceptable Time
Madeline L'Engle
The fifth book of the Time Quintet. Polly O'Keefe, daughter of Meg and Calvin, stumbles in and out of another time while staying with her grandparents, the Murrays.
Tales From Earthsea
Ursula Le Guin
The fifth book of The Earthsea Cycle. A collection of stories about Earthsea, its magic, and its dragons which gives depth and richness to the universe Le Guin created.
Sychronicity
Carl G. Jung
The founder of analytical psychology explores the phenomenon of synchronous events.
The Other Wind
Ursula Le Guin
The sixth and final book of The Earthsea Cycle. When a troubled village sorcerer arrives at Roke seeking relief from terrifying visions, King Lebannen, Tenar of the Ring, Tehanu, and many others from across Earthsea unite to restore balance to magic, which they discover has been unstable for thousands of years.
The Undiscovered Self
Carl G. Jung
The founder of analytical psychology explores how much of the psyche remains unconscious and unexplored.
Beyond Good and Evil
Friedrich Nietzsche, the Kaufman translation
The existential philosopher's masterpiece.
Wild Seed
Octavia Butler
The fourth book in the Patternist series but chronologically the first. Shape-shifter, healer, and possibly immortal Anyanwu meets Doro, a being much like her, but in many ways her opposite. A struggle begins between them that stretches over centuries and impacts millions of lives.
Do Androids Dream of Electric Sheep
Phillip K. Dick
In the future, humans have scorched the planet, making much of it incapable of supporting life. Robotics companies began building androids, both human and animal. The androids become so life-like it becomes nearly impossible to tell what is "real" and what is "unreal".
The Analects
Confucius
The great Chinese philosopher and his disciples reflect on society and life.
The Tales of Beedle the Bard
J. K. Rowling
A collection of fairy tales for magical folks.
The Upanishads
Katz/Egenes translation
The Hindu religious masterpiece.
Dune
Frank Herbert
After the Atredies family is relocated by Imperial order to govern the desert planet Arrakis, young Paul Atredies realizes his destiny when his family is betrayed by Harkonnens.
The Secret of the Golden Flower
Wilhelm translation with commentary by Carl Jung
An ancient Taoist text that instructs students in methods for discovering the secret of life.
Consciousness
C. A. Meier
The Swiss psychologist's treatise on human consciousness, informed by research available at the time of publication and the work of Jung.
There it is. Twenty-eight books in all, two full series, some old, some new, a little religion, a little philosophy, a little law, a little science, and a whole lot of fiction. I knew this year was going to be challenging for me because of the demands I was going to have from work, so I purposefully chose a lot of escapism (fantasy and sci-fi). In 2018, I do look forward to working in a few more classics and modern literature.
This is the first time I've compiled a list like this, and I enjoyed looking back and reflecting on the year's reading adventures and my directions for the coming year. I hope that you are planning to read regularly in 2018 too and that perhaps one or two of the books above will end up on your list. While I certainly enjoyed some more than others, they were all worth my while, and I learned from them all.
So Happy New Year, and happy reading! I look forward to doing this again next year.