Practically Perfect Pancakes
Pancakes and I go way back. For as long as I can remember, I would come into the kitchen on Saturday mornings, and my dad would already be heating the skillet. We didn't have a griddle, so he made them one at a time, sliding them out of the pan onto our plates one at a time. Everyone got piping hot pancakes even if breakfast stretched out a bit longer than normal.
My best breakfast memories from home include pancakes, but when I moved out, I rarely made them, especially after I began phasing out premixed, pre-prepared, and processed foods in my mid-twenties and stopped buying pancake mixes. Of course, that didn't stop me from wanting them, so I began a search for a real, awesome pancake recipe. After years of trying different ones, some experimenting, and Mike buying me a griddle, I'm happy to say some of the best breakfasts Mike and I have are pancakes…these pancakes. And because of the griddle, we get to eat together.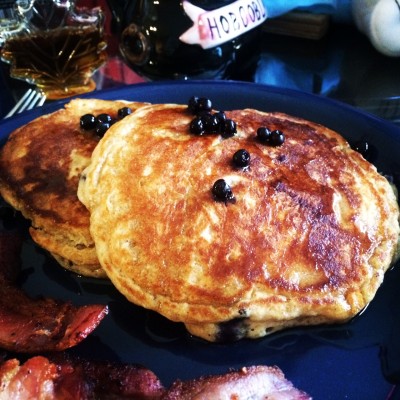 Here's what you need: flour, sugar, baking powder, kosher salt, egg, milk, butter, little blueberries and chocolate chips (because the chances of everyone wanting the same pancakes are slim and none).
Here's what you do: Preheat your griddle to 350F. If you don't have a griddle, heat a skillet on medium. Mix one cup of flour, two tablespoons of sugar, two teaspoons of baking powder, and one half teaspoon of Kosher salt.
Melt two tablespoons of butter and beat one egg. Mix the egg and butter with one cup of milk.
Do NOT mix the dry and wet ingredients until your griddle is hot. This batter is extremely thick as soon as you mix it. Combining the liquid with the dry activates the baking powder. If you do it too soon, you'll have a big poufy mess that's harder to drop on the griddle than it has to be. When your griddle is hot, mix the wet and dry ingredients just until they come together. Don't beat them. They've done nothing wrong, and it will only anger them (a.k.a. the texture won't be awesome if you do.)
Coat the hot griddle with butter. For my griddle, I use about a tablespoon and a half. Drop the pancakes using a ¼-cup measuring cup, using the cup to spread it out. Once the pancakes are down, drop blueberries or chocolate chips into the tops. I do it this way rather than mixing them into the batter because Mike and I like different pancakes. You could always get really daring and add both.
Watch them closely. If you're cooking at 350F, it's easy to burn them if you start doing other things. I don't rely on the bubbles-coming-through-the-top method to indicate it's time to flip because this batter is so thick you'll probably see bubbles as soon as it goes down. Just give it a couple minutes and gently lift the edge of the first one to check. I also rely a lot on the smell to cue me. Flip when brown. When your pancakes are done, plate and drizzle with maple syrup. (Remember real is always better.)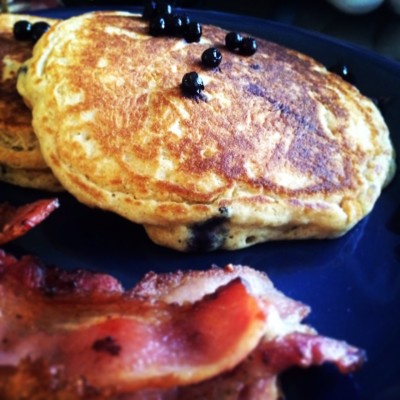 These pancakes come out thick. They're spongy on the inside and crisp on the outside. In all their hearty, rustic glory, they make me dream of cowboys making breakfast on the range or lumberjacks cooking in an iron skillet while the sun rises. If you are looking for a pancake that approximates the smoothed, uniformly browned ones found in the chain breakfast joints, this is probably not the flapjack you're looking for, but if you're all into thick, hearty, spongy, crispy bliss, I've got you covered.
With the temperatures plunging here in Charlotte this week, steaming hot pancakes really sound perfect, so break out a couple bowls and your griddle (or your favorite iron skillet) and get cooking. I know I will.
Pancakes
1 cup flour

1 egg
2 tbsp sugar
1 cup milk
2 tsp baking powder
2 tbsp melted butter
½ tsp kosher salt
extra butter for cooking
Blueberries &/or chocolate chips

Mix dry ingredients together. Melt butter. Beat egg. Mix butter and egg with the milk. Heat the griddle or skillet to 350F. Don't mix wet and dry ingredients until cooking surface is preheated. Once hot, coat hot cooking surface with extra butter. Drop pancakes with ¼ cup measuring cup and spread out a little. Drop blueberries and/or chocolate chips into dropped pancakes. Watch them closely and flip when brown on one side. When both sides are brown, remove, drizzle with maple syrup, and YUM!