Since I've recently gone into production on a short film, I've been a little unplugged lately. My apologies. A couple weeks ago, a friend texted, asking for my recipe for pumpkin soup. I looked for it (because who wants to type it out when you can copy/paste) then realized, to my dismay, that it wasn't written down. Apparently, I am a jerk and had forgotten to pass it off to the couple friends who asked for it last winter, while somehow thinking I did. Amy and Jody, I apologize. Cody, thanks for reminding me.
It seems winter has come early to North Carolina this year. It's mid November, and we've already dipped into 20s. So I've been cooking a lot of soup. Pumpkins are in season and abundant, and while you're probably most accustomed to consuming pumpkin in pies, pancakes, or other sweet treats, they are excellent when prepared savory. So grab a pumpkin and get ready to make a warm, super yummy treat.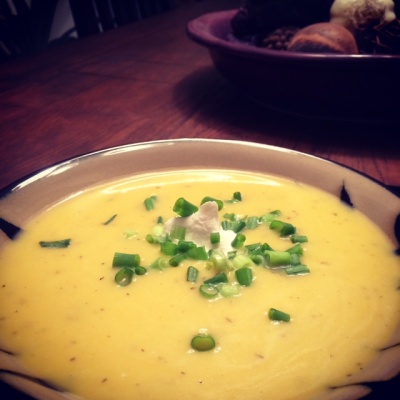 What You'll Need: one pie pumpkin, salt, a small onion, garlic cloves, olive oil, chicken stock, thyme, half-n-half, more salt, a sauce pot, a potato masher, and a big sharp knife.
What You Do: Roast your pumpkin. To do this, remove the stem (they typically just pop off if you push on them) and split the pumpkin in half with a sharp chef's knife. A cleaver would probably work great too. Unfortunately, I don't have one. Remove the seeds and stringy mess from the center. (Don't throw the seeds away! After, you're done roasting the pumpkin, toast these to garnish an accompanying salad.) Rub the inside of the pumpkin with sea salt and place each half, flesh side down, on a baking sheet. Roast the pumpkin at 425 degrees Fahrenheit for 40-50 minutes. The pumpkin is done when a knife easily pierces it without resistance. Remove the pumpkin from the oven and allow it to cool before handling. If you value your fingerprints, that is. The big time commitment in pumpkin soup is getting your pumpkin cooked.
Once cooled, scoop the pumpkin flesh out of the skin and place in a bowl. Mash it up with a potato masher.
Mince three cloves of garlic and chop the onion. I try to make the pieces small to speed cooking.
Add two or three tablespoons of olive oil to the sauce pot and heat. Add onion once the oil heats and cook until soft and translucent. Three or so minutes will probably do the trick. Add the garlic and cook for an additional minute. Turn the burner down to low and add the pumpkin. Stir it up. Add two cups of chicken broth to the pot.
If you have an immersion blender, there's never been a better time to use it. Of course, it isn't necessary. I made this soup many times before I had one, but the blender will make it super smooth. Use it if you have it. You could also use a regular blender in the absence of the immersion blender, processing it in one or two cup batches, if having a smooth soup is important to you. Chunky never really bothered me since I like my food to feel rustic and hearty. I never processed this soup until I had an immersion blender.
Add a teaspoon of thyme. I use fresh when I have it but dried is fine too. Simmer for ten or so minutes.
Pour in a scant ¼ cup of half-n-half or until the color is to your liking. Bring back to temperature and salt to taste.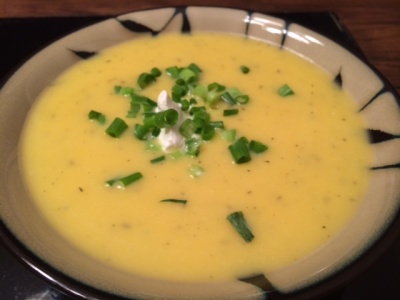 And that's it. You're done. I like to garnish with sour cream and green onion. The sour cream makes it nice and zippy. The soup pairs well with a salad and bread, but then most soups pair well with salad and bread.
Enjoy! And light a fire, please. It's cold outside.
Pumpkin Soup
1 pie pumpkin

2 c. chicken stock

1 small onion, chopped

1 tsp thyme (fresh or dried)

3 cloves garlic, minced

¼ c. half-n-half

3 tbsp olive oil

Salt to taste

Split pumpkin, remove seeds, and rub insides with salt. Roast at 425 degrees F for 40-50 minutes. Allow pumpkin to cool. Scoop flesh out of skin and mash with a potato masher. Add olive oil to a large saucepan and heat. Add onion and cook until soft and translucent. Add garlic and cook for one minute more. Add pumpkin to pot and stir it up. Add chicken broth and process with an immersion blender if you have it. Add thyme. Simmer for 10 minutes. Add half-n-half and bring back to temperature. Garnish finished soup with sour cream and green onion. Enjoy!