…And That's How I Do a Wedding
How is it already October? It's really hard for me to believe I've already been married for a year (give or take a couple days, but hey, I'm not writing a post on my anniversary). Last year this time, I was excited, insanely busy, and just a little crazy because of it. I have yet to really write anything about that day, but in honor of one year, I've decided to tell you how I do a wedding. It was fun, it was thrilling, and I never want to do it again. It was a wonderful day, but dear lord, it was a lot of work. And though worth it, once was enough. From here on out, I'll just take the memories.
Who: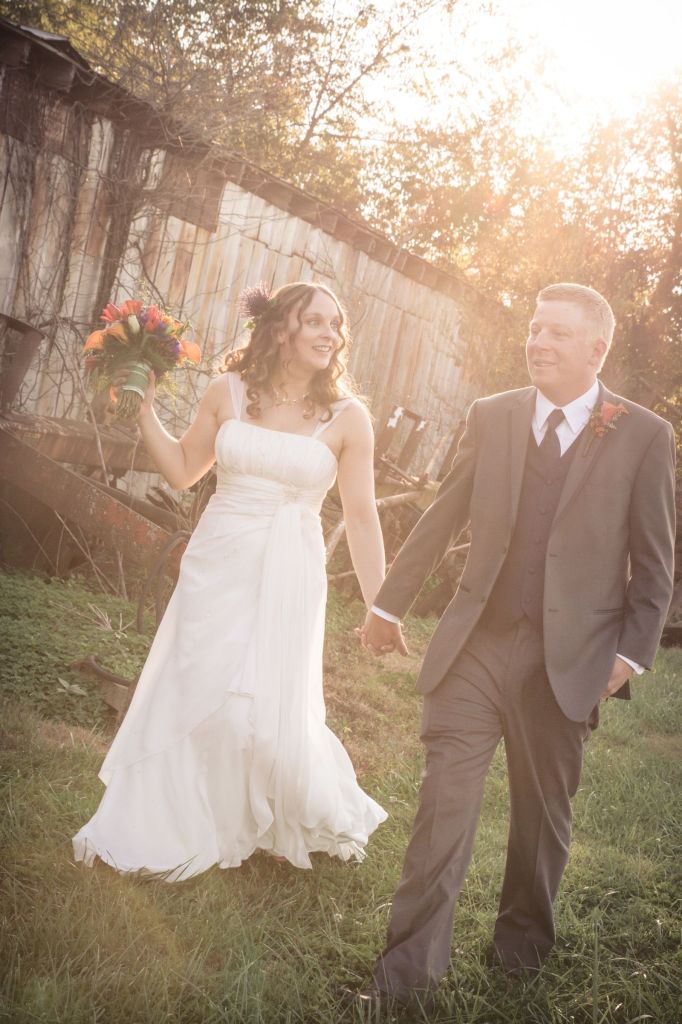 Well, I married Mike. That awesome dude on the right.
When: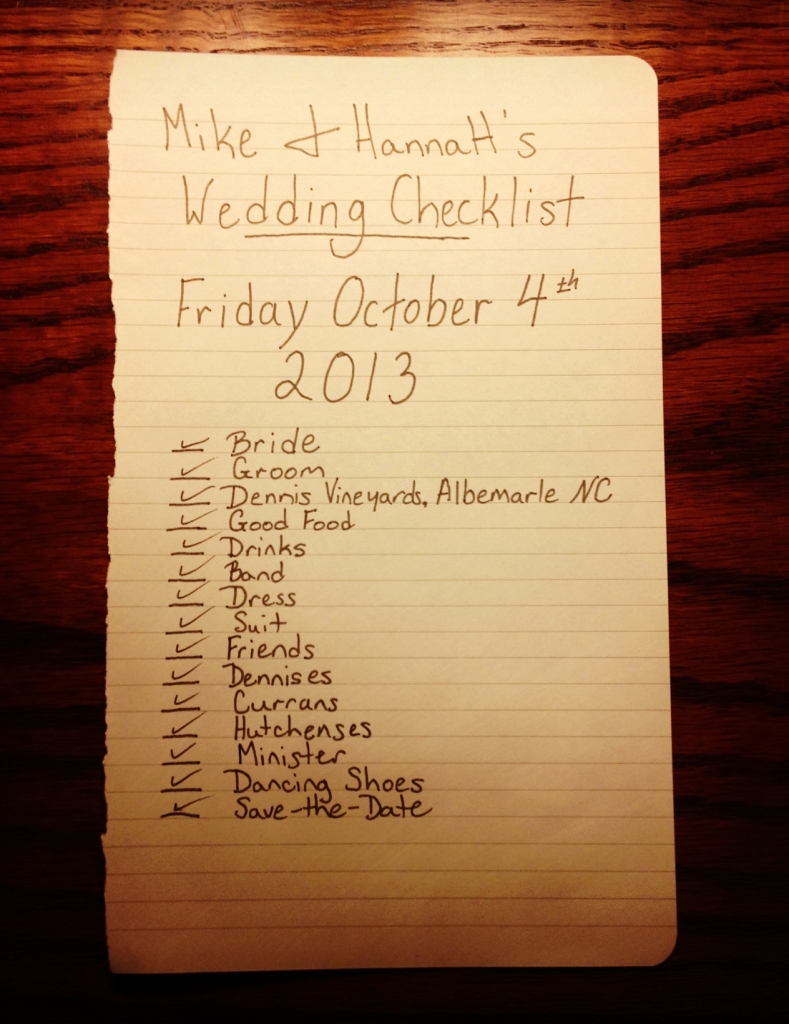 October 4th, 2013. Yes, our wedding anniversary will forever be 10-4 making it the easiest date to remember. We chose this date because it was what was available at our venue in 2013, but the 10-4 was a very happy coincidence considering Mike works in the construction industry and uses this call on a daily basis. It also didn't hurt that an October wedding gave me the option of using fall colors. Yes, I took advantage of it.
The Venue: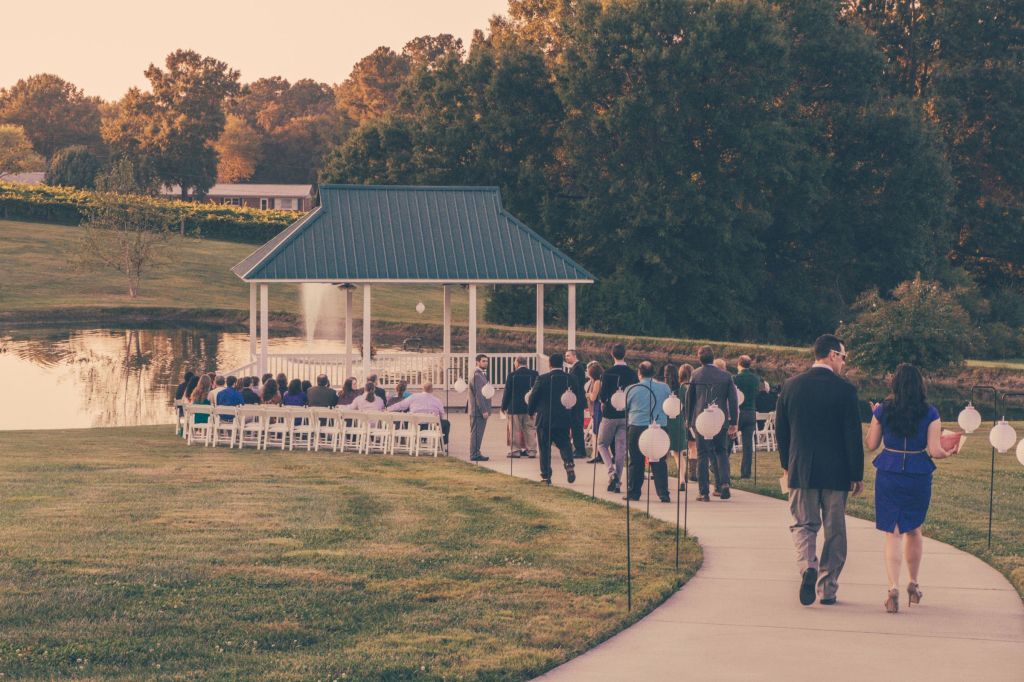 A Place In the Vineyard – Albemarle, NC. This venue is located at Dennis Vineyards. If that name sounds familiar to those of you who know me, Dennis used to be my last name. It is owned by my family, and I honestly couldn't have imagined getting married anywhere else. My brother and I worked in the vineyard and winery when we were in high school. We actually planted most of the old vineyard, so this is home.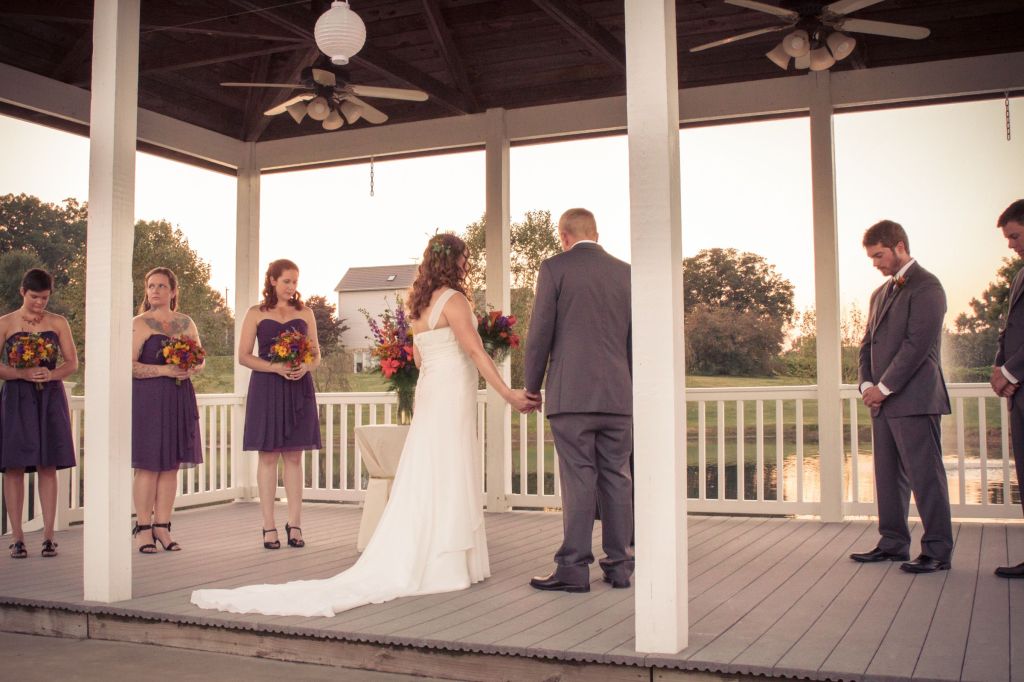 The venue easily accommodates 200 guests at the gazebo and in the ballroom (where we had our reception), though our wedding was smaller. Our ceremony was held at the gazebo. I love the pecan trees, but Mike and I both felt that the gazebo would be easier on certain guests. Wheelchair access didn't take any extra planning. An extra special bonus to having our wedding here was the fragrance. We got married in the middle of harvest, so the grapes were dead ripe. As our ceremony began, breezes started to blow through, and the fragrance of the grapes swept through the area. It was really quite memorable.
The Colors: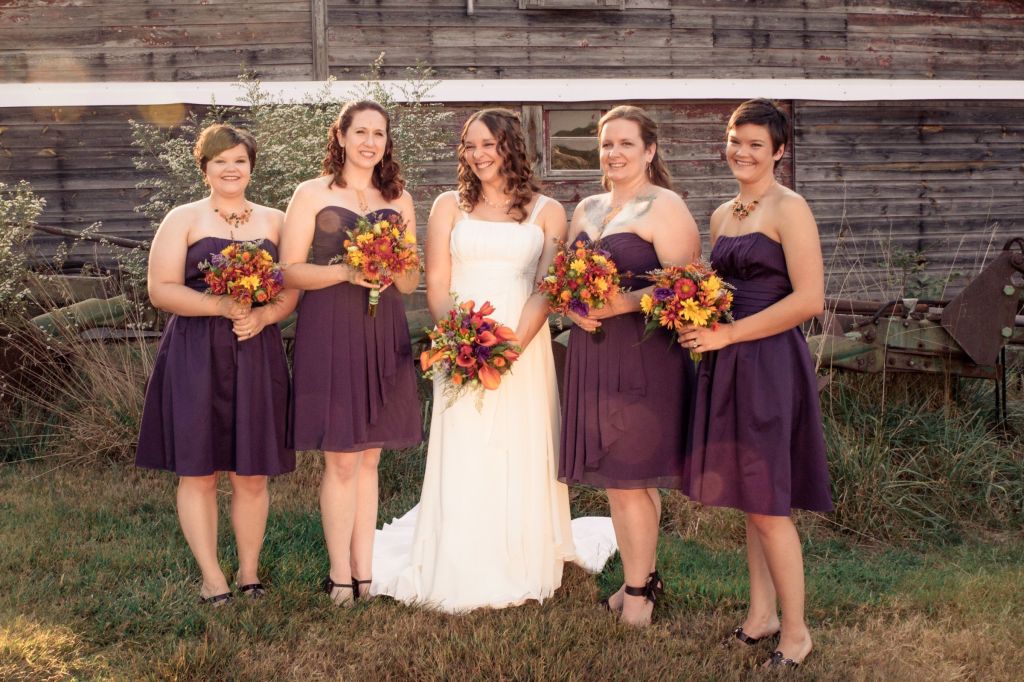 I love purple, and I used a dark one. Actually, Mike picked it. I had my purples narrowed down to two and could not make a decision. So I took the swatches to him and asked him to choose. He did in two seconds flat, and we used it.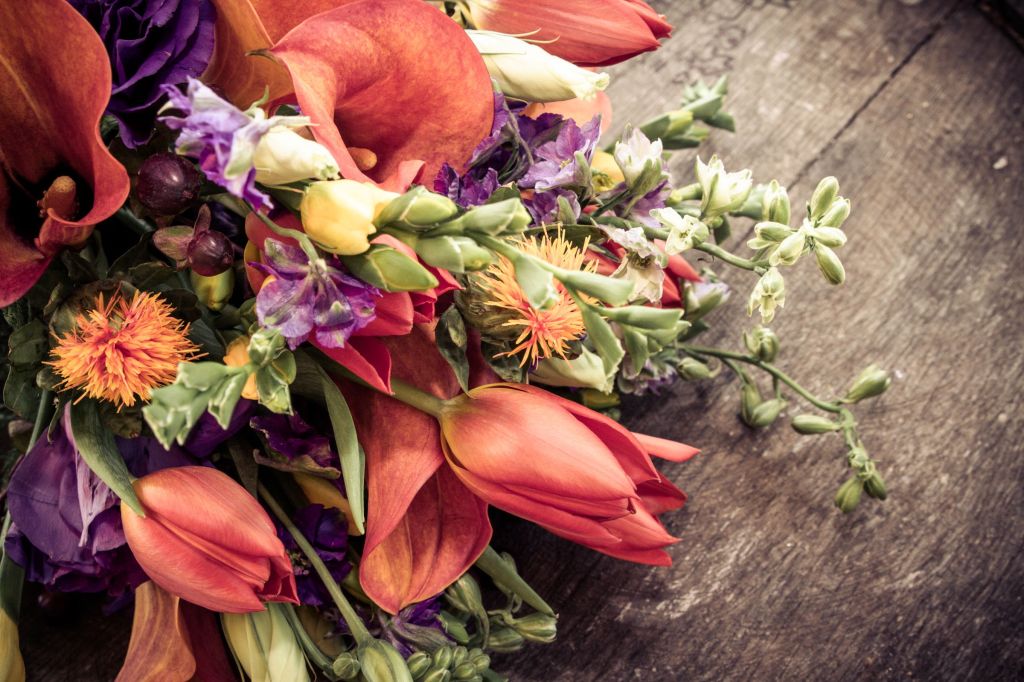 Fortunately enough, dark purples complement oranges and yellows beautifully. So I was able to work fall colors into the scheme. I also used a goldenrod yellow and a burnt orange.
The Theme: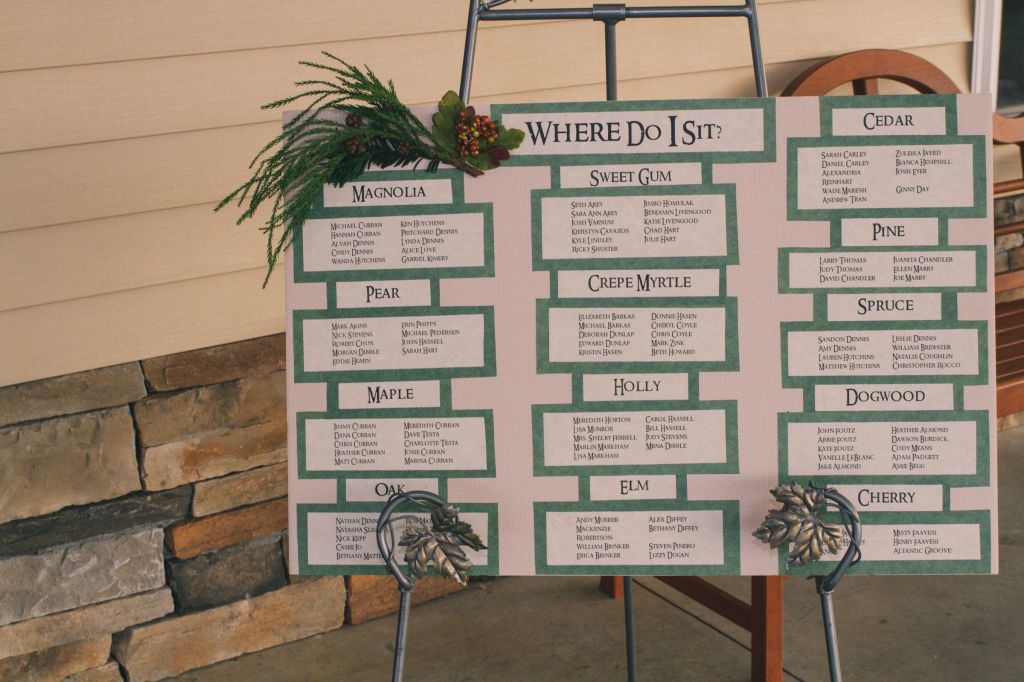 Oh come on… You knew there had to be a theme. I write. I like unity, and I really didn't want to use table numbers. I felt it could be cooler. And it was. I have to credit my mom with coming up with my theme – Trees.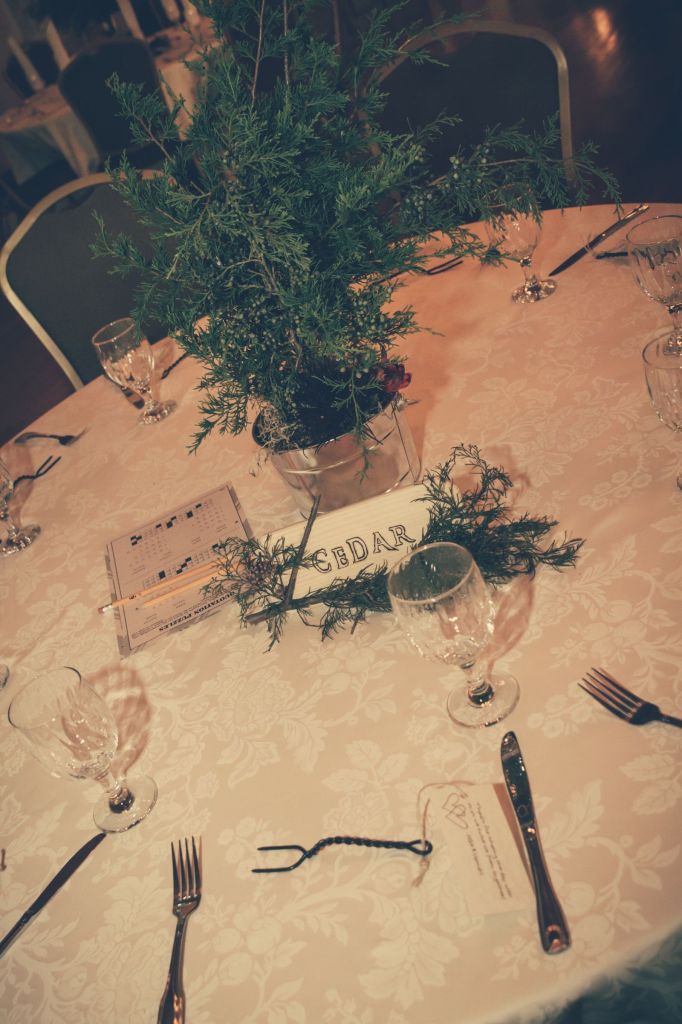 Rather than sitting at a numbered table, my guests sat at tables that were named for and decorated by foliage from different species of trees. My mom and I made all of the table arrangements.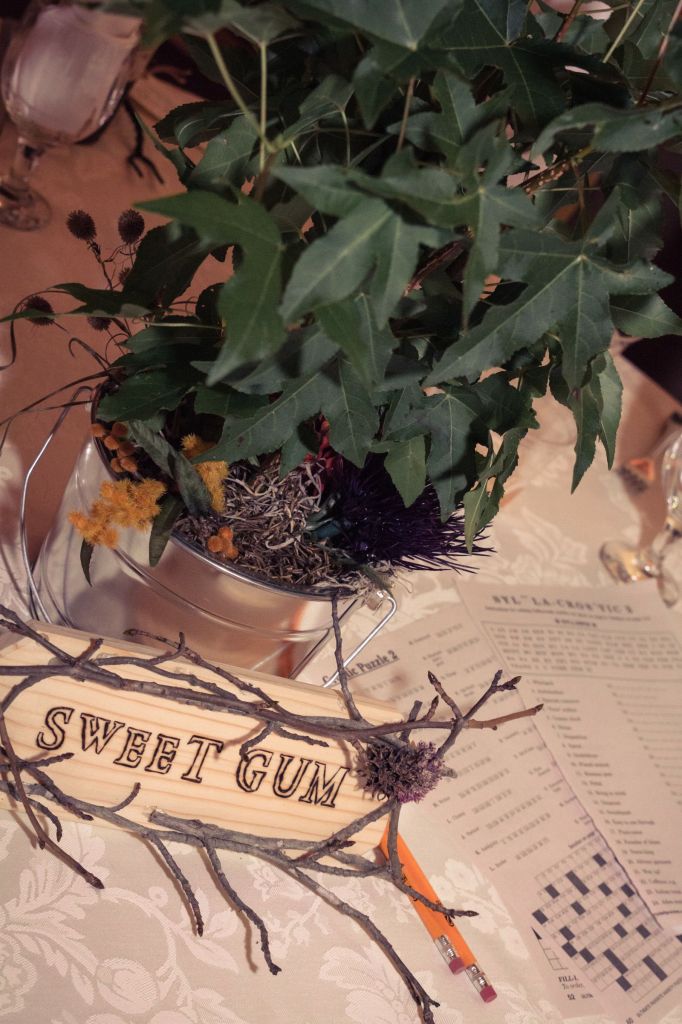 We gathered foliage from trees on my parent's property the day before the wedding and arranged it to resemble trees. I had purchased some silk flowers (dark purple thistles, orange mums, and golden rods).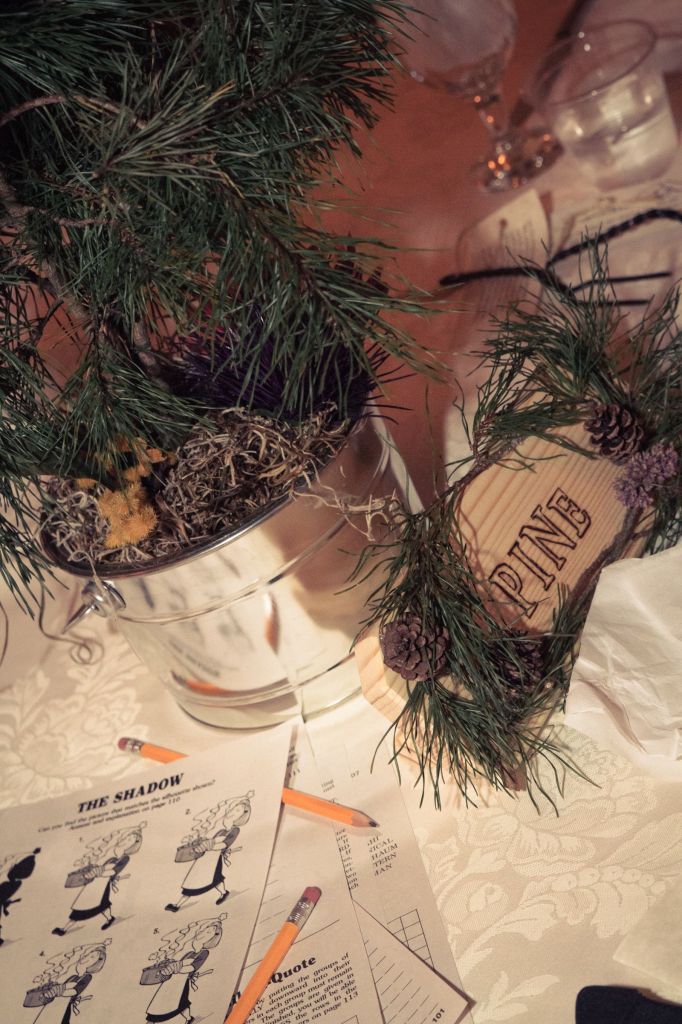 We used these as accents and plopped the whole arrangement into tin buckets from the paint section of Lowes.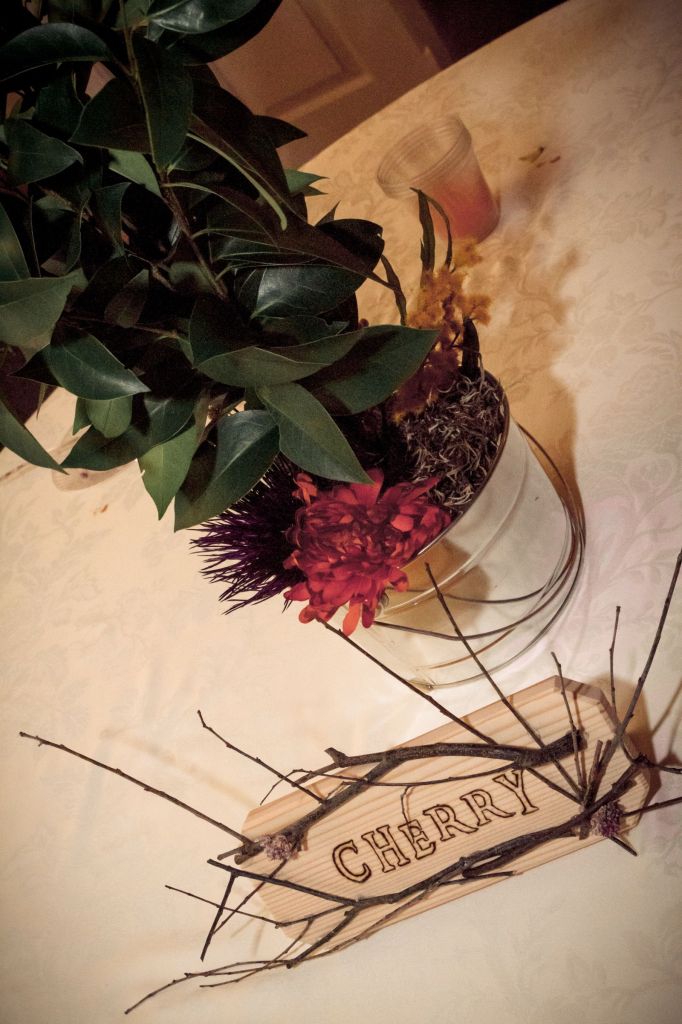 My dad made the plaques with the tree names. We knew not everyone would know local foliage well enough to find their table. He and mom used my old woodburning tool to inscribe the tree name and added wood bits from that particular tree as accents.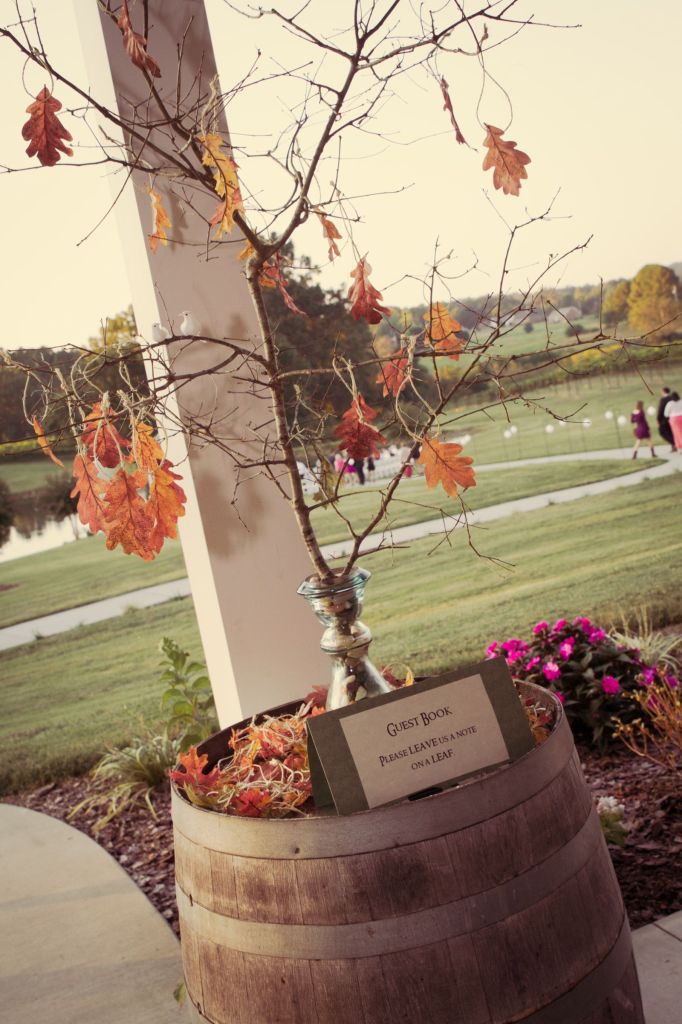 For a guest book, we had an autumn tree. Our guests wrote on silk leaves (orange and yellow) with fine point sharpies and hung them on the tree.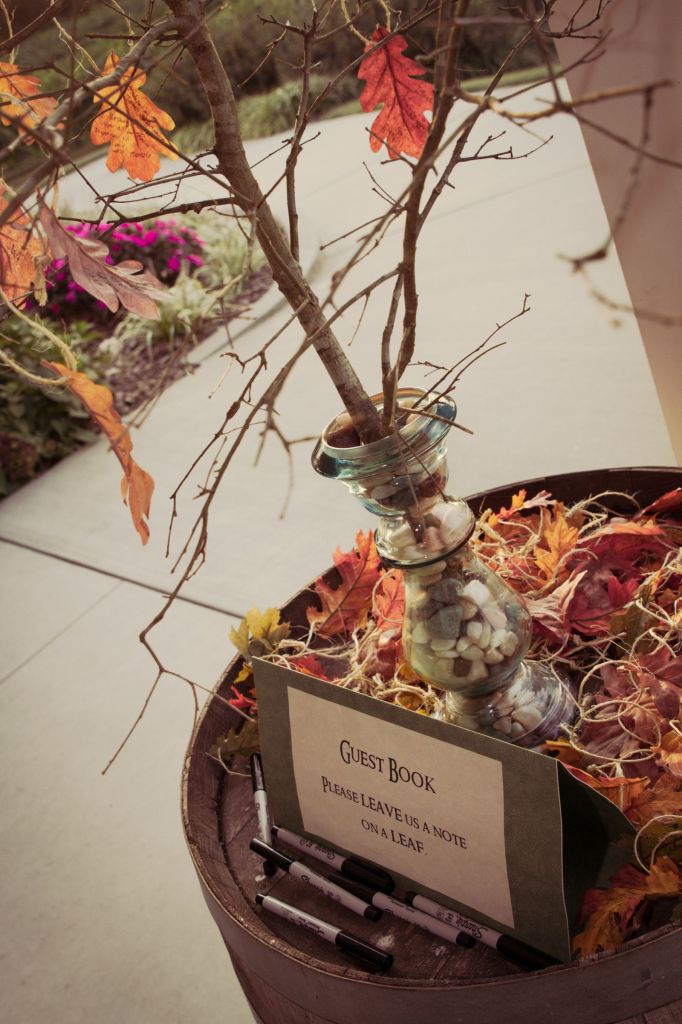 Mom and Dad cut a small sapling and stripped the leaves. We put it in a large glass vase that I got for 15 bucks at World Market and supported it with river rock .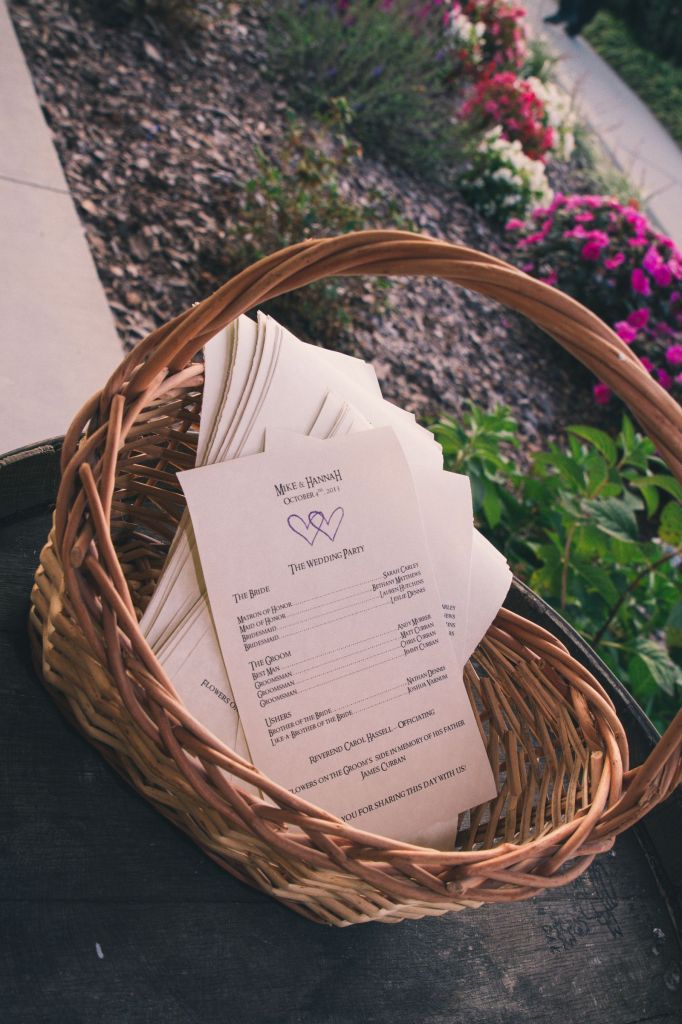 I did the program – simple and with purple hearts stamped on them.
The Giveaway & Blacksmithing: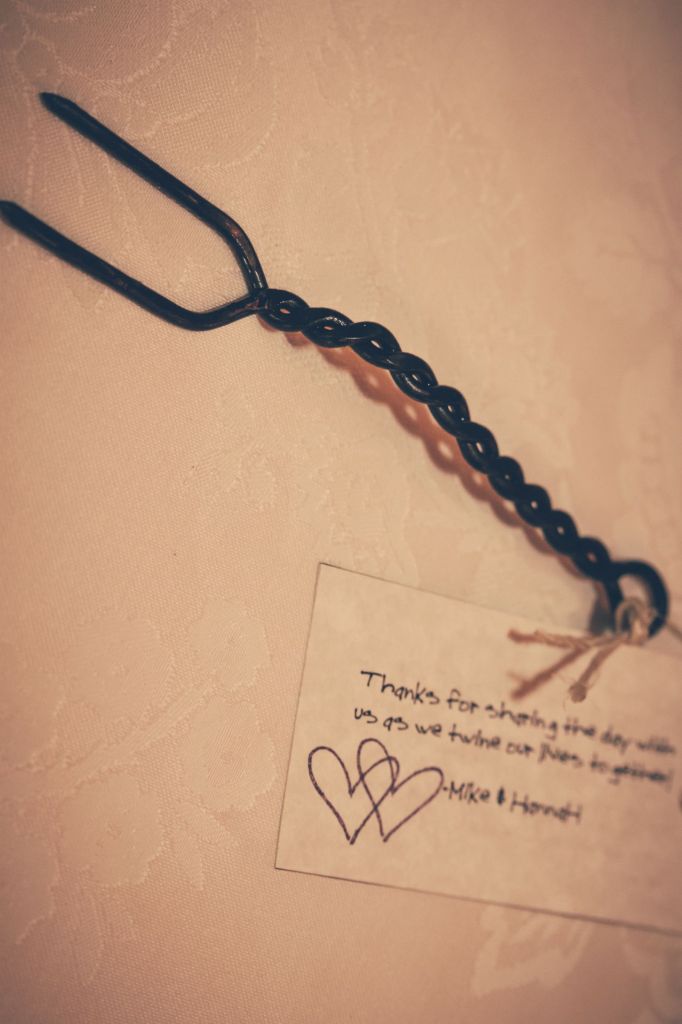 This was probably the most wonderful, awful idea I've ever had. I'm a hobbyist blacksmith, so about four months prior to our wedding, I began making forks. Yes, forks. I forged 118 steak and potato forks. None were left on the tables when the event was over, and not everyone was able to make it. So at least one person took extras! I stamped the purple hearts from the program on the tag.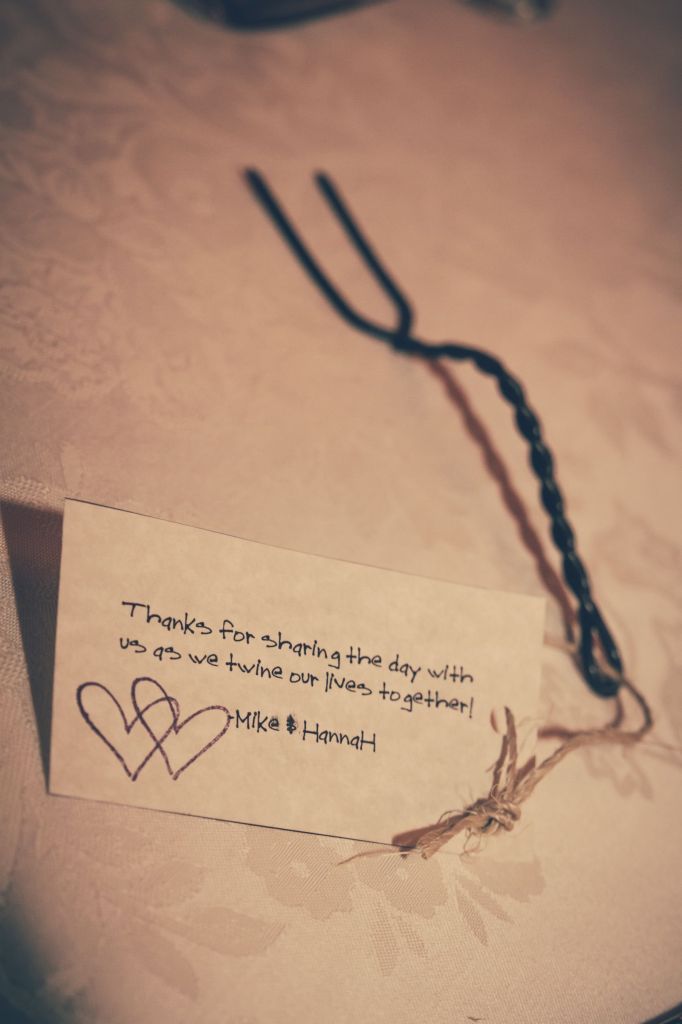 I also forged the lantern hangers for the Japanese lanterns that lined the walkway to the gazebo.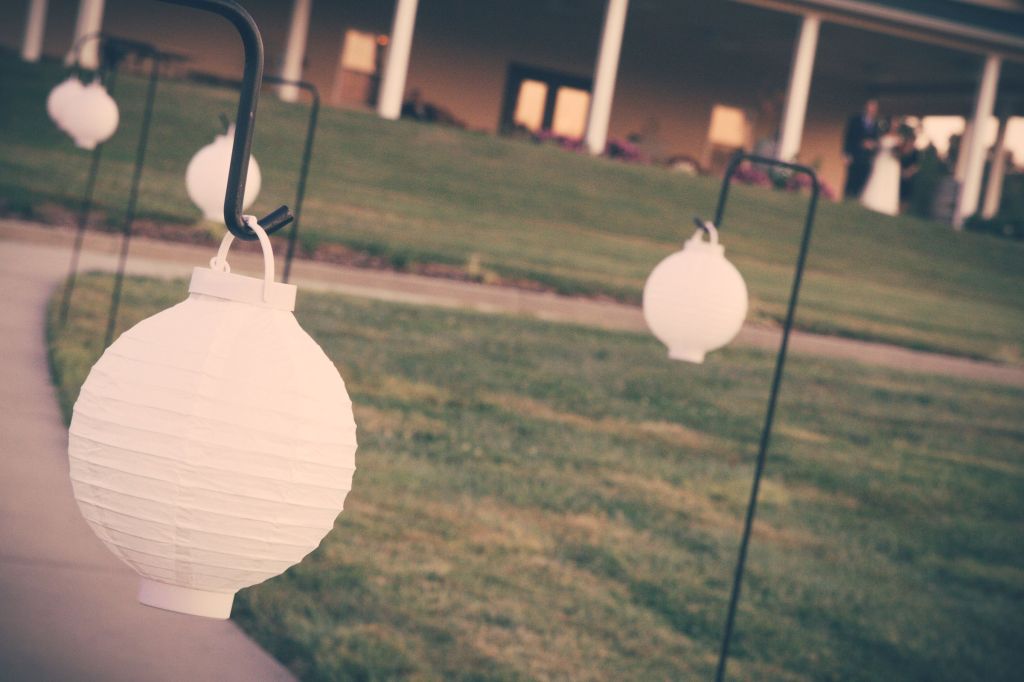 I spent the week before my wedding blacksmithing full time, completely covered in soot, and utterly exhausted, but I honestly wouldn't have had it any other way. And you couldn't tell it from these pictures. I clean up pretty well.
The Flowers: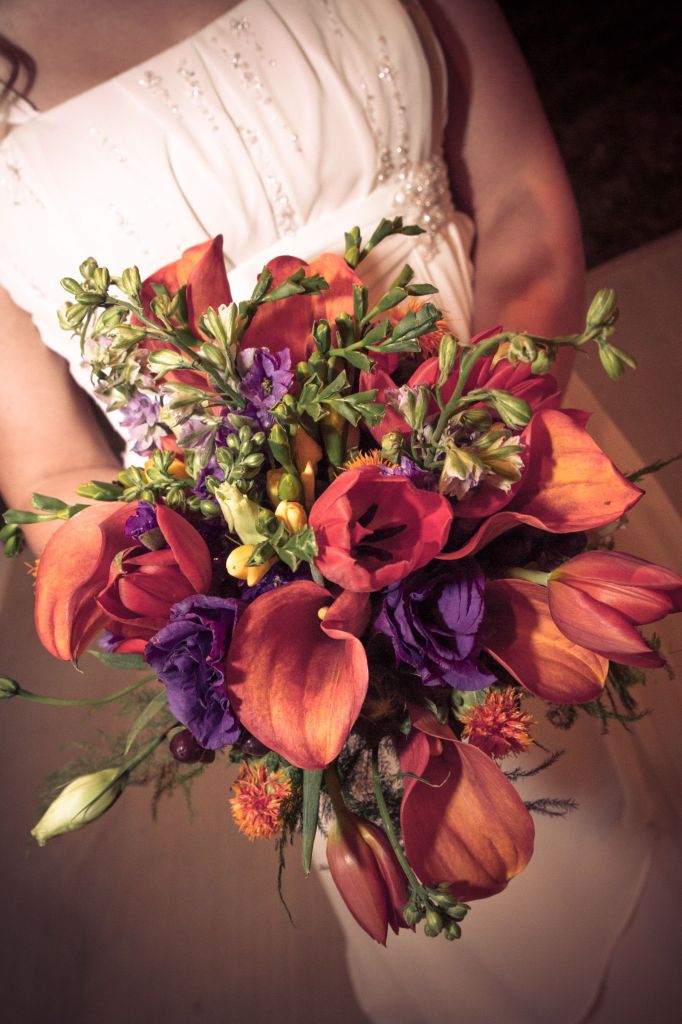 My flowers were by Designed Memories Florist in Albemarle, NC. Becky Clark is the owner and created arrangements that far exceeded my expectations. My only desires were something purple, tulips (my favorite as a child), and thistles (that grew in abundance on mom and dad's property). In my bouquet, she used orange tulips, orange thistles, calla lilies, rose hips, and a slew of other beautiful flowers. It looked both rustic and regal all at once.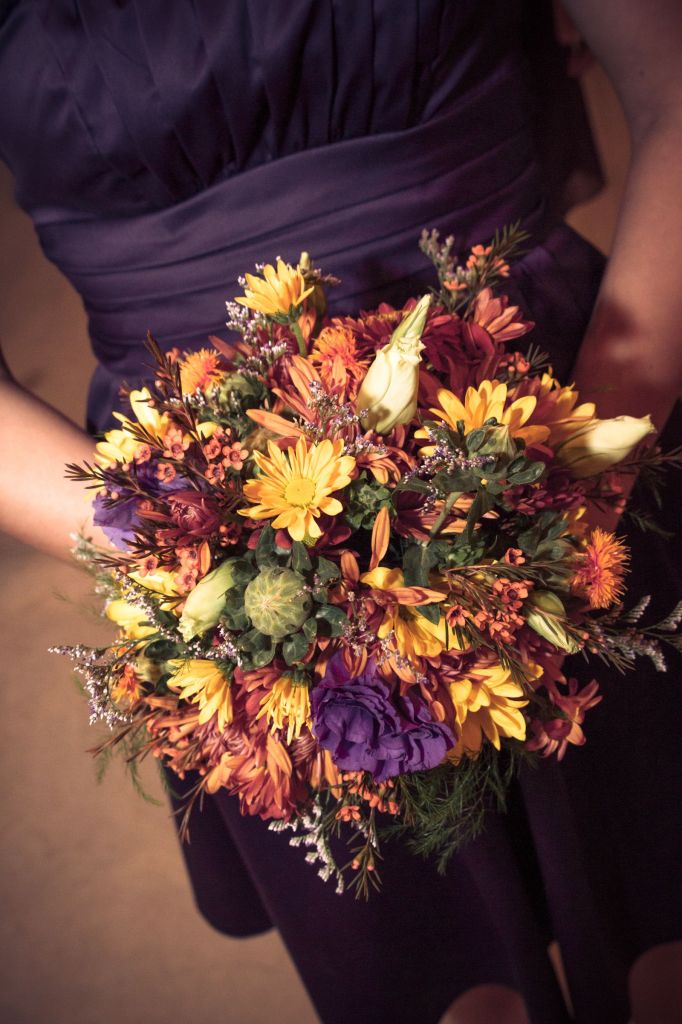 My bridesmaids' flowers utilized the same colors but were different flowers. My apologies for not being able to talk more about the flowers, but I'm not super up to speed on the different varieties. I was just amazed that the colors could be so well matched while being different flowers.
The Dress: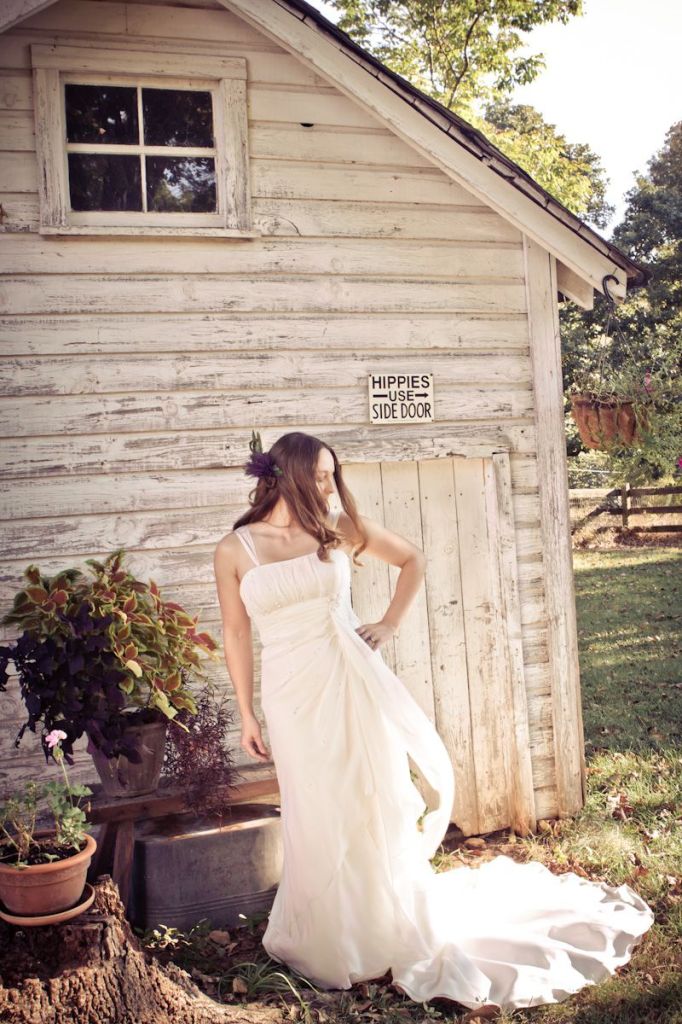 My dress came from Mecklenburg Bridal Gallery. I bought it the first day I went looking. I bought it at the first place I looked. It was the third dress I tried on and set me back a whopping $175. (No, that's not a typo.) It was a discontinued dress from a previous season, but it was absolutely everything I wanted. Unfortunately, it was far too large and had to be altered considerably.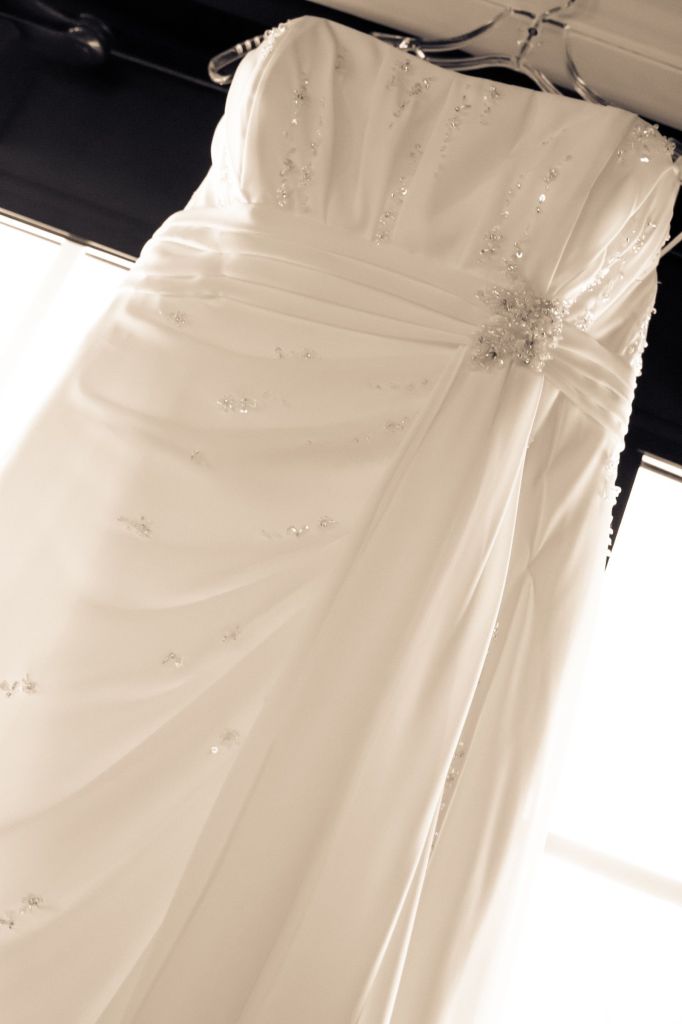 I spent almost as much in alterations as I did on the dress. Still, considering, I came out so much better than most do on price, and best of all, I was really happy. My requirements for my dress were that it be light, that it had straps, and that I not look like a marshmallow princess in it. I wanted to be able to move on my wedding day without hurting. The dress had a corset back and was dotted with a few crystals. It was originally spaghetti strapped, but we added wider ones in the alteration.
The Shoes: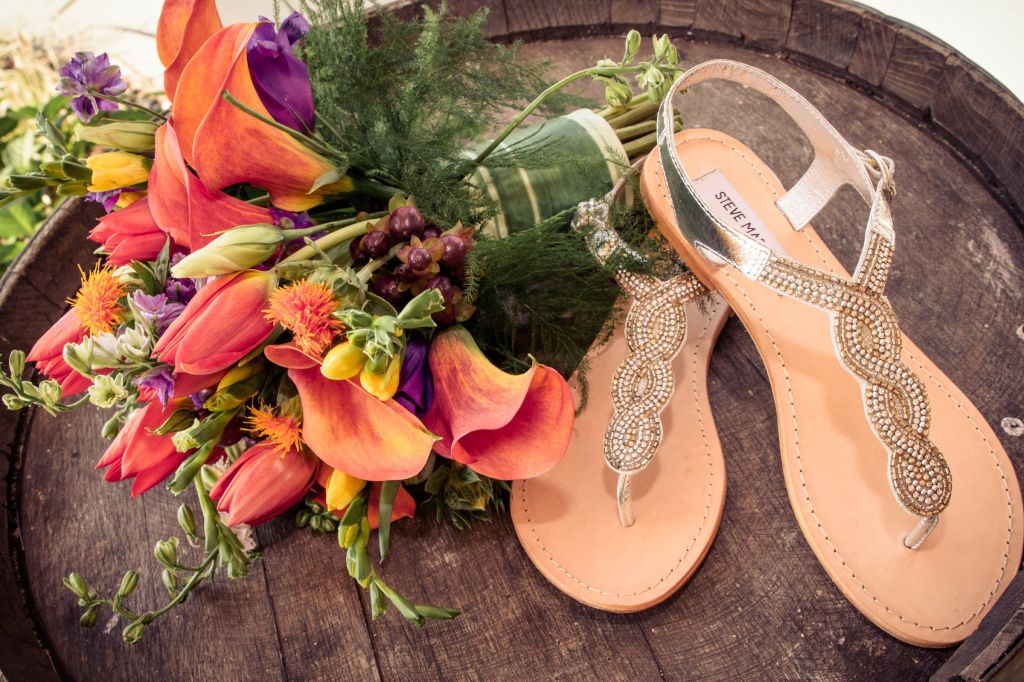 I wore flats. Beautiful flats, but flats.
The Ceremony: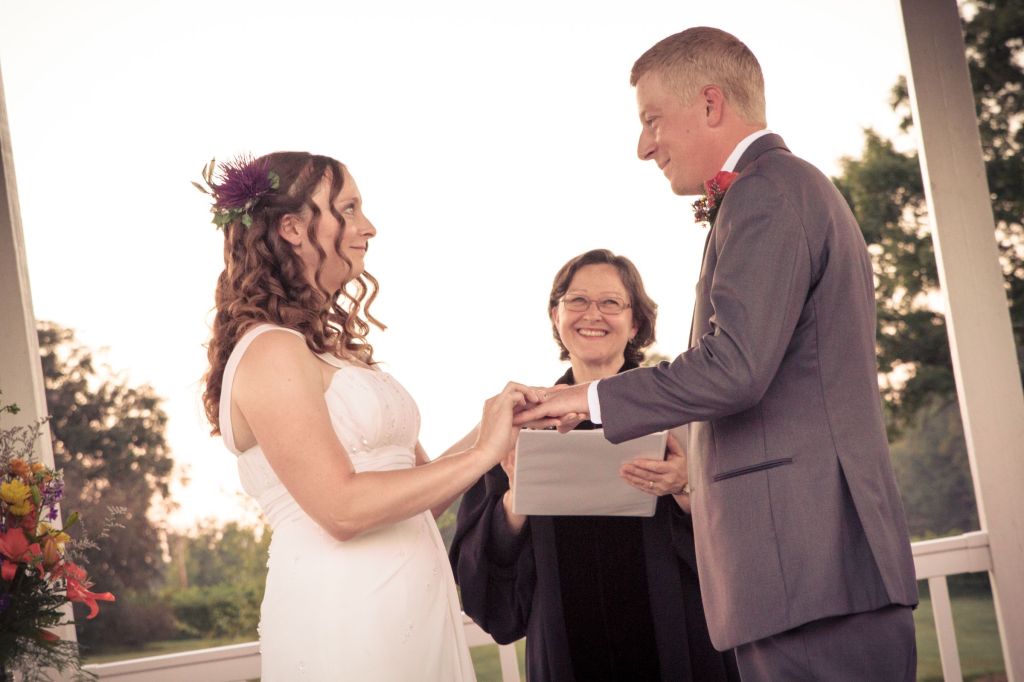 It was short and sweet – not even any songs. We were married by the mother of one of Mike's long time friends. Having this connection to the minister made me very, very happy.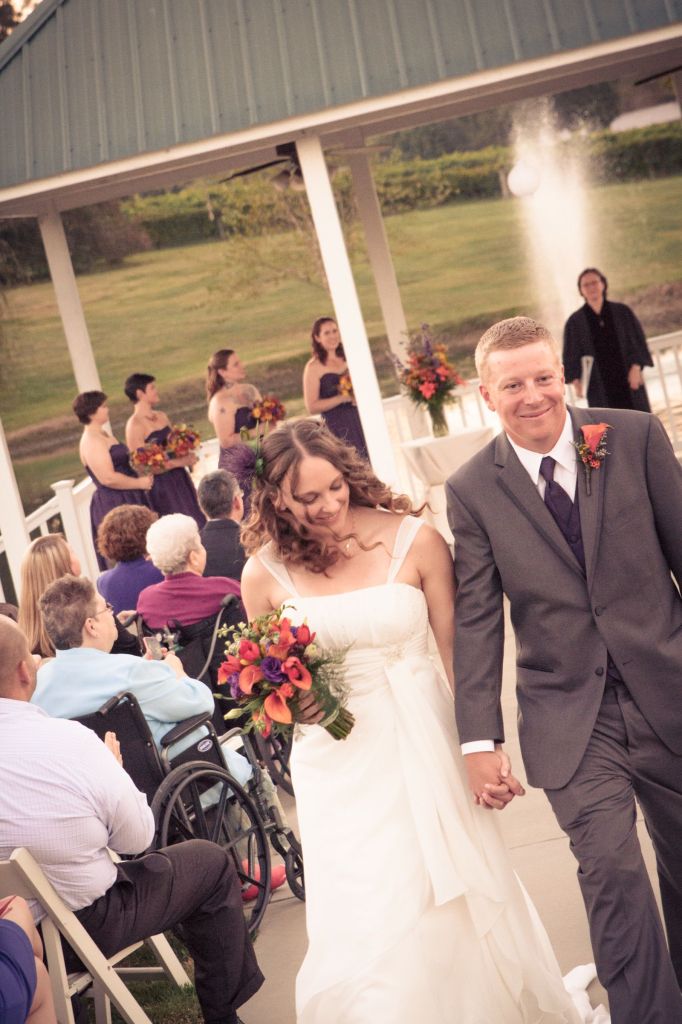 We wrote our own vows and even had a couple laughs.
The Reception: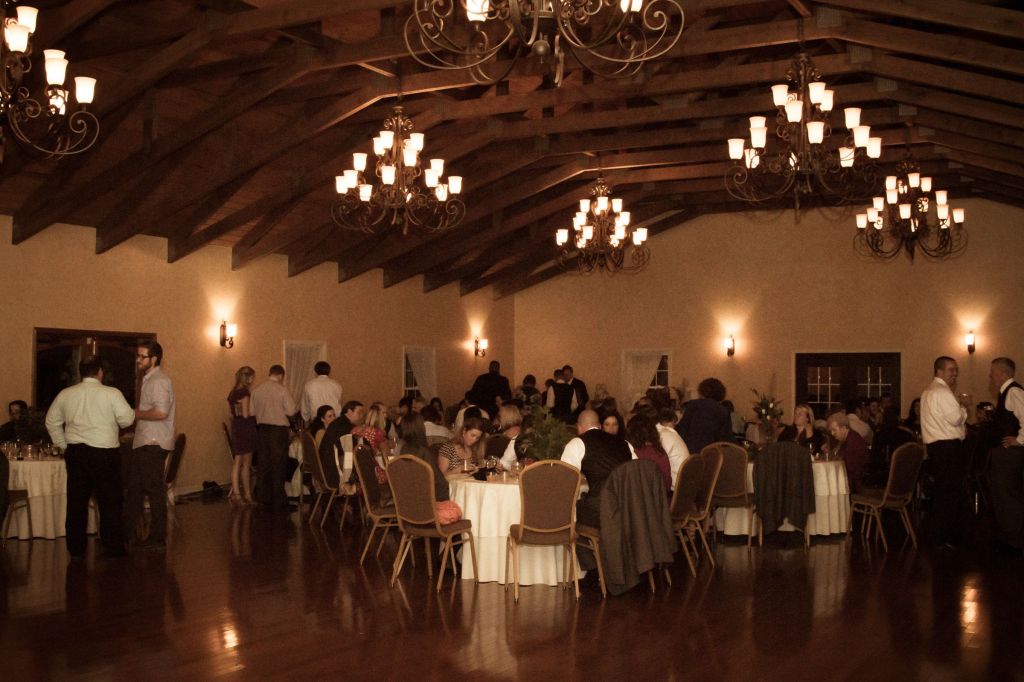 Dinner, drinks, and dancing inside the Ballroom.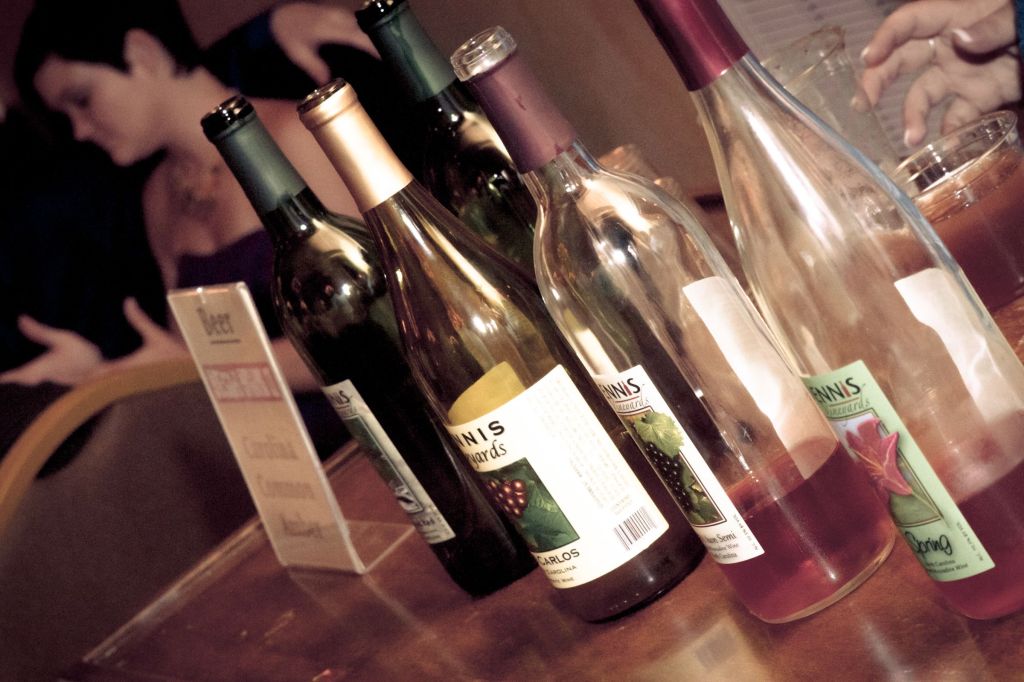 It was filled with friends and family, the family wine, local craft beer, laughter, reunions, and good conversations.
The Music: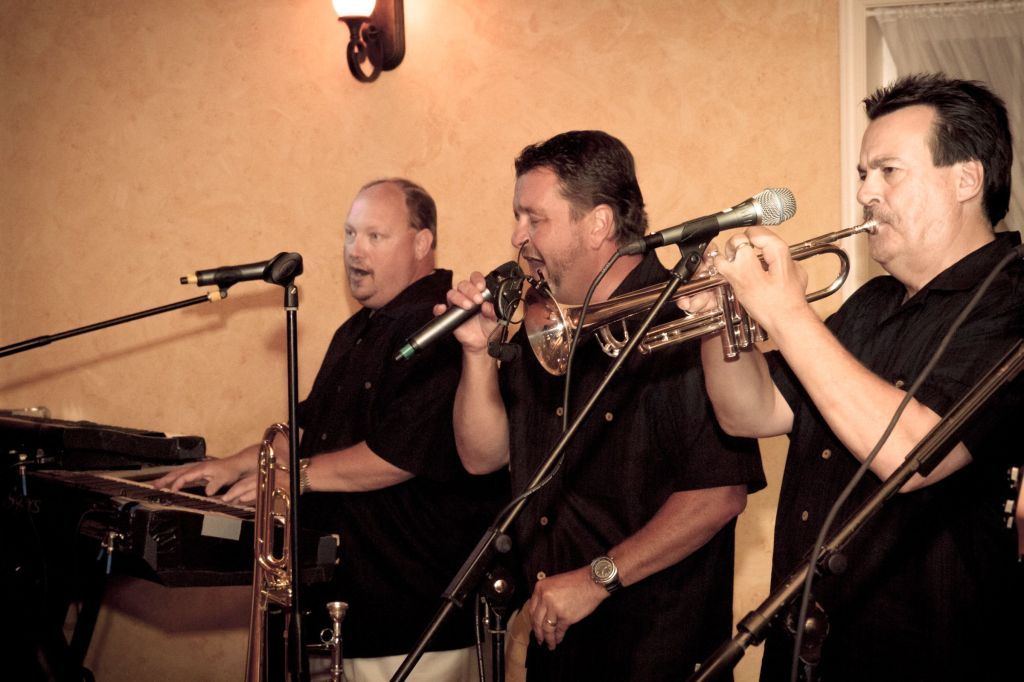 We were fortunate to have a band – Atlantic Groove based in Salisbury, NC. The band plays a variety of music, but their forte (in my opinion) is beach music.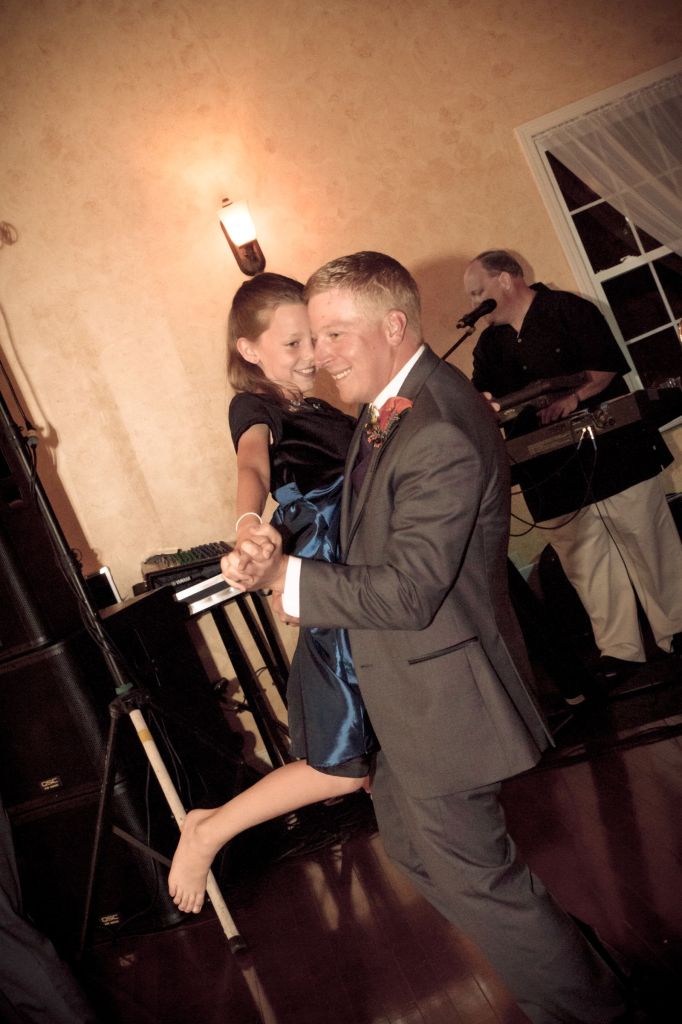 They played a lot of oldies for us. While dJ's can be fun, there's nothing quite like live music, and they reminded me what a good choice flats were.
The Cake:
A friend, who also happens to be a pastry chef, made my cake. It was a beautiful cake with lovely flowers and greenery and a perfect purple. (I don't remember sending her a swatch, so I still don't know how she matched it.) But the very best part about my cake was the filling. It was blueberry. Blueberry! She knows me well. So when Mike smashed cake up my nose, I had a wonderful scent following me around all night long.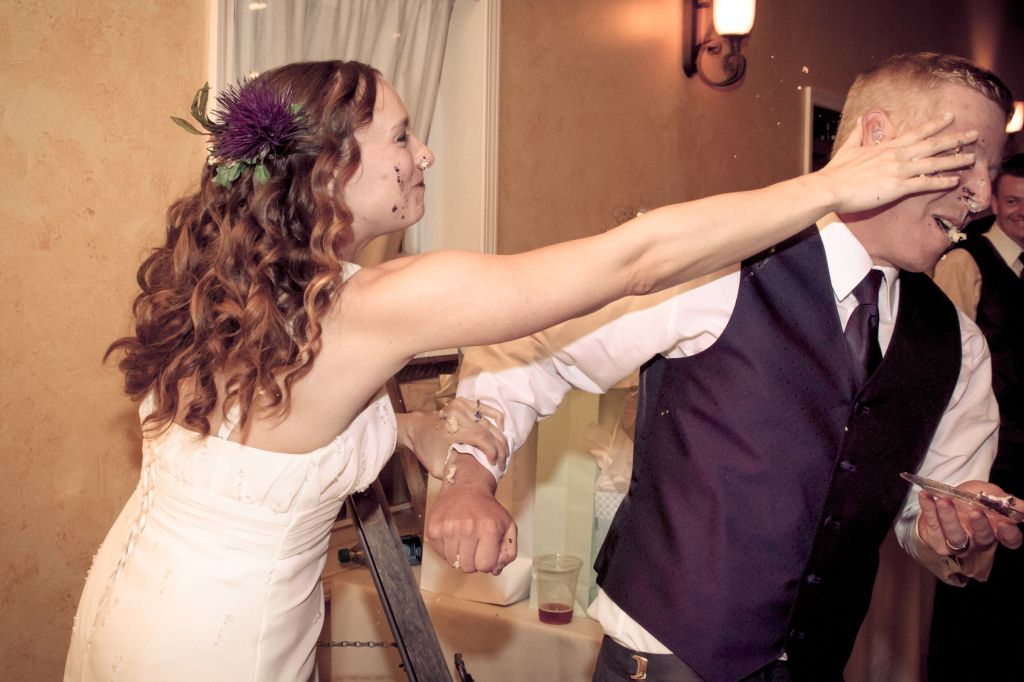 No, worries though. I got him back.
The Send Off:
Well…we didn't do one, and we forgot to do the garter and bouquet thing. When I realized that we had missed that part, I gave the throw bouquet to one of my new nieces and made it home with two garters. Our reception turned into a party, and when it was done people said goodbye and left. It was actually just the way we wanted it.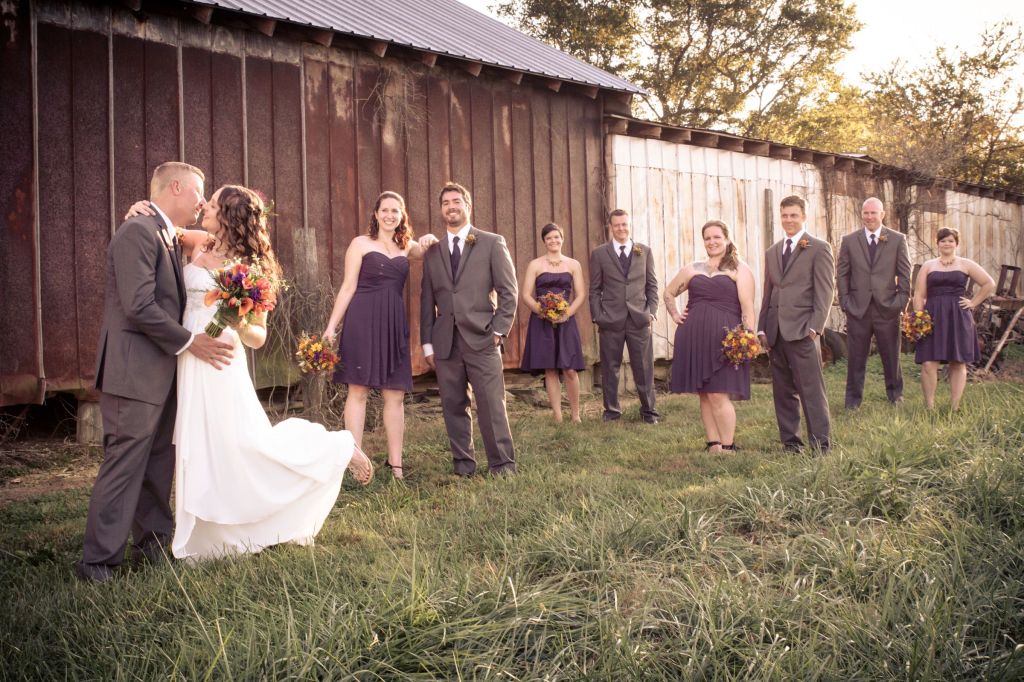 Well that look back was fun. (Thanks, Sara Ann, for the pictures!). It really was a great day, and I'm glad I have the memories…and the opportunity to tell you how I do a wedding.