I love blueberries. I mean really love them. I once told Mike that if I could only have one food for the rest of my life it would definitely be blueberries. This is still true. As a result, I really love summer when they are so readily available. Recently, I posted a picture of a free-form blueberry pie on facebook. I had made it because Mike was out of town, and I didn't really need to eat a whole pie by myself. This was smaller and more sensible – not to mention easier. So because someone has requested the how-to, here is the recipe. Enjoy!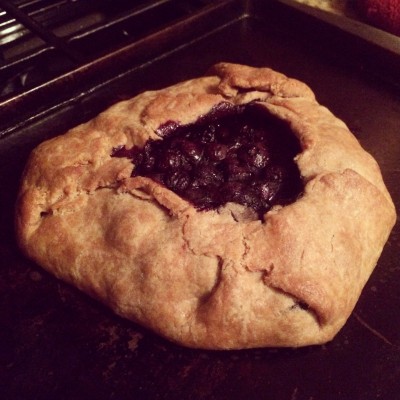 Here's What You Need: flour, salt, butter, an egg, half a lemon, cold water, fresh blueberries, sugar, cinnamon, cornstarch, and just a little whole milk or half-n-half.
Here's What You Do: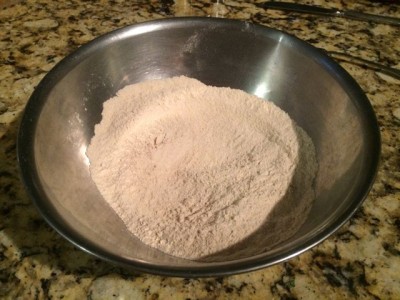 Sift one cup of flour with ¼ tsp of salt.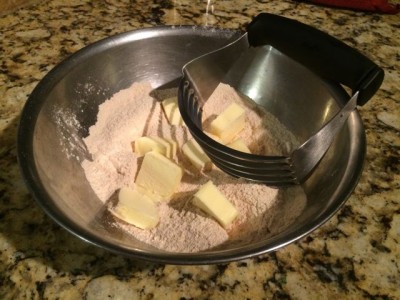 Using a pastry cutter or a large heavy fork, cut one stick of butter into the flour. I love my pastry cutter. If you don't have one, I suggest it, especially if you do any baking. If you use the fork, cut the butter into small cubes or you'll be at this for a very long time.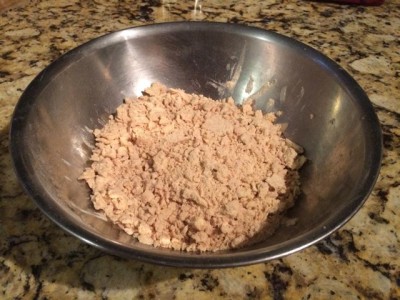 The mixture should look like this.
Crack an egg into a measuring cup and beat it up. You actually only need half of it, so store the rest for breakfast tomorrow. Or if you were like me, use the half you have left over. Squeeze a little lemon juice into the measuring cup, but don't squeeze the whole half lemon. You're going to need it later. (Note that I use small lemons. I tend to buy them in the bag rather than individually. They're smaller, but much cheaper that way.)
Now, add cold water until you reach ¼ cup. Mix it up.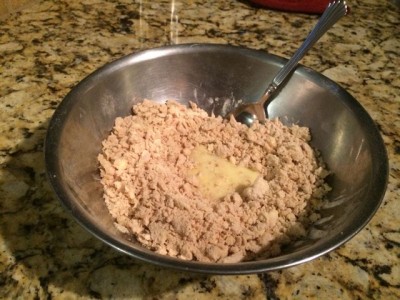 Once the liquids are mixed thoroughly, add to the flour and butter mixture. You can begin mixing with a spoon, but at some point, you'll have to put that aside, dust your hands with flour, and knead it with your hands like grandmas do biscuits.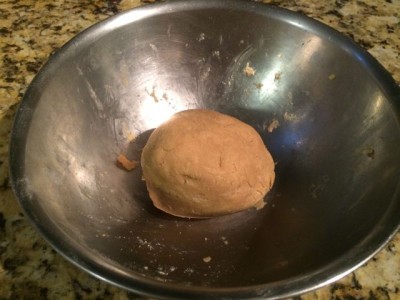 Once the dough ball is formed and smooth, stop.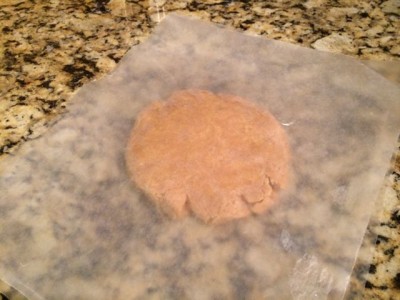 Put the ball between two pieces of wax paper and flatten. Roll it out with a rolling pin. You can make it perfectly circular if you want, but it really doesn't matter for this pie, just be sure to get the thickness as even as possible. I shoot for about a quarter inch.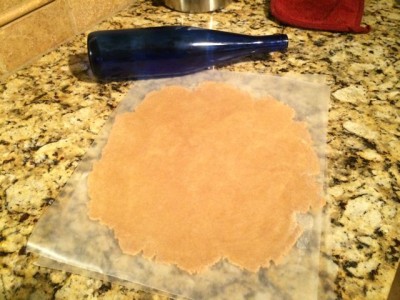 Now, place the crust, wax paper and all, on a cookie sheet and set it in the refrigerator to cool. Begin preheating the oven to 350 degrees F.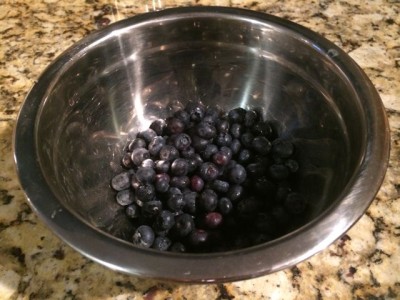 Wash a cup of blueberries. I actually had a little more than a cup here…no big deal. Squeeze the rest of the half lemon over them and stir to evenly distribute the juice.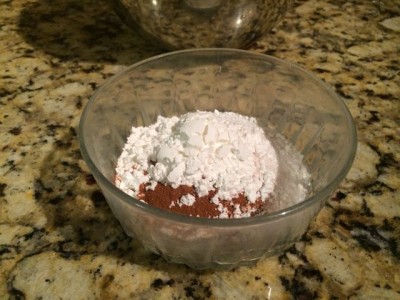 In a separate bowl, mix 6 tablespoons of sugar, ½ teaspoon of cinnamon, and 2 tablespoons of cornstarch. Pour it into the blueberries.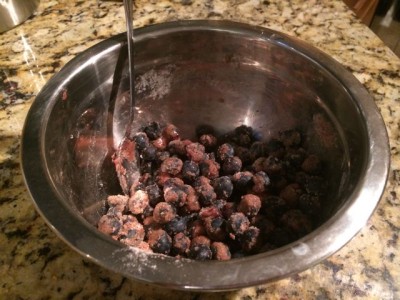 The dry mixture will cake as it clings to the fruit. Now it's ready.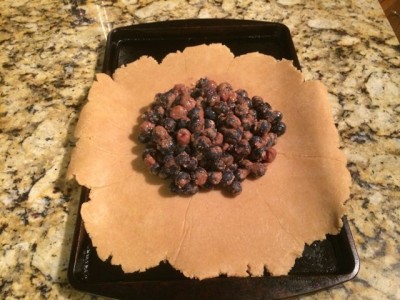 Remove the chilled crust from the fridge. Slowly pull the wax paper off of each side and place the crust in the middle of a baking sheet. Dump the blueberry mixture into the middle.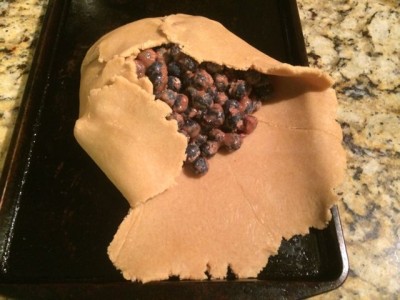 Now it's time to wrap the crust. Pick up and fold it to the center. The crust is going to tear a little. This is okay. You're going to need to fold it several times to make a good pastry pocket. Just be sure it doesn't tear too far down. You don't want the filling leaking out onto the baking sheet.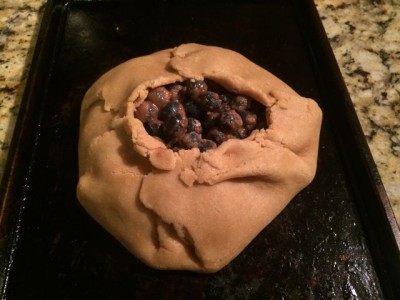 Pat the folds to be sure they are stuck down. If you see any cracks, now is a good time to pat them closed.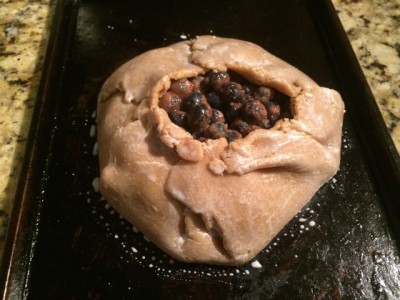 Using a basting brush, apply a thin layer of whole milk or half-n-half. Of course, you could make an egg wash out of the egg you have left, but it will make far too much. I prefer to save it for breakfast.
Now pop it in the oven and let it bake for 45-55 minutes. Take it out when the crust is golden brown, the fruit is bubbly, and the whole dessert is irresistible looking.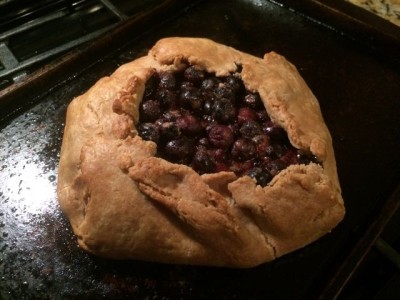 And there you have it. Refrain from eating immediately. It will run everywhere, and you'll take the skin off the inside of your mouth. But after an hour or so, you'll be good to go.
And remember coffee and pie are an excellent combo.
Free-Form Blueberry Pie
1 c. flour
¼ tsp. salt
1 stick butter (1/2 c.)
½ lemon
½ egg, beaten
cold water
1 c. blueberries
6 tbsp sugar
½ tsp cinnamon
2 tbsp cornstarch
milk or half-n-half for glazing
Mix flour and salt. Cut in butter. In a measuring cup, add beaten ½ egg, a little lemon juice, and cold water until the volume is ¼ cup. Mix well. Add to flour/butter mixture. Blend with spoon then mix with hands until dough ball forms. Roll dough out between wax paper sheets. Chill in fridge. Preheat oven to 350 F. Squeeze the rest of the lemon over the blueberries and mix. Combine sugar, cinnamon, and cornstarch in a separate bowl. Mix well then add to the blueberries. Mix until the dry ingredients cling to the fruit. Remove pastry from wax paper and place on a baking sheet. Drop fruit mixture into the middle. Fold crust up from the side to close around the fruit. Glaze pastry with milk or half-n-half. Bake for 45-55 minutes, cool, and enjoy.