Oh Mama! Pineville's Got a Coffee House
I love coffee, and to anyone who has known me any length of time, this is no grand revelation. My grandmother is to blame. She gave it to me when I was six years old, warm and filled with cream and sugar. I was hooked. My mom flipped.
Since first tasting grandma's coffee, the search and discovery of really great coffee has been an undercurrent of my adventures in food, and at this point, I've had a lot of good coffee. Costa Rican, Sumatra, Jamaican Blue Mountain, and the remains of the more-expensive-than-I-care-to-share Kona coffee I got on our honeymoon – they all stand out as favorites. I love espresso, lattes, mochas, and even the knock your head off Americano, and if you're a coffee lover like me, have I got a spot for you.
Down in Pineville (South Charlotte) on Hwy 51/Main Street, just a couple miles southwest of Carolina Place is Mama's Coffee House. Set off the road in a small yellow building, you might easily miss it were it not for the giant coffee cup sign near the road. As you pull into the parking lot, you know immediately that this place is different. All around the parking lot brightly colored doors stand free of fence or walls. Along the perimeter fence, windows painted in vibrant colors hang at odd angles. The parking lot is huge, so park in the front or the back. Though it can be busy, I've never had a problem parking, even if it wasn't in a designated spot.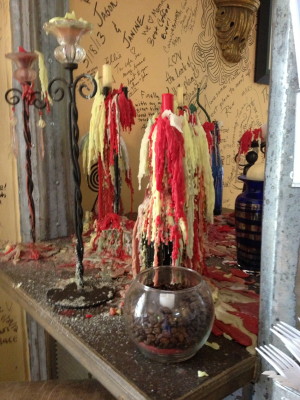 The inside of Mama's Coffee House is just as eclectic and lively as its exterior. What you will notice immediately is that visitors have signed the walls through the years since the shop opened. There are even signatures, illustrations, and sayings on the ceilings. It's a marvelous break from your typical coffee house. Bright art hangs on the walls, and candlesticks holding burned down candles in a variety of colors sit in corners. There is plenty of seating, tables, and couches. Of course, the furniture is as diverse as the décor. The shop is beautiful and inviting with just a little European flair. The Wi-Fi is free.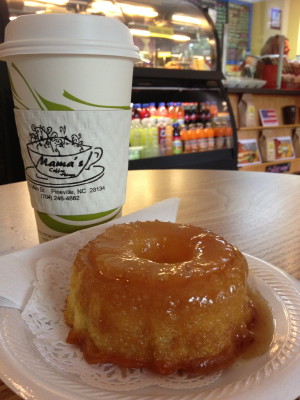 On to the food – Mama serves Paninis and a variety of house-made pastries. I have eaten and loved the Mama's Panini (tomatoes, basil, mozzarella, and olive oil) and quite a few of the pastries. The Pineapple Upside-Down Cake is divine. I paired it with regular drip coffee so as to not overwhelm myself with sweetness.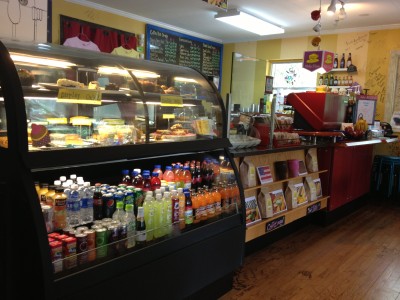 And on to the coffee…Mama knows how to make coffee. And she makes it right. Using a variety of beans from a wealth of countries, the coffee is locally roasted and wonderfully fresh. Whether you order drip coffee, a latte, or mocha, you'll get your caffeine fix while entertaining your taste buds. In a market where many coffee shops burn their coffee in the name of passing it off as "strong" and automated machines mutilate espresso drinks, it's refreshing to get a well-made cup that is simply that. In these circumstances, the coffee can truly shine.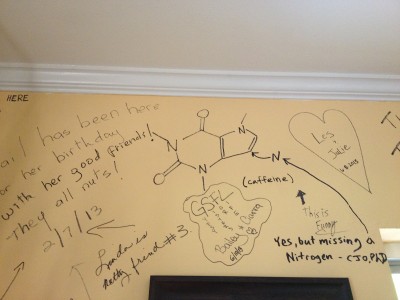 And finally, what makes Mama's Coffee so awesome is Mama. Every time I have been, except once, she has been there, making coffee and sandwiches, greeting me warmly, and wishing me a wonderful day when I leave, just as if I had come home for a snack. It's true that the days of getting grandma's coffee have passed for me, but I'm really grateful I can still have Mama's
Mama's Coffee House
716 Main Street
Pineville, NC 28134
704-248-4882
www.mamascoffeehouse.com
Monday – Friday: 7:00am – 5:00pm
Saturday: 8:00am – 5:00pm