12 Awesome Things to Do in Hilo, Hawaii
So for our honeymoon, Mike and I went to Hawaii, and I have yet to write anything on the topic. Silly me. It's about time. Early in the honeymoon planning phases, we decided to spend all our time on the Big Island. A big deciding factor was the dramatically varied landscape and how much I wanted to see lava and active volcanoes. Well turns out, our beloved government shut down last fall and didn't reopen until about four days after our return home. So, no lava for me. (Insert frown here.) However, whether the national parks are shut down or not, Hawaii is the place to be.
We spent most of our time on the Hilo side. Kona is a bit more touristy because the weather's more predictable. You're more likely to get rained on in Hilo, but it's also the more lush side of the island. Brimming with tropical foliage, waterfalls, gardens, and rocky beaches, it is breathtakingly beautiful. Activities in Hilo may not be as obvious as they are on the western side of the Big Island, but trust me, with just a few pointers, you will be having the time of your life.
1 – Visit Hawaii Tropical Botanical Gardens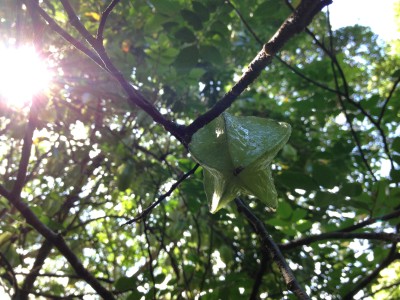 A massive, thirty-seven acre, pristine botanical preserve, Hawaii Tropical Botanical Gardens is a must see. I have hundreds of pictures Mike and I took during our visit. We spent half a day wondering through the stunning, often enchanting trees, flowers, waterfalls, and coast. The garden backs up to Onomea Bay. With clearly visible and easy-to-travel trails, it is a wonderful experience for young and old alike. The entire garden walk is about 1.25 miles, and you may never want to leave.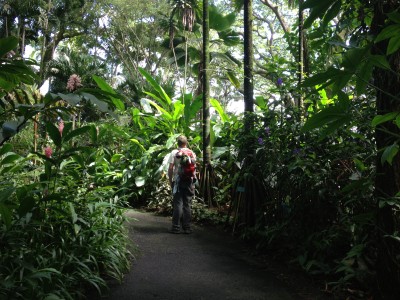 2 – Try Poke at Suisan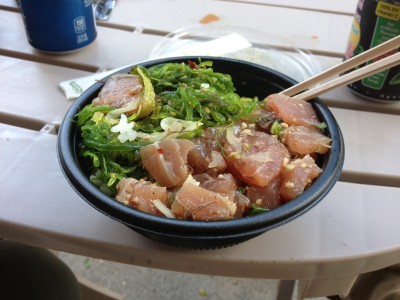 Poke (pronounced po-key) is a traditional Hawaiian dish of marinated fish served over rice. In many ways, it is similar to sushi, but it's also oh-so different. Suisan is a commercial fish market where you can purchase whole fish to cook for dinner if you want, but you can also order freshly made Poke to-go or to eat at the few tables under the awning out front. Remember that Hawaii is in the middle of the Pacific, so if you live inland in the continental USA, you have never had fish like this. Even if you live on the coast, this is going to be special. We had lunch there all but two days, and I ate the Ahi and Mackerel. Both were amazing, but if you only go once, get the Ahi. There are also many marinade choices. My favorite is Hawaiian, but they will give you little samples of any of them so you can choose for your own tastes. 93 Lihiwai Street.
3 – Stop at Liliuokalani Gardens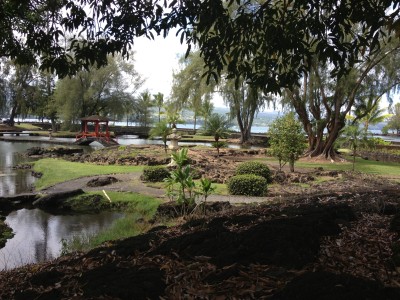 This lovely, peaceful Japanese garden is encircled by Banyan Drive and Lihiwai Street in Hilo. It's not even a full block from Suisan, so on a nice day, it's also a great place to eat your Poke. Filled with beautiful bridges, walking paths, and monuments, the highlight of this garden is a massive Banyan tree that actually appears to be three separate trees. You can even step deep enough within the prop roots to feel like you are inside the tree. Not going to lie, the tree was old and large enough I was compelled to whisper. A large pond winds through a full third of the acreage. There is also a small bamboo grove that retains its beauty despite some visitors, unfortunately, feeling the need to carve their names into the stems.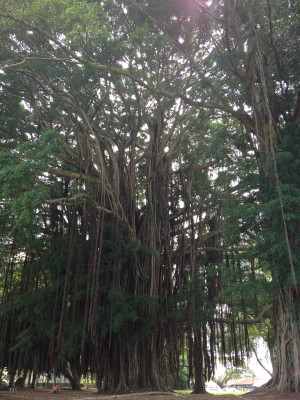 4 – See Akaka Falls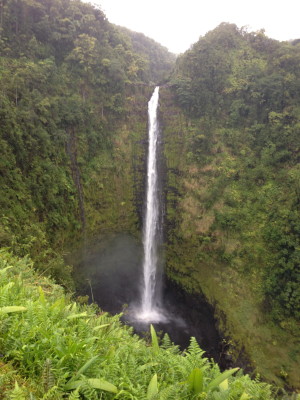 There are a plethora of waterfalls for you to enjoy in the Hilo area. You should definitely go to as many as you can. We did. But my favorite is Akaka Falls. It's easy access from Hawaii Belt Road/Old Mamalahoa Highway with just a couple turns onto Hwy 220. There is a $5 fee per car, but the view is well worth it. Most waterfalls in Hilo have a viewing area you can walk straight to and another trail that winds around through the rainforest to it. Akaka Falls is no different. Take the trail. You'll be treated to another small falls on the way. Akaka Falls is a 442 foot plunge waterfall with a deep basin. Remember the Jurassic Park movie? Yeah, it's that waterfall.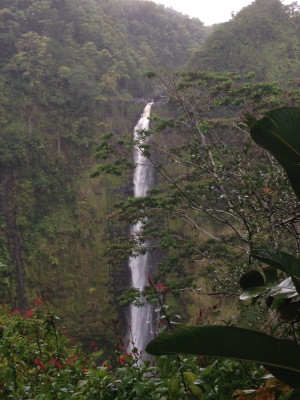 5 – Have an Iced Mocha at Hilo Sharks Near Akaka Falls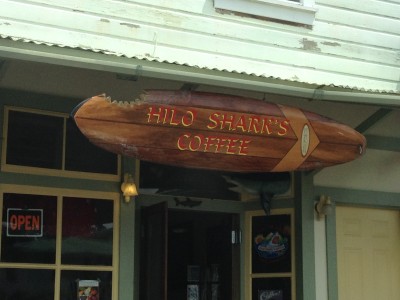 And since you just saw Akaka falls, go ahead and stop at Hilo Sharks on your way back to the highway. The address is 28-1672 Old Mamalahoa Hwy, Honomu, 96728. It's just off the main highway. With a perfect balance of coffee and chocolate, there are three coffee shops that I can say make/made my favorite iced mocha. This Hilo Sharks is one of them. The inside of the shop is small and inviting with plenty of couches, tables, reading material, and local art on the walls. There is another Hilo Sharks location actually in Hilo at the King Kamehameha Market. We didn't visit that one during our stay.
6 – Explore the Coast Line on Foot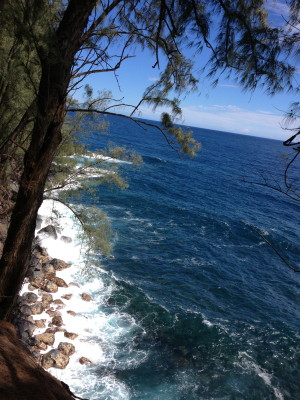 Mike and I booked a guesthouse rather than staying in a hotel in Hilo, and we were lucky enough to have kind hosts that gave us tips on where to go. We explored the coastline at their suggestion. The coastline is considered right of way, so you can walk it without trespassing on anyone's land. Accessing it can be tricky, but trust me and go to the trouble. Old Mamalahoa Hwy turns into Old Railway Road north of the Hawaii Botanical Gardens. Keep watch as you continue north until you can take a right onto Kulimano Homestead Road. You're actually taking this right to stay on Old Railway Road because it will curve back to the left and turn back into Old Railway Road. At this point, you're going to ask yourself where I've sent you, but stay on Old Railway Road until you can take a right on Banyan Tree Road. This road will dead-end into a private road. You want to park in the grass clearing by the gate and walk across the private road. You're going to feel like you're trespassing, and if you go to the right or left, you are. But just stay straight, and you'll keep in the right of way. You'll walk a path through tall grass and oppressive heat, but in a few minutes, you'll reach the coastline. Once we made it out to the coast, we explored both directions. Seriously. Don't miss it.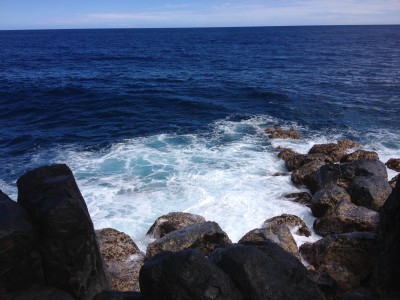 7 – Watch the Sunset From the Top of Mauna Kea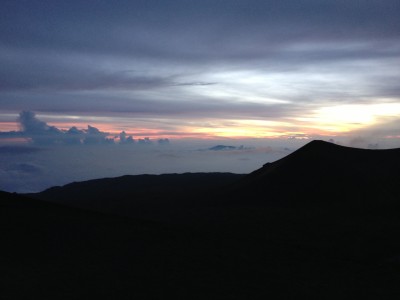 This was one of the highlights of our stay. We made the trip at the suggestion of our host. It's about a 45-or-so minute drive from Hilo on Saddle Road to Mauna Kea. Be sure to allow a good hour and a half or two hours to make the full trip out because the 45 minutes is to the mountain, not to the top. Contrary to what is posted, you don't need an SUV or 4wd to make it up the mountain. That said, go slow, and don't do anything stupid. A good bit of the way up is dirt road, but we made it in a sedan with no problems or scary bumps. Remember to bring warm clothes. You're going up to about 14,000 feet above sea level. When we left Hilo, it was 85 degrees Fahrenheit. At the top, it was 35 F. Stop at the welcome center for about twenty minutes, let your body adjust to the altitude change, and use the restroom. Then, continue on. The pictures speak for themselves.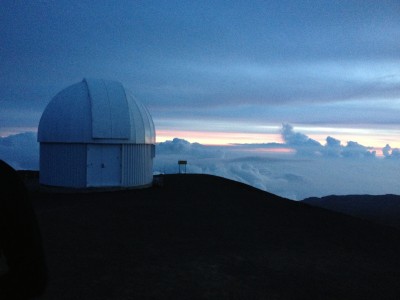 8 – Eat Dinner at Ponds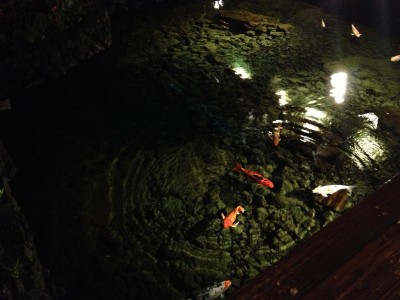 Because Hilo isn't as large of a tourist attraction as Kona, you may find yourself wondering where to eat dinner, especially a nice one. Go to Ponds. It's located at 135 Kalanianaole Ave in Hilo. The restaurant is built over/overlooking a reed-filled pond, and the pond area around the building has been partitioned off to house some beautiful Koi fish. The food is excellent. Mike had prime rib, and I got Macadamia nut pesto. It was the best dinner we had during our stay, and the view and atmosphere were beautiful. There was also a musician playing the night we were there.
9 – Visit the Zoo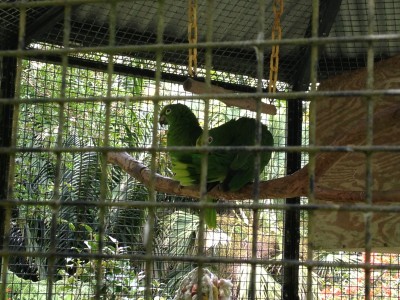 As part of their vast local park system, Hilo supports a small zoo – the Pana`ewa Rainforest Zoo and Gardens. It's open 9a–4p everyday except Christmas and New Year's Day, and it's easy to find on Hwy 11. The zoo is home to many tropical birds, anteaters, and a retired-from-show-biz white Bengal tiger named Namastè, among other animals. There is no admission costs for visiting, but Mike and I left a small donation. You can also help support the zoo by visiting the gift shop.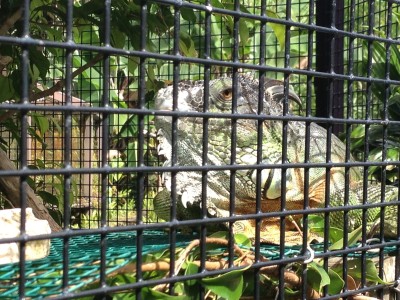 10 – See the Lava Molds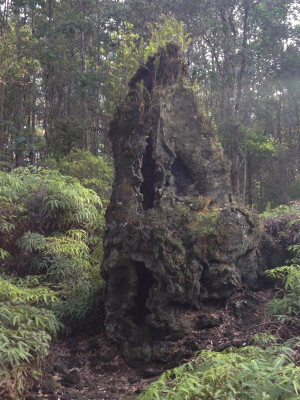 I didn't even know what lava molds were until our visit to Hilo, but apparently, hot lava will cling to trees. Of course, the trees burn up, but the lava cools enough that it stays put. This creates some bizarre lava rock forms. Lava Tree State Monument is a state park about 20 minutes south of Hilo on Hwy 130. There is no entry fee, and the trail is less than a mile. You will see jaw-dropping rock formations, some with new trees growing out of them. There are also deep fissures in the park left behind from the eruption that created the lava molds.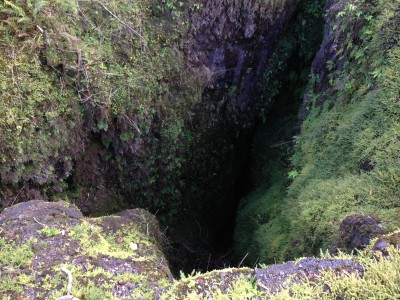 11 – Walk on the Kalapana Lava Fields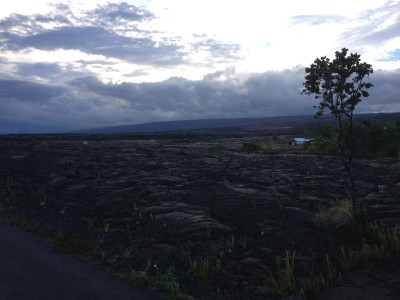 So hopefully when you visit, the Hawaii Volcanoes National Park will be open, and you'll get to go there to see active volcanoes. But even if you make it there, I suggest going out to Kalapana. Like the lava molds, it's south of Hilo. When Mike and I went in October 2013, there was no lava flowing. We could only see some steam coming out of the volcano itself. However, the vast fields of hard lava are a worthwhile sight. It is amazing to see such young earth. Please stay on the road as you go out to the viewing area. The land is privately owned, and people are rebuilding and living there.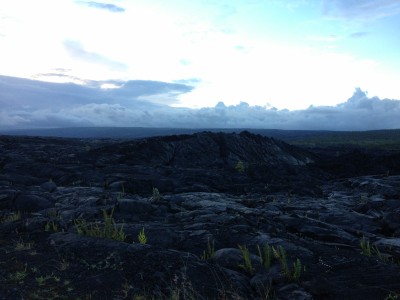 12 – Eat Breakfast at Ken's House of Pancakes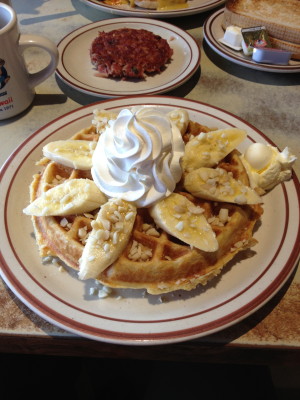 Absolutely the best breakfast I had in Hawaii. Ken's is actually open 24/7, and you can get any menu item at any time of day. Mike and I had dinner at Ken's one night as well, but if I could have breakfast there every day of my life, I would. At 1730 Kamehameha Ave, its yellow brick building is plain and unassuming, but don't let that fool you. I had the Banana & Macadamia Nut Waffle for breakfast with a side of corned beef hash. And yep, it was homemade corned beef hash. Mike had Corned Beef Hash Benedict, but mine was so good I wasn't the least bit jealous. He was very happy too. If you are taken a bit off guard by the many pictures of Duane Johnson (The Rock) hanging about the restaurant, it's because he owns the place.