Taste of Summer: Basil Pesto
I love summer. Unfortunately over the past few years, it has passed without all the sun and adventures of years gone by, but it is still my favorite season. Sun, heat, beaches, lemonade, and fresh garden vegetables are my memories of summer. A few years ago, when I was still living in a quiet North Charlotte apartment, I begin growing herbs and tomatoes on the back patio. Well let's clarify – I tried to grow tomatoes. Apparently, in apartment complexes, they do enough spraying that bees don't come around much. While my tomato plants grew well over seven feet tall but never made a single tomato, my basil went wild. I had a slew of it.
So what to do with a load of basil? Make one of my favorite summer concoctions – Basil Pesto.
Pesto is a mixture of oil and minced herbs. You could make it with a variety of components, but I am a fan of basil…and pine nuts…and Parmesan…and garlic. This recipe makes about a pint and a couple tablespoons more (so you can have a little snack when you're done).
What you need: Basil leaves, garlic, Parmesan cheese, pine nuts, olive oil, salt, and a big, sharp knife.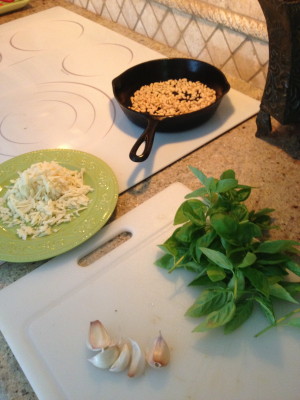 What you do:
Mince 3-4 cloves of garlic. Use four if the cloves are medium sized. Toss the garlic into the bowl.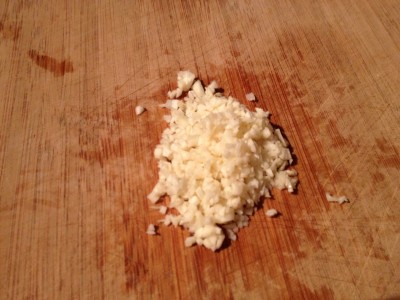 Grate about half a cup of Parmesan. Then mince it finely.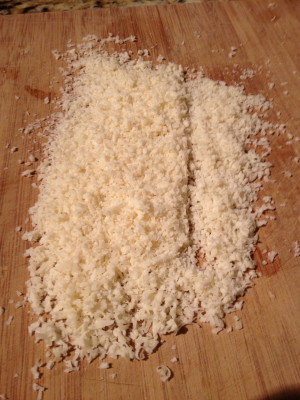 Pick basil leaves off their stems. You need about two cups of them. Mince them. If your knife isn't sharp, you're really going to notice now.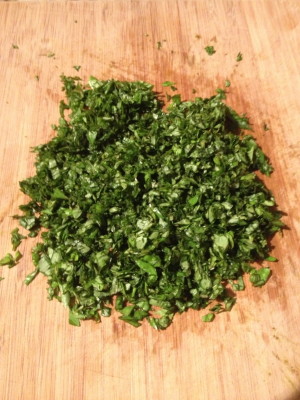 In a dry pan, roast half a cup of pine nuts. Keep a close watch on them and shake the pan often. When they are browned, remove from heat, and smash them with a mortar and pestle.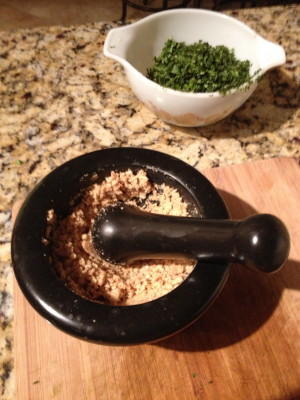 Put all your ingredients in the bowl. Add about half a cup of olive oil and a teaspoon of salt. Stir it all up, taste, and adjust.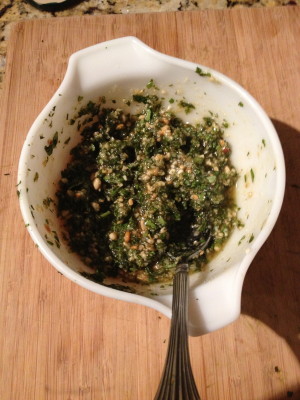 Pesto stores well in a jar in the refrigerator. Just be sure to cover it with olive oil, and try to eat it within a week or so. If you don't eat it within that timeframe, you can freeze the leftover. Toss a couple tablespoons into a serving of pasta for a fresh, delectable summer treat. Sun dried tomatoes are a good addition.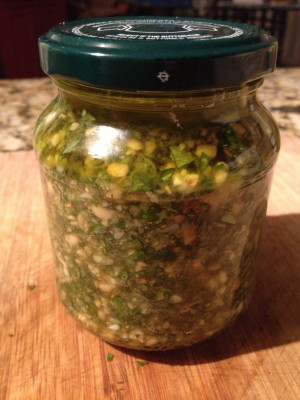 Basil Pesto
| | |
| --- | --- |
| 2 c. Basil leaves | 1/2 c. pine nuts |
| 3-4 cloves garlic | 1/2 c. Parmesan |
| 1/2 c. olive oil | Salt |
Mince garlic and place in a bowl, Grate Parmesan and mince finely. Add to bowl. Mince basil leaves and add to bowl. In a dry pan, roast pine nuts until golden brown. Smash with a mortar and pestle. Add to the bowl. Pour in olive oil and salt to taste. Enjoy!