Charlotte's Best Corned Beef Hash: Stacks – Matthews
Mike and I love corned beef – corned beef and cabbage, Reubens, any corned beef sandwich, and of course the piece de resistance, corned beef hash. Mike is a fine crafter of corned beef hash, one of the best, in fact. But he can't make it every morning we crave it. After all, making corned beef hash is a process that begins the day before when we cook a corned beef for corned beef and cabbage. Because of this, we are always on the lookout for a restaurant that makes a great corned beef hash.
But honestly, good corned beef hash is hard to find. On second thought, a rephrasing is in order. Disregarding good, real corned beef hash is hard to find. In most restaurants which it is offered, corned beef hash is the mushy slop that comes from a can. It's a shame too because, just as with most foods, the real thing is so much better. As you have probably guessed, we conduct active searches for where we can get my favorite breakfast meat item, and time after time, we are disappointed. For some reason that is lost on me, no one in the area has been able to pull it off to my satisfaction. Until now.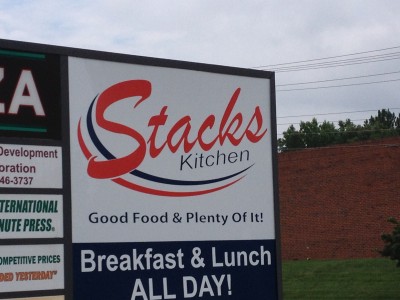 Last weekend, Mike and I visited Stacks in Matthews. While not technically in Charlotte, I contest it's close enough to count, and I am happy to report that we have found the best corned beef hash in the Charlotte area. At long last! It is probably important to note that there is a Reuben on the lunch menu at Stacks, which bodes for better corned beef hash than a restaurant that does not have one.
So let's talk about Stacks. There are two locations – one in Waxhaw and one in Matthews. Mike and I obviously ate at the Matthews one, but corned beef hash is on the menu in both locations. Both restaurants are open 6am-3pm every day of the week and feature a wide range of breakfast and lunch items. The Matthews location contains a bakery (I do not know about the Waxhaw one), and the case up front is bound to get your mouth watering while you wait to be seated. That said, bakery items are not the focus of this post.
The Wait – We did have to wait, but it was well worth it. We went about 10:30am on a Sunday.
The Order – Mike and I both got corned beef hash topped with two over medium eggs. I got oatmeal, and Mike got grits. The plates came, and we dug in.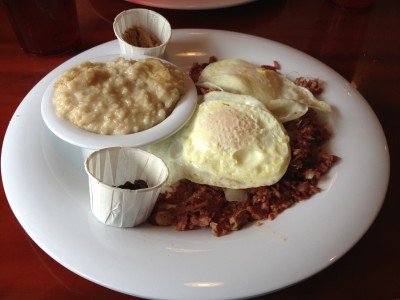 The Corned Beef Hash – This hash was simple, letting the star ingredient shine through. It contained only corned beef, potatoes, and onions. Finely chopped, it had excellent texture, and the flavor was not too sweet, a complaint I have had about other real corned beef hashes in the area. The hash was also well cooked, done enough to be lightly crispy but not so done as to dry it out. Topped with the eggs, it melted in my mouth and made me a very happy person, as happy as I have ever been in a Charlotte restaurant eating corned beef hash.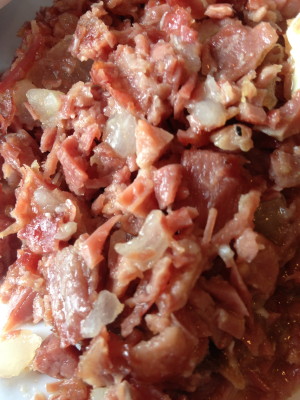 Last night, Mike cooked a corned beef, potatoes, and cabbage. So this morning, he stood over the stove and a cast iron skillet and made my very favorite corned beef hash while I cooked the eggs to top it. But in a couple weeks when we are craving it again, we will journey down to Stacks – Matthews and indulge once again in Charlotte's best corned beef hash outside of my kitchen.
So I would like to say: Thank you, Stacks, for making it real and for making it right. We appreciate the extra effort it takes because that extra effort does make a difference in all food, especially corned beef hash. And we will definitely be back soon.
Stacks – Matthews
11100 Matthews Rd. • Matthews, NC 28105 • 704.841.2025
Daily 6am-3pm
http://www.stackskitchen.com/