If you know me well, you know that I dearly love animals. All animals – big, little, furry, scaly, feathery. Doesn't matter. I think they are all fantastic. I'm not sure where this began. I was raised on a farm and wanted to be a jockey when I was little. Actually, when I grew taller than 4' 10", I was bummed for weeks. But I got over it and just continued to love them. For this reason, Mike makes a zoo trip at least a yearly occurrence. (He's really awesome.) Traditionally, we go to the North Carolina Zoo in Asheboro, NC. It is the North Carolina zoo after all and the one I was accustomed to frequenting as a child. This past weekend, Mike and I went to the zoo, and this time, we went to the Riverbanks Zoo in Columbia, SC.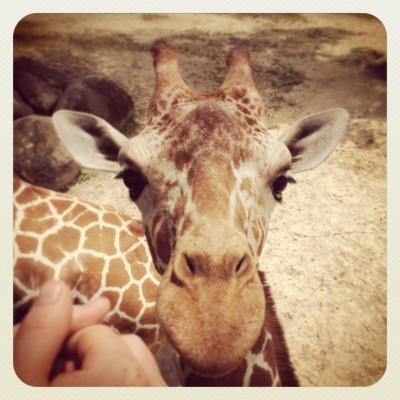 Both zoos are a bit of a drive from Charlotte but equally great for a day trip, and they both have unique features that make them awesome. Each however is different, and those differences could determine which animal experience is best for you. What I can guarantee is that, at either zoo, you will see some awesome animals and have a great time. So without further adieu…the zoos.
The North Carolina Zoo – Asheboro, NC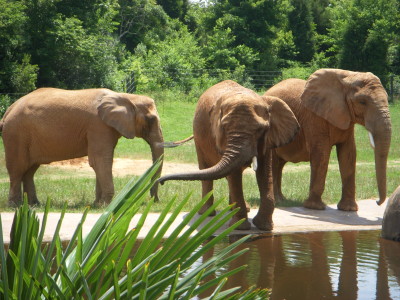 The North Carolina Zoo (or just "the zoo" to me) used to be called The North Carolina Zoological Park (I used to have a cup with this name on it). The park encompasses 1,500 acres, 500 of which are accessible to the public. In other words, the NC Zoo is gigantic. Located 75ish miles from Charlotte, it is an easy day trip from many points in NC since Asheboro is rather in the center of the state. The NC Zoo is organized by two main sections – Africa and North America. Of course there is also the Aviary and the Reptile House, but your big decision at the NC Zoo is which continent to visit first.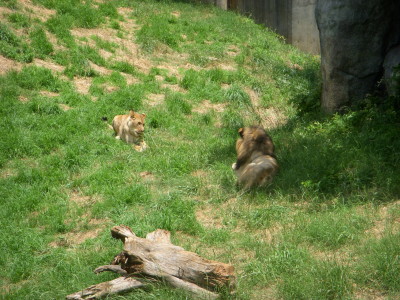 Habitats at the North Carolina Zoo are huge and built to mimic the animals' homes in the wild. For this reason, there is the possibility that you will not get to see the animals up close, just depending on how sociable they feel. The elephant enclosure also houses gemsbok, ostrich, and rhinos. I have never been when I did not see the elephants up close. Since Mike and I have always gone in summer or late spring, the pond draws these giants in for a bath and shower. The rhinos, ostrich, and gemsbok however can be a bit more elusive.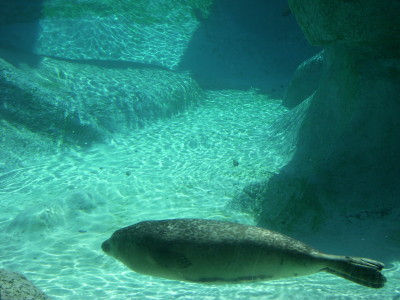 With its sprawling 500 acres, the North Carolina Zoo is also great if, like Mike and I, you enjoy hiking. After a full day at the NC Zoo, you will have walked several miles and gotten plenty of exercise for the day. Fortunately, most of the paths are shaded. That said, there are significant clearings around the animal habitats, so you should wear sunscreen.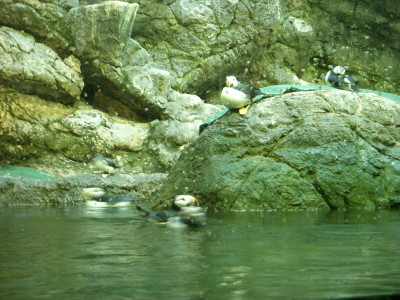 Admission is $12 for a regular ticket and $16 for the combo ticket (which will get you into/onto three additional experiences that can be repeated– the Dinosaur exhibit, the carrousel, or a 4-D movie). Mike and I went to see the dinosaurs then gave the tickets to some little kids, so they could ride the carrousel again. The zoo is open year round and is only closed on Christmas Day. April through October, it is open 9am-5pm, and November through March, the hours are 9am-4pm.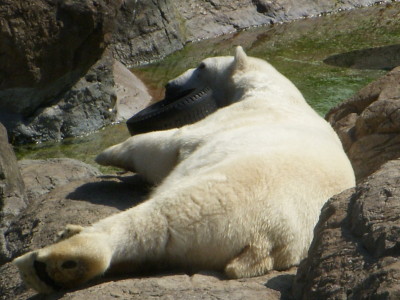 What does the North Carolina Zoo have that the Riverbanks Zoo doesn't have? A polar bear, otters, harbor seals, chimpanzees, an ocelot, and puffins. There are, I'm sure, others, but these are my favorites that are missing from Riverbanks.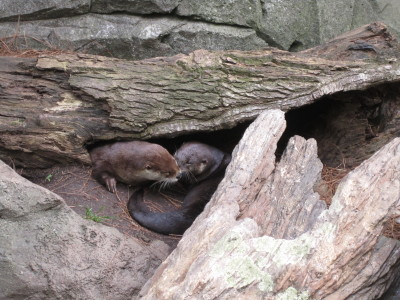 The Riverbanks Zoo – Columbia, SC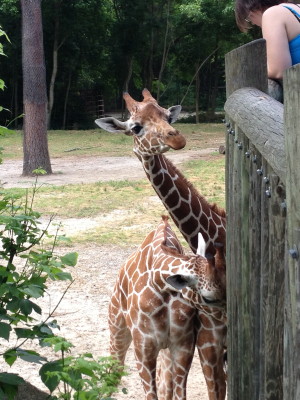 The Riverbanks Zoo is a 170 acre park that includes habitats for a variety of animals and a botanical gardens. It is 95 miles from Charlotte. While a little further than the NC Zoo, it is definitely still close enough for a day trip. Though small in comparison to the NC Zoo, there is plenty to keep your eyes, ears, and other senses quite busy. Because the Riverbanks Zoo is small, its strength lies in visitors' ability to get very close to the animals. At larger zoos, visitors run the risk of some animals being no-shows. Not so at Riverbanks. During Mike's and my recent visit, the only animal we saw little of was the Siberian tiger, who on first walk through was hanging out in its den. We could only see a sliver of fur and stripes. But on second, speed walk-through (much later in the day), we saw it lounging in the grass, having a snooze.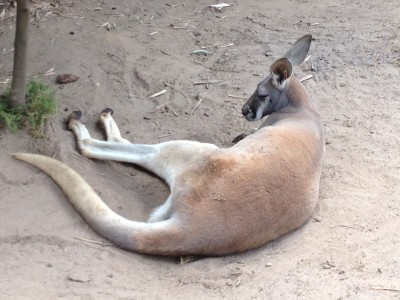 Mike and I fed the giraffes at Riverbanks, and the giraffes there are super friendly. Food is $2. It's true that you don't get much, but it is romaine lettuce and (I think) Swiss chard. They LOVE it! Not all of them were at the platform when we arrived but there were six or seven of them. With their long tongues that they would curl to grab the lettuce out of little kids fingers, they were oh-so-greedy and super fun.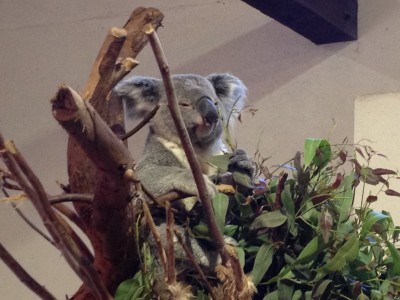 The Riverbanks Zoo is home to several Australian animals – some koala bears, kangaroos, wallabies, and kookaburras. These animals are not present at the NC Zoo. The kangaroo habitat included a walkway, and at certain times of the day, visitors are allowed to walk through the habitat and get even closer to these animals. Of course, you cannot touch them, but getting so very closer was a wonderful experience and picture opportunity. Riverbanks is also home to the Siberian tiger, another animal that does not call the NC Zoo home, and in the Bird House, you will find several different species of penguins. The penguin habitat is very large, large enough that they will dive in and out of the water.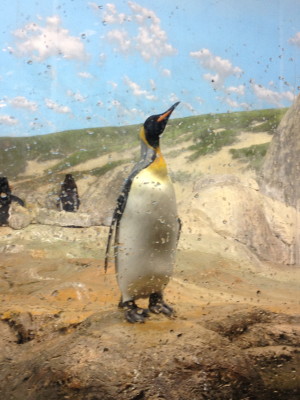 Since Riverbanks is smaller, it is also a good choice if you have small children or are not as happy about walking as I am. There is also a lot of shade, so even when it is hot, you should fare well.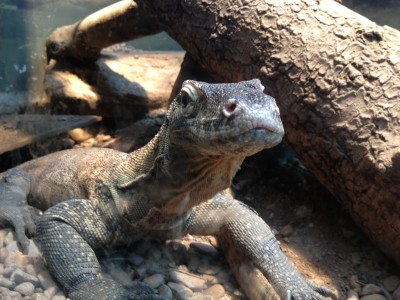 Admission to the Riverbanks Zoo is $11.75 for an Adult ticket. The zoo is open everyday, except Thanksgiving and Christmas. During the summer months (March 29th – September 29th), hours are 9am-6pm. During other months, it is open 9am-5pm.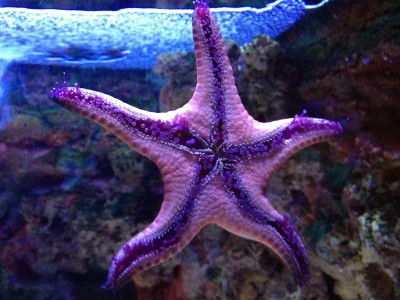 So which zoo is best? I really can't decide. Like with all animals, I am a fan of both places, but considering what animals you want to see and how much you want to walk, your choice should be fairly obvious.