"Here we come…" Okay, so I'm not really a Phantom Planet fan (I actually had to look up who sang this song). Neither have I ever watched the OC, which is probably why I had to look up who sang this song. But I can't help but hear it in my head when I think about my most recent adventure. Now that the soundtrack is looping…Action!
On March 15th, I boarded a plane for the first time since 2010 and flew out to San Luis Obispo to meet Mike. He had just finished up a project. I was excited to say the least. 1) I hadn't been out of North Carolina in nearly three years, and 2) I was going to California. I had been to California one other time, to Long Beach, for a film festival. And while that trip was a great experience, I didn't really get to see any of the landscape that gives California its larger than life reputation.
I decided I really do love California having only been there twenty minutes. Mike picked me up from the San Luis airport and took me directly to a shop where I got a gas forge and played with a puppy. I was sold. As we drove back to the hotel, I told him this.
Mike had been telling me for weeks how awesome the countryside was and had even sent a few pictures, but nothing really prepared me for how beautiful this area turned out to be. Mike's chief aim was to show me as many awesome sights as possible in 2.5 days. We ate some great food and went to some specific places I will share in later posts, but for now, let's focus on the sights. Though all are not, most of these places are along Hwy 1. If you get a chance, drive it! You'll have a hard time watching the road.
Spot 1: Pismo Beach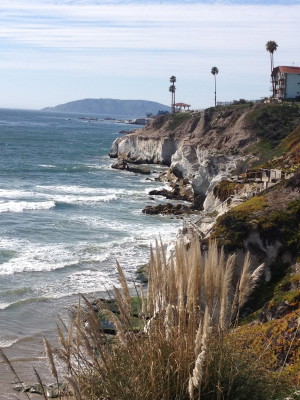 Mike's crew stayed in Pismo while they worked on the project. As soon as we got back to the hotel, I changed into shorts, and he took me down to the beach. The beach itself was lovely, and I found all the washed up seaweed fascinating. (It does not look like east coast seaweed.) But the truly amazing feature to me was the rocks and caves, literally right on the beach. North Carolina beaches are sand, dunes and sand, and that's pretty much it. Not so at Pismo. We climbed over giant rocks as more giant rocks towered above us. Seawater ran in trenches between the rocks, and we jumped down and waded back into a cave. We stayed for some time just watching the water running in and out, taking pictures, and playing with the GoPro.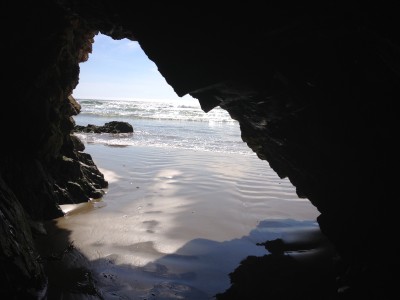 Spot 2: The West Cuesta Ridge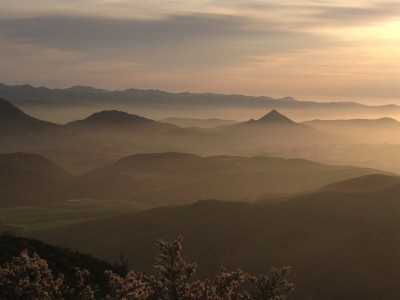 Not quite on Hwy 1. I told Mike that I wanted to see the sun set over the ocean. I've seen plenty of sunrises over the water but not so many sunsets. Mike proposed that we go up to the Ridge to watch the sunset. I was a little skeptical at first, not because I thought it wouldn't be awesome but because I didn't want to miss a sunset over the water. He then explained that you can see the sunset over the water there. You're just in the mountains too. Count me in. If you make it out and decide you want to go up to the Ridge, be sure you drive something big…and preferably with 4WD. The road is really an access road to some old TV towers and doesn't appear to have been maintained since it was laid down. That said, when you make it to the top…Wow. Here's a couple pictures. Breathtaking. It also didn't hurt that Mike decided to ask me to marry him at this point.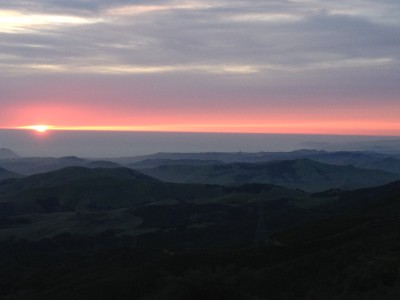 Spot 3: The Elephant Seal Beach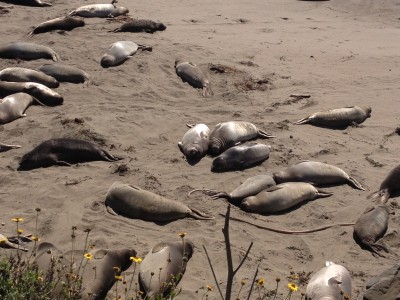 So when you drive down Hwy 1, the ocean is on one side; the mountains are on the other. There are many, many turn outs where you can just stop the car and look. This particular stop is truly tons of fun. It is a refuge area for elephant seals. There are no buildings or places to go to the restroom, just a place to park, a fence, and a sign. You are not supposed to go beyond the fence. If you do so, you'll be disturbing these guys, and I imagine if they got perturbed with you, the resulting situation would be much less than a good time. Leaned up against the railing, you can get about as close to the seals as you can at the zoo. We stayed for quite a while watching them flip sand over themselves with their flippers and yawn at each other. They are especially funny when the move to the water. They scoot about five or six times before they face plant and lay there for a good three minutes then finally try again.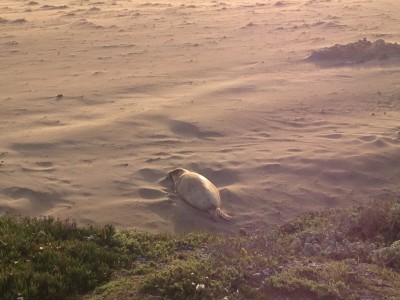 Spot 4: Random Turnouts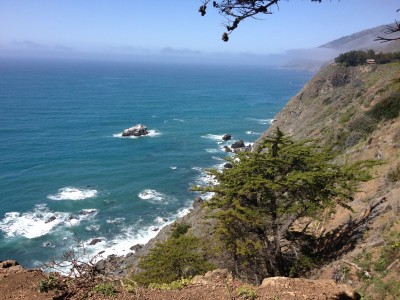 I'm sorry. I wish I knew how far north of San Luis (or south of Monterey) this is.  It is after the Elephant Seal Beach and before Mike's Gully and the Boulder Beach. But the truth is most of the turnouts look like this. Be sure you have a car charger so your camera doesn't run out of battery, but don't worry about using your cell phone. There's no service.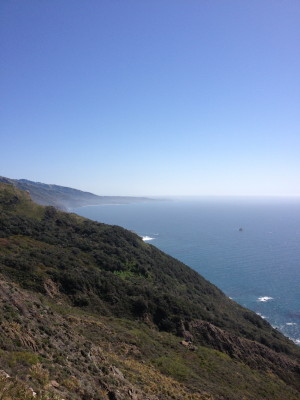 Spot 5: Mike's Gully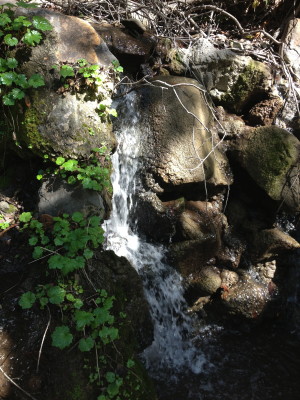 This is yet another example of a cool spot that's just hanging out on the side of the road. When Mike was out in California a couple months ago, he stumbled across this gully and some poison oak. (He actually stumbled into the poison oak again this time.) Just a small waterfall tucked back in a ravine. Key playing with the GoPro again.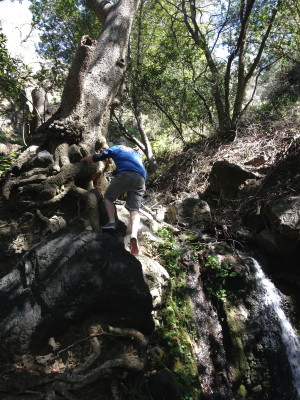 Spot 6: The Boulder Beach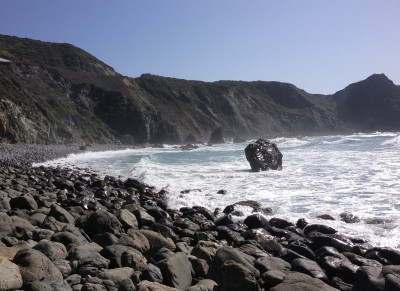 Again, I'm not sure where this is precisely on Hwy 1. It is south of Big Sur (everything so far is south of Big Sur) and is the turn off right before Jade Cove. Keep your sights pealed for a bridge with a turn off just before it (if you're headed north). You'll actually drive down underneath the bridge. There is plenty of parking. Just get out of the car and head down. I call this the Boulder Beach because it is covered with boulders and stones rather than sand. I brought back four rocks. While you will want to bound from rock to rock, I do suggest you proceed with caution. It can get slippery. But do yourself a favor and go out on a rock in the surf. Waves will crash into it. You'll probably get wet, but it's pretty, stinking awesome.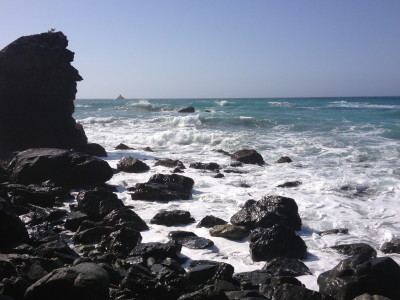 Spot 7: Julia Pfeiffer Burns State Park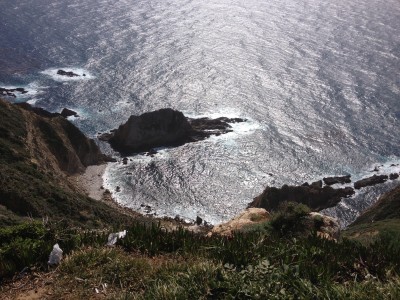 Just south of Big Sur, this park is, again, right on the side of the road. Park your car and take the path toward the beach. It will look like you are going down to the water, but you are really getting to an awesome view of the coastline and a waterfall that crashes right into the ocean. Yes, a waterfall into the ocean.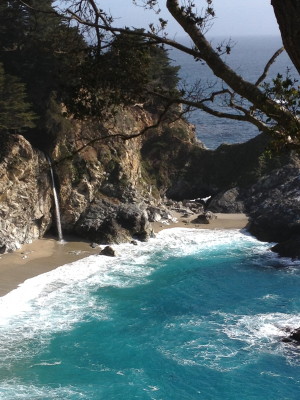 Spot 8: Salmon Creek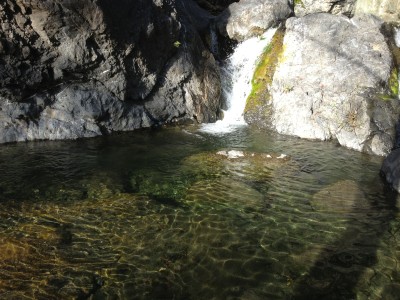 This spot is south of Julia Pfeiffer Burns State Park. With just a short hike (less than half a mile) you will be at beautiful waterfall and amid giant boulders and caves. Mike and I got very close using a very sketchy "bridge" that someone made. If it had been warmer we would have just jumped into the water and waded. I suggest jumping into the water and wading. Though I'll admit it would have been a bit easier if I hadn't been concerned about smashing my phone.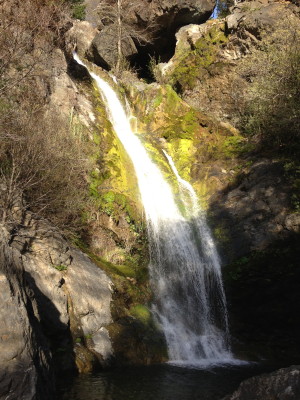 So this post has stretched on long enough, and in hindsight, perhaps I should have split it up. If you get a chance, go, go, go! While the pictures are lovely, I promise they do not do it justice. And note that all of these wonderful sights are completely free.