Mike's Asian Noodles in Peanut Sauce
Not long after we began dating, Mike introduced me to one of the simplest, tastiest noodle dishes, which he just called "Asian Noodles". Mike's Asian Noodles, in their original form, are simply – spaghetti stir fried with scallions and garlic in soy sauce. Occasionally, we would get fancy and add in mushrooms.  Really quick, really tasty, they were awesome on nights when we 1) hadn't given dinner any thought or 2) had completely run out of time.
In more recent years, Mike has discovered how much he loves peanut sauce, but for some reason, we never seem to remember to buy any at the Asian market. One night, I suggested Mike's Asian Noodles for dinner as I had just returned from Muay Thai and had nothing planned, and Mike decided to experiment.
Now several iterations later, we have a quick, yummy Asian Noodle dish in a peanut sauce. Now granted, this dish is not authentic, but trust me, in the absence of a true peanut sauce, it will hit the spot.
Here's what you need: Noodles (I'm using Thai style rice noodles for this batch), garlic, fresh ginger, green onions, broccoli, mushrooms, olive oil, soy sauce, peanut butter (the natural one is best – peanuts, oil, and salt should be the ingredients), and Sriracha.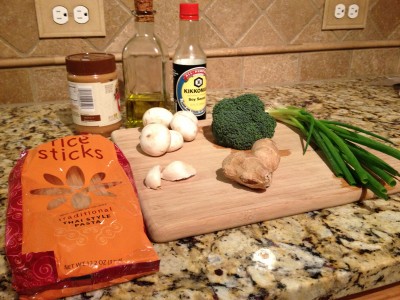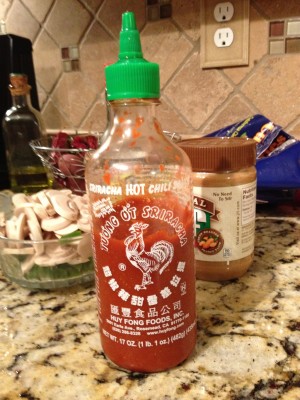 Here's what you do:
Boil a pot of water. While you are waiting for it to boil, peel and mince two large or three medium garlic cloves. Peel and mince about one tablespoon of fresh ginger. Cut up your vegetables.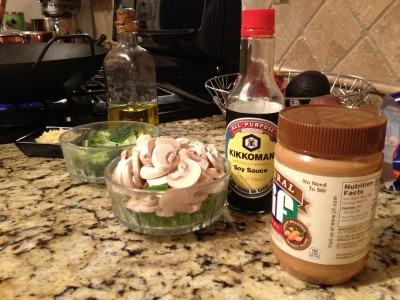 Drop your noodles in the boiling water.
Cover the bottom of your wok with olive oil and heat. Cook ginger and garlic for about 30 seconds.  Add the broccoli and cook 2 minutes, or until you see the stalks start turning a more vibrant green, on medium/medium high.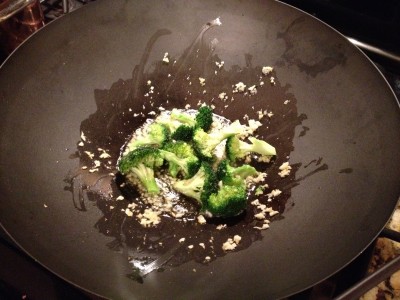 Add mushrooms and green onions. Shake in some soy sauce and cook for 2 minutes more.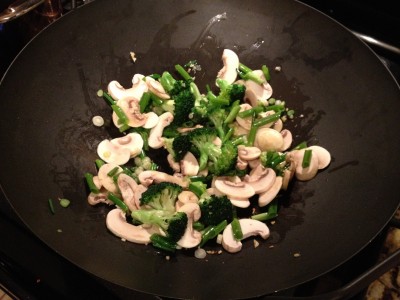 Drain the noodles. Add to the wok. Shake in some more soy sauce and add a couple squirts of Sriracha. Continue to cook.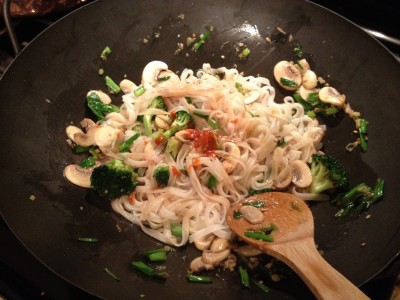 Be careful with the noodles. They are easy to stick, but keep them moving and you should be fine. If they get a little sticky, add a little more olive oil.
Turn the heat down to low if you haven't already. (My stove cooks hot because it's gas, so I have turned my burner down almost to low before this point.) Add one tablespoon of peanut butter, and stir immediately. Your noodles will be sticky, so don't worry about them clumping in the middle and pushing the vegetables to the side. You'll arrange them nicely on the plates. Just be sure you get everything covered with the sauce.
Taste. Taste. Taste.
Add more soy sauce if needed.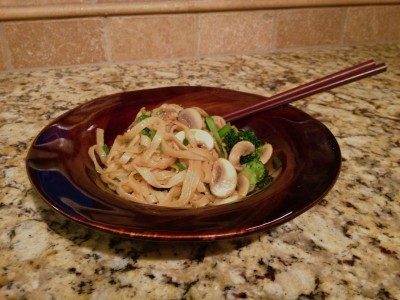 And that's it. Plate it up; eat it up. You'll probably spend more time cleaning it up.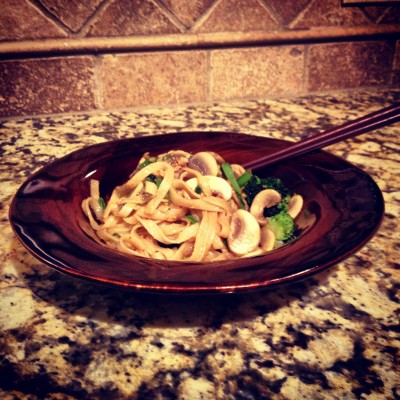 Mike's Asian Noodle with Peanut Sauce
| | |
| --- | --- |
| 2-3 cloves garlic (minced) | 1 tbs peanut butter |
| 1 tbs fresh ginger (minced) | Olive oil |
| 1 broccoli crown (cut) | Soy sauce |
| ½ bunch of green onions (sliced) | Sriracha |
| 6-8 mushrooms (sliced) | Noodles |
Prepare noodles, and prep vegetables. Heat olive oil in a wok, and cook garlic and ginger about 30 seconds. Add broccoli, and cook for 2 minutes on medium/medium high. Add mushrooms and green onions. Shake some soy sauce in the wok, and cook two minutes more. Drain noodles and add to the wok. Shake in more soy sauce and add Saracha to taste. Continue cooking. Turn the heat to low. Add one tablespoon of peanut butter. Stir until all noodles and vegetables are covered. Taste and adjust with soy sauce if need be. Plate, serve, and enjoy.