Adventures in Blacksmithing: Day 1
Mike told me it is possible that I am the only woman in the world who had the following items atop her Christmas '12 list: 1) Anvil, 2) Hammer, 3) Vice, 4) Tongs, 5) Gloves.
Sure, there could be another woman who asked for the same, but I do recognize that I requested a few things which were a little atypical and out of the ordinary for my gender. (That said my list did also include one book, money for the camera fund, and a puppy. I did not get the puppy…or the book.)
For some reason, that I cannot pinpoint, I have been fascinated with blacksmithing for many, many years. Perhaps having horses, and thus the occasional farrier, around when I was young had something to do with it. Or maybe it was all the traditional arts and crafts my family exposed me to as a child. Whatever it was, beating metal into submission and playing with fire have long been my idea of a good time. (Yes, I grew up in the country). I suppose it's not just the act of shaping metal that fascinates me, but rather the knowledge that you can create a tool from a lump of metal, the knowledge that if Lowe's and Home Depot closed tomorrow, you could still produce nails. I am one who finds it most unfortunate that our culture has lost much of its ability to make anything other than noise and a colossal mess, so I relish the thought of learning a new craft.
So much to my surprise (Mike did a lot of lying to me), I was the elated, proud recipient of 1) an anvil, 2) a hammer (actually a couple of them), 3) tongs, and 4) gloves. The vice will come in time, and I did get a few other tools and some safety gear as well. So thank you, Family.
With tools acquired, I had a few more steps to complete before I started whacking hot iron. And I started (Whoa, big surprise here) by reading. If you are considering trying  blacksmithing, may I suggest a read? The Backyard Blacksmith by Lorelei Sims is fantastic with an overview of many blacksmithing components that may not seem so obvious, like where to set your anvil and how to position it and how to get your fire started. It's also complete with directions for a few projects in the final pages, which I haven't gotten to yet as Sunday was only Day 1.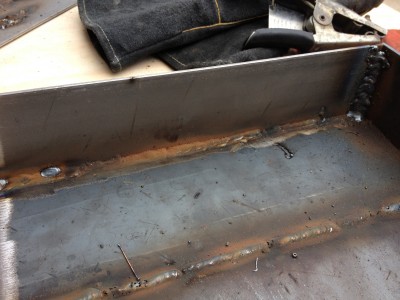 After reading and reading, I decided on what type of forge I wanted. It is probably no big surprise, especially not to Mike, that I wanted to go traditional. So no gas – coal forge it would be. I didn't want to spend a lot of money, and I didn't want to build something super elaborate and decide in a few weeks that this wasn't for me, so I modeled my forge after probably the most basic forge of all – the one that's a hole in the ground with an air supply coming into the side. Of course, I didn't want it in the ground, so Mike and I began Sunday by welding a shallow box with a steel coupling in the side to attach an air supply.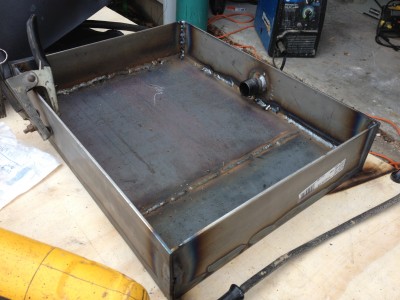 And that's literally all it is at this point. I wanted to get air to my fire by a good, old-fashioned bellows. Unfortunately, we couldn't find Mike's bellows on Sunday, we probably would have needed a bigger one anyway, and I needed something to get air to the fire. Mike hooked up the air compressor, and while not traditional, it worked like a champ. For now, that will do. We've decided that we will, in the future, cut a hole in the bottom to provide a bowl for ash and (if I'm burning true coal) for clinker to fall into. But for now, a box to hold fire and blow air into will get the job done.
What fuel did I use for the fire? Charcoal. I don't mean the charcoal briquettes that most people use for grilling, I mean legit charcoal that is charred, dried wood, and I got it at Lowe's. I decided on this for a couple reasons. True coal was going to be more challenging to find, true coal was going to smell up my suburban Charlotte neighborhood and probably upset the neighbors, and true coal is expensive. I read a lot about using charcoal. Some smiths said go for it; many definitely preferred coal. Some declared that coal is more traditional. That said, blacksmiths have been shaping metal long before humans were mining coal. My work on Sunday proved to me that you can indeed get charcoal hot enough to bend metal. That said, you will have to tend your fire carefully, and I have a long way to go before I am able to best utilize the heat coming off this fire. And know that charcoal burns up faster than coal, so you're going to use more of it.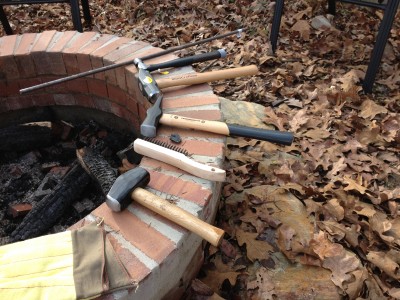 Forge created, fire started, Mike put my anvil down on a rock (unfortunately, we don't have a stand for it yet), and I laid all my hammers and the wire brush out on the fire pit for easy access. Cold rolled, steel stock went into the fire. And though I had read why, I then learned first hand why blacksmith shops are so dark – even under trees it's super hard to see the temperature change the color of the metal, especially if your stock is a rod ½ inch thick. Note to self: you really need a shed or at least a tarp to make your surroundings darker, and a 1/4 inch piece of stock will probably be more forgiving to your inexperience.
After some time in the fire, I pulled the rod out, brushed off the ash and scale, and stuck.
And the first time you do this, trust me, it will be hard to hold onto. When I say this, I don't mean that you will almost drop your stock. I mean your hammer and the stock will jitterbug all over the place, and you'll have to work at keeping the stock and hammer steady. But I concentrated and tried to do as Miss Sims said, use controlled, even blows. Eventually, I started hitting harder and where I wanted to.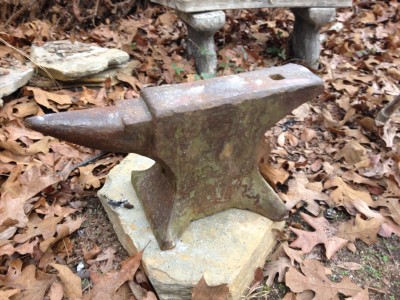 After several times in the fire and on the anvil (I'm confident many more times than would take any blacksmith past his/her first day), I had succeeded in flattening the end of the stock. At that point, even though my arm muscles were about to explode, and I swear if you'd tried to stick a needle in either of them, it would have bounced off, Mike suggested that I try to make the metal scroll by using the horn.
I swear, as I stuck the piece and it bent around the horn of the anvil, I have never felt so accomplished, and I'm pretty confident I squealed like a little girl getting a pony for her birthday.
The end result of HannaH Jane's Adventures in Blacksmithing: Day 1 left me with a handy dandy tool to flip logs around in the fire pit (though I should probably do something fun to the handle), exhaustion, sore hands and arms, two burns, a sense of accomplishment that made my heart beat fast, and a driving desire to do it again.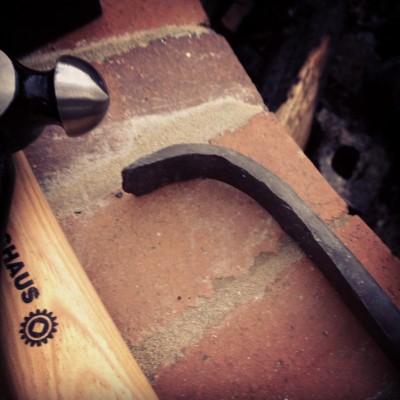 And do it again, I shall.