HannaH Jane's Best Ginger Cookies
Since I was very young, I have been ginger's number one fan. Ginger snaps, ginger ale, ginger bread, and ginger in stir-fry always hit the spot for me. When I was in high school, meandering through the baking aisle with my mom around Christmas time, I came across a tin of candied ginger. Intrigued, I found a recipe for ginger cookies and asked mom if I could add it to the cart. We made them, and they were single-handedly the best ginger cookies I had ever tasted. Years passed, I made them, I lost the recipe, I found other recipes that were not as good, and I finally found the original recipe again. But at that point, I had started experimenting with recipes rather than just doing what I was told. So after taking a risk here and there, I put together what is my best.
The recipe below is a happy smattering, tweeking, and retooling of several different ginger cookie recipes, and it is the one that I use now. These are, by far, my favorite cookies and now a Christmas staple in my house.
Here's what you need: butter, sugar, molasses, an egg, flour, ground cloves, ground ginger, cinnamon, baking powder, salt, candied ginger, and raw sugar.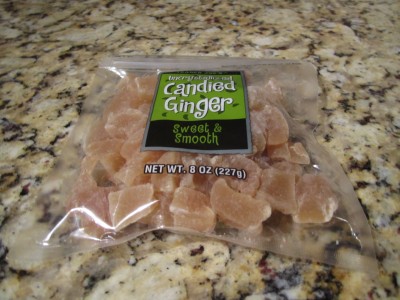 Candied ginger is not always easy to find. When I found it with my mom years ago, we were in Harris Teeter, but they stopped carrying it several years ago (at least in my area). Recently, I have found it at Trader Joe's.
Here's what you do: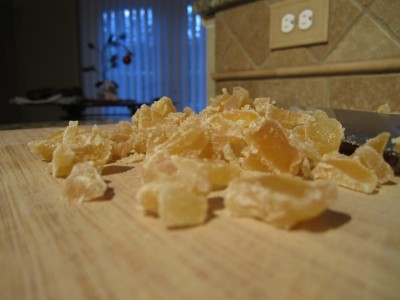 Mince 4 ounces of candied ginger chips/pieces.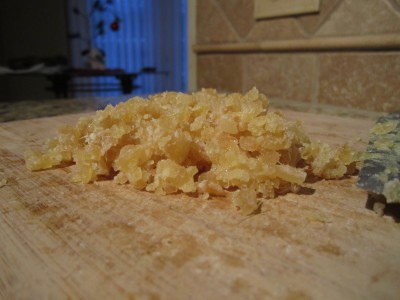 Soften ¾ cup of butter and beat one egg.  Combine them with 1 cup of sugar and ¼ cup of molasses.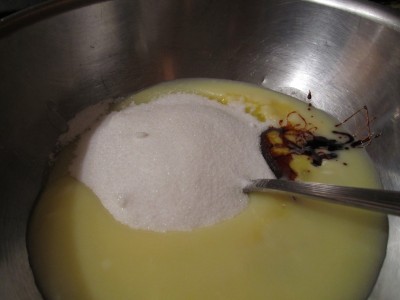 Beat it well.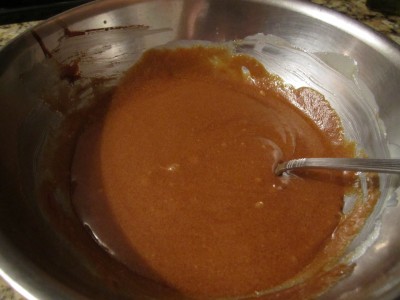 Mix in the minced ginger.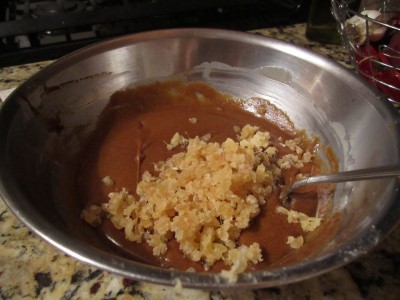 Realize that you've picked the wrong size bowl and do a quick change.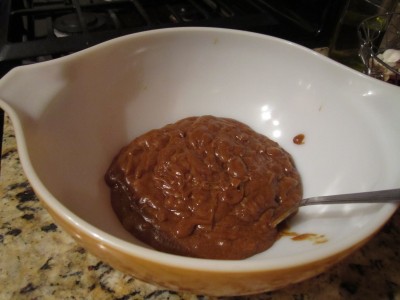 Combine 2 cups of flour, ½ teaspoon ground cloves, ½ teaspoon ground ginger, 1 teaspoon cinnamon, 2 tablespoons baking powder, and ½ teaspoon salt.  Sift it together with a fork.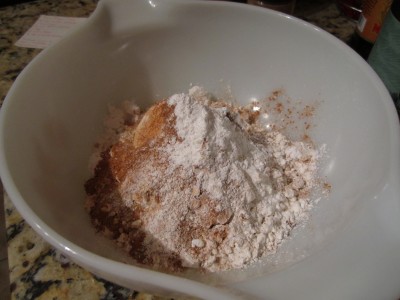 Add the dry ingredient into the sugar mixture and combine.  Don't do it all at once, or you'll end up with flour and spices all over the kitchen.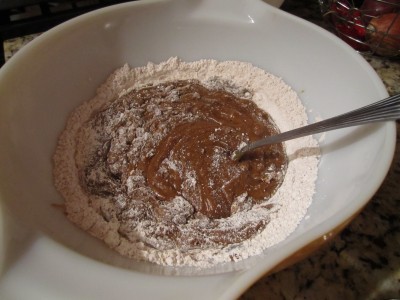 Put the bowl in the fridge and chill for at least one hour (more if you can). This will make the dough more manageable.
Once the dough it thoroughly chilled, preheat the oven to 375˚.  Pour some raw sugar in a small plate.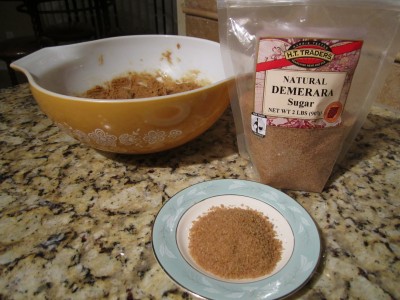 Using a small spoon scoop out the dough in about 2 teaspoon amounts. Roll into a ball and press the ball to flatten somewhat. Drop the cookie into the sugar…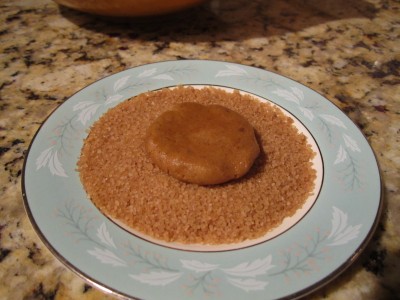 …and place on a cookie sheet.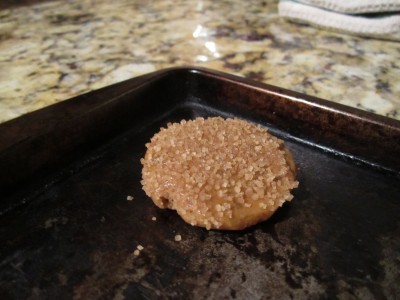 Bake for 8-12 minutes until they look like this. Cookies should rise up and fall. Their falling is also a good cue that they need to come out of the oven. If this happens, pull them immediately.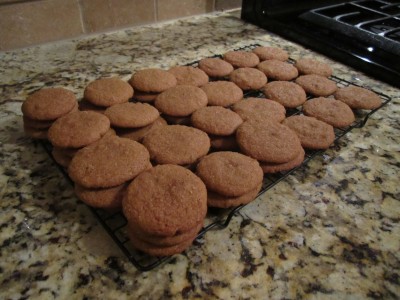 Let them cool on a rack for 10 minutes or so.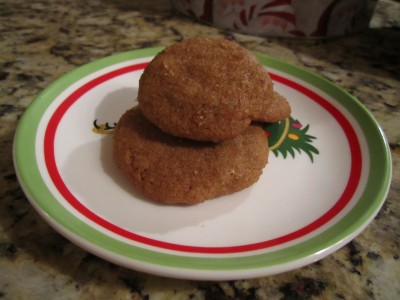 Of course you should set some aside on a Christmas plate for sampling.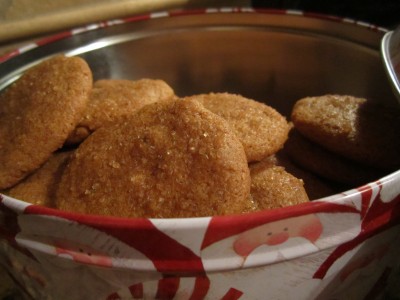 Then, stack the rest in a cookie tin being sure to leave enough room on the other side to fill with Chai cookies.
Enjoy, and Happy Christmas!
HannaH Jane's Best Ginger Cookies
| | |
| --- | --- |
| ¾ cup butter, softened | ½ tsp ground cloves |
| 1 cup sugar | ½ tsp ground ginger |
| ¼ cup dark molasses | 1 tsp cinnamon |
| 1 egg, beaten | 2 tsp baking powder |
| 4 oz candied ginger | ½ tsp salt |
| 2 cups flour | |
Mince candied ginger. Combine softened butter, sugar, molasses, and egg. Beat well. Add candied ginger and mix. Sift dry ingredients together. Add to wet mixture. Chill at least 1 hr. Form dough into 1" balls. Press in palm to flatten a little. Drop in raw sugar. Repeat. Bake at 375˚ 8-12 minutes. Cool.  Makes about 3 dozen cookies.