Charlotte's Best Bagels – PoppySeeds Bagels
Mike moved up to North Charlotte with me a year ago, but before moving, he lived with some friends in that mind-blowing vortex where Matthews, Indian Trail, and Stallings swirl together. If you aren't familiar with the area, you can literally be driving down a straight road in Matthews, pass a sign that says "Stallings", continue driving straight for half a mile, and pass another sign that says "Matthews". I'm still not sure how this is possible in any world not grounded in a myth or fantasy, but if you find yourself in this area, take heart. You are very near the best bagel in the greater Charlotte area and perhaps in all of North Carolina.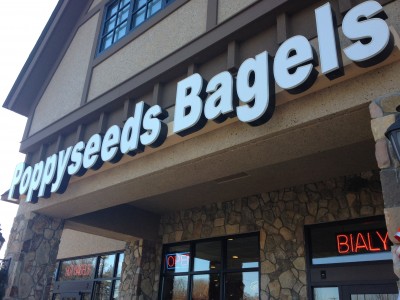 Mike introduced me to PoppySeeds Bagels soon after he moved to Matthews, so I have been eating there for several years. In a small shop in tucked away in the Austin Village Shopping Center at the corner of Chestnut Lane and Potter Road (There's a Harris Teeter in there, so it's easy to spot), two native New York City brothers and staff consistently churn out manna from bagel heaven.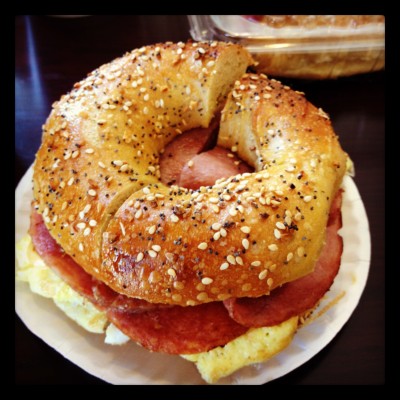 For those who may be accustomed to bagels mass-produced thousands of miles from where they're sold on a grocer's shelf, let's be clear on the characteristics of a good bagel: 1) A good bagel has a firm chewy exterior. 2) A good bagel is light and fluffy on the inside; it should not be chewy and dense all the way through. 3) If a good bagel is covered with a topping (a.k.a. salt, onion, sesame seeds, everything, poppy seeds, or whatever else), the toppings should seriously coat said bagel; one should not see significant portions of the regular bagel top showing through.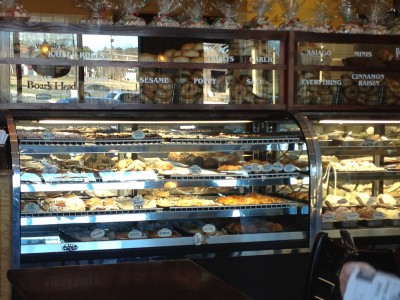 Now that we have established the characteristics of a good bagel, get in the car, go to PoppySeeds, and experience one for yourself. When you enter PoppySeeds, do not proceed to the register. The line passes the counter. This serves several purposes – you get to view the whole case so you can make up or change your mind while you wait, you can pass the drink cooler and grab an OJ if you want, and the line can trickle out Door #2 if need be. Actually, do yourself a favor and just enter the shop by Door #2, the one all the way to the right. Expect a line. That said, also expect the line to move. In true Northern fashion, the crew of PoppySeeds wastes no time and are role models of efficiency. You will be able to place your order before you know it – quite possibly before you've made up your mind if this is your first trip. I suppose this is a great place to highlight how the staff minimizes order goofs while serving a giant clientele at a rapid pace. The person who takes your order will fill your drink and make your sandwich to order. Your order will be handled by one person, who handles only one order from start to finish. This process allows the staff to work quickly with few mistakes. (Other sandwich places, please take note.)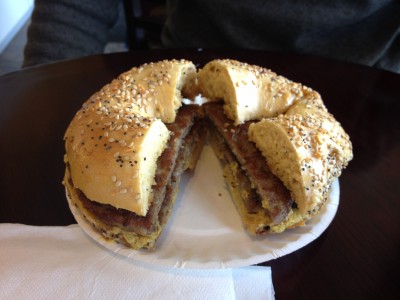 So what's good? Everything. Literally, everything I have ever eaten at PoppySeeds is fantastic, but here is what I typically order: Egg Everything Bagel with one Scrambled Egg, Double Taylor Ham, and Cheese. This is one of the few places outside of New Jersey that I have been able to order Taylor Ham (also called pork roll). I nearly screamed when I realized they had it, and it is sliced thinly, cooked to perfection, and appropriately drained (a step that other places overlook but one that makes a HUGE difference in the taste and texture of your sandwich). Mike gets: Egg Everything Bagel with Double Sausage and Spicy Mustard. I have also eaten the Lox and Cream Cheese Bagel (I got it on a plain bagel) – Fantastic! And we have had a couple different lunch sandwiches. (Mike likes the Reuben).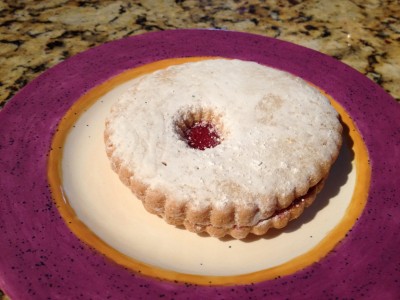 Try the desserts! They are incredible. HannaH eaten and approved include: Apple Fritter, Raspberry Cream Croissant, Chocolate Croissant, Linzer Tart, and Cinnamon Roll. Favorites are the Raspberry Cream Croissant and Linzer Tart.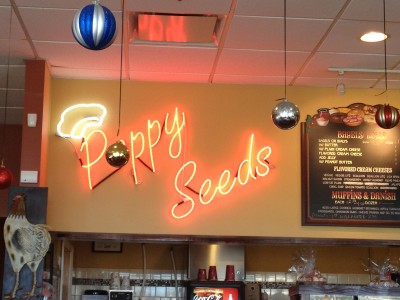 Mike and I still eat at PoppySeeds, albeit not as often as we used to.  A good weekend is one in which we drive 40 minutes down to Austin Village, eat perfect bagels for breakfast, and bring desserts home for later. Do your taste buds and stomach a huge favor. Try PoppySeeds. You will love it if you are a fan of bagels or just a fan of good, fresh made food that fills your stomach and leaves you with that perfect full, satisfied feeling.
Mike asinine alliterative assumption regarding PoppySeeds: Perfect provisions produced practically.
As breakfast's biggest fan, I've eaten a lot of breakfast and bagels in Charlotte, and I promise this place cannot be beaten.
PoppySeeds Bagels Info:
(704) 234-0247
1311 Chestnut Ln, Matthews, NC
http://www.poppyseedsbagels.com
Monday – Saturday: 5:30am – 7:00pm
Sunday: 5:30am – 5:00pm
Note (06/08/2017) : This post has received a lot of traffic over the past year, so I just wanted to add a more up-to-date comment to the original. I first posted this in 2012 – almost five years ago. Mike and I do still drive down to PoppySeeds Bagels on occasion (We still live in North Charlotte). The brothers have since moved on, so they no longer make my bagel when we go. However, the ownership has remained the same, and my PoppySeeds bagel is still my favorite in the Greater Charlotte area. (Yes, I'm still getting Egg Everything, with Scrambled Egg, Taylor Ham, and Cheese.)