Yumm-E Noodles – E Noodles & Company
On the Concord side of I-85 at Exit 54 (even though I seem to always say it's in Kannapolis) lives what may well be my favorite restaurant – E Noodles & Co.  Mike and I discovered it on Halloween three years ago.  It turned out to be the eating part of what may have been my best day ever.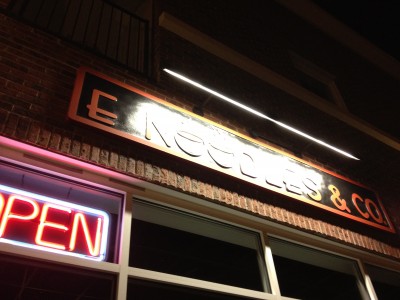 E Noodles & Co. is an Asian Fusion restaurant, featuring dishes from many Asian cultures and some with their own spin. Over the three years Mike and I have frequented it, their client base has expanded dramatically. The place is always almost full – which makes me ecstatic. Typically, this means that we don't have to wait but also that the restaurant isn't in any danger of going under.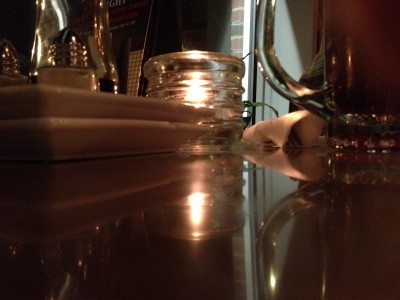 The environment – casual, peaceful, and chic. You can take a date, a family, or a parent, and no one will feel out of place.  They keep the lights low in the evening, and there are candles on the tables (small ones – not the big, fancy tall ones). A couple nights I have been, they had live music, though I have not experienced that recently. They added a sushi bar over a year ago, so that option is now available for seating and eating.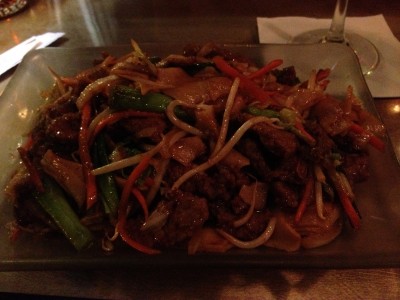 The food – I typically get Beef Chow Fun. It is the dish I ordered on my first day there, and I have a really hard time going for anything else. Wide, flat noodles, perfectly seasoned tender beef, scallions, carrots, and delicious brown sauce that may have crack in it create my favorite noodle dish, hands down.  I have also had the Pho (good) and the Lhat Nah (also good). Mike tends toward the Spicy Udon with Calamari. This dish contains a lot of leg pieces and enough spice to keep the man happy and lapping it up. We plan to eat sushi in the future, but we enjoy the noodle dishes so much it keeps getting postponed.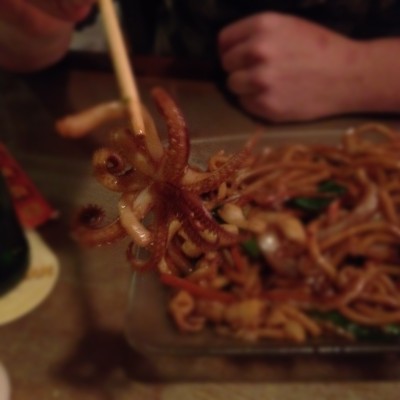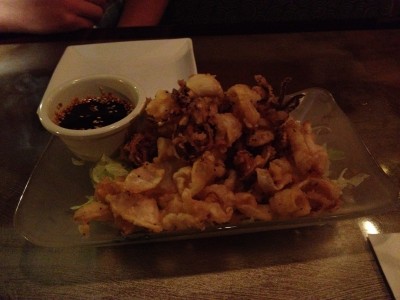 For appetizers, they have excellent Fried Calamari and Pot Stickers. If you're feeling adventurous, try the Seaweed Salad. I am a big fan of Seaweed Salad period as it tastes like chewy ocean to me, but E Noodles' addition of the cucumbers creates a wonderful, mild contrast that complements the dish very well.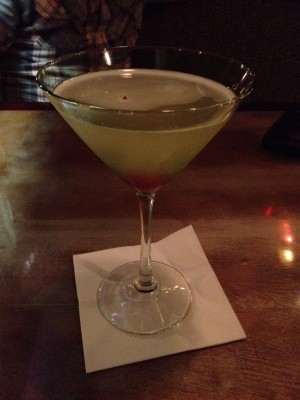 The drinks – They have drink specials every night and an extensive martini menu. I am assuming the bar tender really just likes pouring them. So if martinis are your drink, you should be well taken care of.  That said, my favorite drink is one that is no longer on the menu – the Dragon Lemonade. But the bartender still makes it if you ask. I was told once that it is made with dragon berry vodka. Yes, it may be a girly drink for one who typically goes for something with whiskey in it, but I don't care. The beer menu has good options.
The people – The entire staff at E Noodles & Co. is extremely friendly and prompt. They bring your food with a smile. We have always felt taken care of, from the time they bring us water right up until they leave the chocolate fortune cookie.  Yes, Ladies and Gentlemen, you heard me right – chocolate fortune cookie.
Mike's Asinine Alliterative Assumption regarding eNoodle: captial colossal calamari.
If you are in the North Charlotte or Concord area and looking for great food, served by wonderful people, for an amazing price, E Noodles & Co. is the place for you. I hope it can be the eating part of what may be your best day ever, just as it was for me.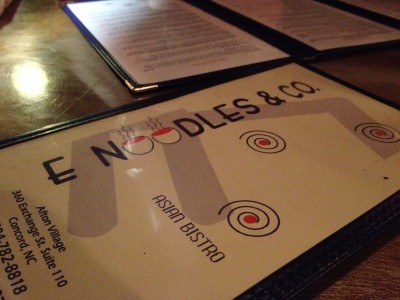 E Noodles & Co. Asian Bistro & Martini Bar
360 Exchange Street Northwest, Concord, NC 28027
Monday – Friday: lunch 11am-2:30pm, dinner 5pm-10pm
Saturday: dinner 5pm-10pm
Sunday: closed