Le Kebab Grill: Middle Eastern Cuisine in University City
A little over a year ago Mike and I were very disappointed to find that Yoshi's in University City had closed down. But our sadness over the loss of our dear, economical sushi option lost its sting a few weeks ago when we discovered a Middle Eastern restaurant – Le Kebab Grill – had moved into this spot.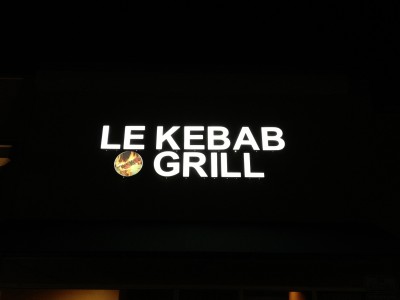 Middle Eastern restaurants are outnumbered by many other food types here in Charlotte, and I know that many North Carolinians have never tried this type of food at all.  If you fall into this category, Le Kebab Grill is a wonderful establishment for you to give this tasty food a try.  So please do give it a chance. These flavors are unique and tantalizing and will leave you craving more. The first time I ate Middle Eastern food, it was prepared by friends, International students in school over at UNCC.  Most of them have returned to their respective countries, but Le Kebab Grill gives me that distinct taste my friends introduced me to years ago.
The atmosphere is relaxed and quiet, and the servers are incredibly friendly, conscientious, and timely. We have been to Le Kebab Grill several times now and have never gone wanting. You can order at the counter or go ahead and sit at a table. They will look after you either way.
Start with the hommos. It is seriously the best I've ever had (and I've eaten a lot of hommos). The flavors are perfectly balanced, and it is served with warm pita bread for the perfect complement.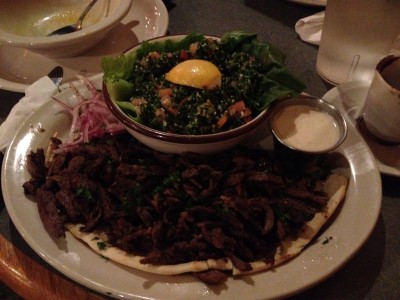 Entrées: I love the Lamb Shawerma. You can get it on pita with sides. This was my first entrée at Le Kebab Grill.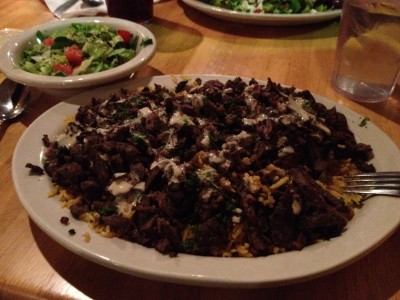 Or you can get it served over rice with a side salad (possibly my favorite version). It is served with a garlic sauce on the side and is good without this addition.  But the sauce drizzled over the whole dish really takes the flavors over the top.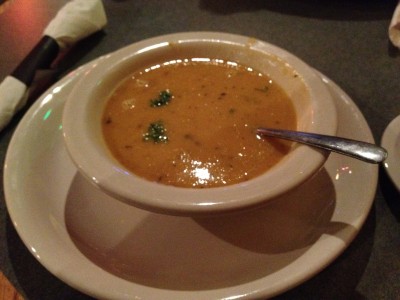 For sides, try the lentil soup. It's smooth with just hint of mint – delicious. The Tabbouleh is also delicious and refreshing.  One night, Mike got takeout and ordered me the lamb kebab. With perfect seasoning and a bed of yellow rice, it is also a good choice.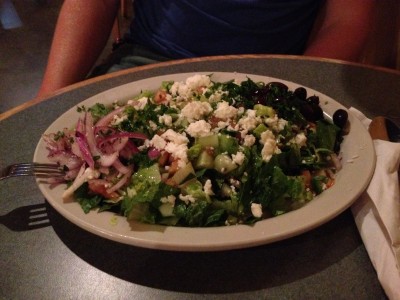 Mike loves the Greek salads with Gyro or Shawerma meat to top.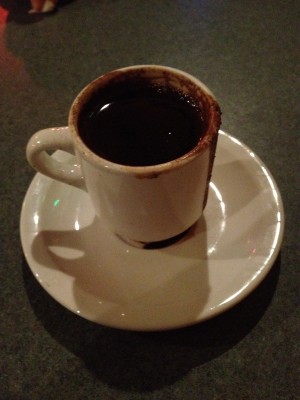 For the Adventurous Charlottean: order coffee. This place serves Turkish coffee! I've only had this style a few times in my life, but I love it. My Turkish friend Mérvé brought me a Turkish coffee pot a few years ago. Unfortunately, I'm not good at making this coffee yet, but now I don't have to be. If you have never had Turkish coffee, think of it as super condensed espresso that is not strained but brewed in a special pot on the stovetop. The coffee grind is superfine, and the grounds settle to the bottom (so don't try to drain the cup). I have only ever drank it with sugar brewed in it, but according to the Le Kebab Grill servers you can get it without. One day, I will be adventurous and try it this way.
Mike's Asinine Alliterative Assumption regarding Le Kebab Grill: "Marvelous Middle Eastern Menu".
So if you are looking for food that will hit that special spot in your stomach and make your day/night complete and happy, try Le Kebab Grill – incredible food, great prices, and friendly people. Here's to many years of dining in this restaurant.
Le Kebab Grill Info:
350 E McCullough Dr, Charlotte, North Carolina 28262
(704) 547-7217
| | |
| --- | --- |
| Mon – Thu: | 12:00 pm – 11:00 pm |
| Fri – Sat: | 12:00 pm – 2:00 am |
| Sun: | 12:00 pm – 9:00 pm |