"Suddenly Frodo laughed: from the covered basket he held, the scent of mushrooms was rising" – J.R.R. Tolkien
*************
Okay, let's be honest. Hobbits probably didn't eat grits, as their Middle Earth resembles pastoral England, not the Southern U.S.  But let's also be honest about the almost certain proposition that Hobbits would love grits if they were able to try them.  In Tolkien lore, Hobbits adored good, natural food like mushrooms, onions, and potatoes. They were good honest people eating good honest food. Grits, like Hobbits, are the product of simple, country living, so I believe (and I think Tolkien would have agreed with me) they go quite well together.
A couple weeks ago, I needed to make breakfast on a Saturday morning and realized I didn't have quite as many eggs as was needed for our scrambled egg, sausage, and grits breakfast.  I needed something that would make up for being down two eggs but something that would fit well with the rest of the meal.  I had green onions and mushrooms.
The resulting breakfast included grits with just one non-traditional pairing.  Mike raved, and as we ate, I dubbed them Hobbit Grits. Mike said I was silly (and he's probably right), but give this combination a try.  I'm willing to bet that afterward you'll agree with me.  "Hobbit Grits" is the perfect description.
Here's what you need…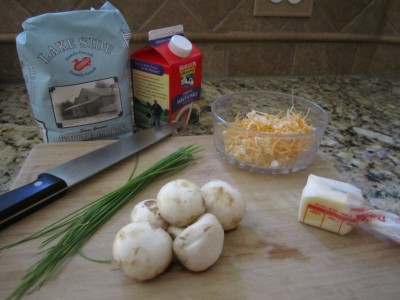 Mushrooms: I have been using white button mushrooms, but feel free to be creative.  For two people, I use 5-8. I prefer the eight because I really love mushrooms.
Green onions: Or chives – I had to use chives when I made them this time. I had no onions, but the chive pot has, somehow, survived a few below freezing nights. I decided I should probably take advantage while still having the chance. If using green onions I'd do 2-4 depending on overall size.  Chives? Just a big handful.
Shredded Cheese: Use whatever you have in the fridge.  The first time I made it, I had a Mexican blend we used on tacos.  This time, I had a block of Smoked Cheddar and a block of Smoked Mozzarella. I used a little of both. For two people, ¼ cup should be plenty.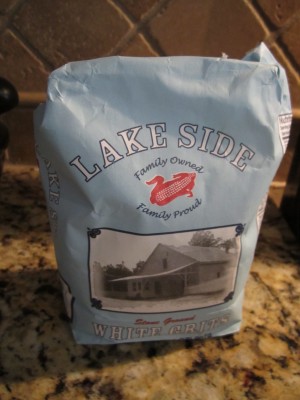 Grits: Duh!  Just a suggestion, trying using grits that aren't instant and aren't the big brands most visible in the grocery.  I'm currently using Lakeside. They take a little longer to cook but have really good flavor.  Additionally, they're produced in Rutherfordton, NC, and I like supporting small, local (well, in the state anyway) business.
Half-N-Half: You can use milk if you want, but I like the extra creaminess the half-n-half adds.
Butter: Every Southern girl knows you can't make good grits without butter.
And that's it…other than salt…of course you're going to need to salt.  You can pepper too if you want.
Here's what you do…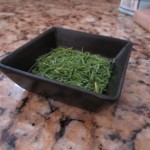 Prep: Chop (or snip) your onions or chives.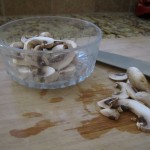 Slice your mushrooms.
Grate your cheese, if it's not bought grated.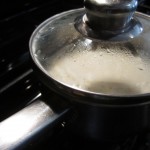 Cook your grits according to the package instructions.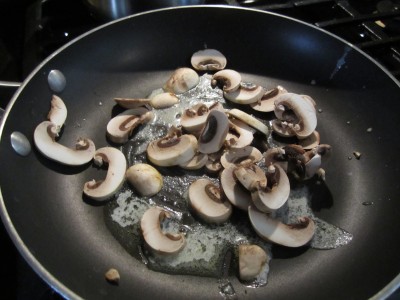 While your grits are cooking, heat some butter in a pan and thrown in the mushrooms. Sprinkle them with salt.  Sautee them until they turn grey, but don't overcook. It's really easy to cook all the water out of mushrooms, and you still want them to be juicy. The easiest way to not overcook them is to not walk away. Move them into a bowl and set aside.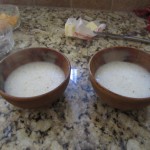 Now that your grits are done, all you have to do is assemble.  Pour the grits in bowls.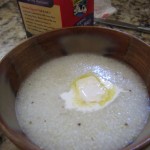 Add a pad of butter and a few tablespoons of half-n-half to each bowl.  Stir it up.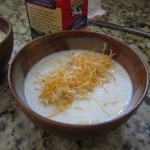 Sprinkle with cheese. Drop in the green onions (or chives), and top with the mushrooms.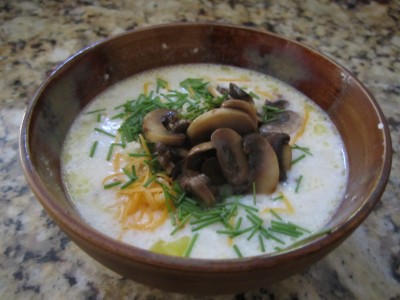 Now sit back, breathe deep, and enjoy – for First or Second Breakfast. They should go well with both.  And of course, all good Hobbits would serve them with scrambled eggs and sausage or a big pile of bacon.