Sunday Breakfast Salvation – Jack Beagles
For some reason lost on me, North Charlotte, and especially University City, is woefully lacking in breakfast. Of course, we have our IHOP, McDonalds, and Starbucks and a slew of other franchise restaurants, but good old-fashioned, diner breakfast made with love is hard to come by. Mike and I have been looking for a great breakfast spot in the area for years. We've had a few hits and misses but nothing worth cheering about – until Sunday.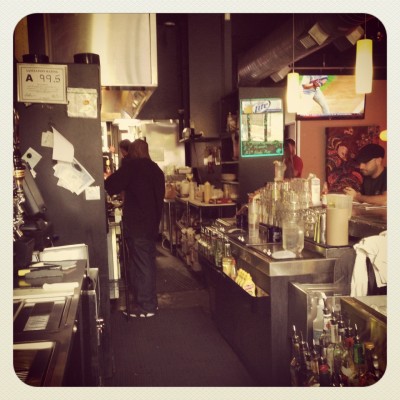 I thought Jack Beagles was just a bar amongst many along North Davidson Street in NoDa. We'd passed it on multiple occasions while on our way to something else. Sunday morning, after an Urban Spoon search, we decided to give it a try. Walking through the door, I was greeted by genuine diner breakfast smell. It smacked me in the face all while The Avett Brothers sang to me through speakers. Good start, Jack Beagles, good start. Local art lined the walls over the booths, which were all filled with happy patrons. Seated at the bar, we found the breakfast menu small but classic. I chose the Jack Beagle Breakfast – two eggs (scrambled for me), bacon (you can get sausage), grits (you can get potatoes, but I went this route, and yes, they gave me cheese grits), and biscuits (toast option as well). Mike did the special – Breakfast Pita. And the bar tender brought us a robust coffee while we chatted to Old Crow Medicine Show and Mumford and Sons in the background.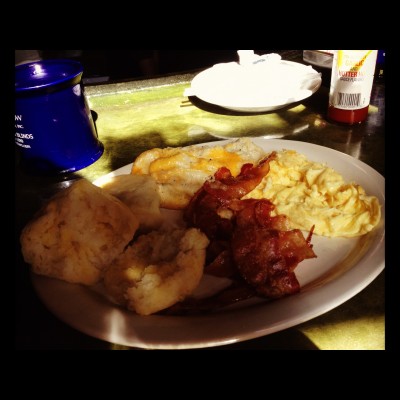 Food came, and the Beagle did not disappoint. Bacon was perfect, eggs were great, grits were tasty, and biscuits were flippin' awesome. If I could have changed anything, it would have been the grits. Personally, I prefer my grits a little less stiff and without sugar. Blame it on my mom. But I cannot say enough about the biscuits. So light and flavorful, I could literally see butter chunks. And while I know it's terrible for you, I don't really care. They were yummy.
Other menu items included: Pancakes, Shit on a Shingle, French Toast, and a wide variety of Omelets, including one called "The Skinny Puppy". Mike's asinine, alliterative assumption regarding the menu: "moderately manly menu"
To sum up, Jack Beagle's saved our breakfast. And they will save others in the future. Warm and unique, local and small, I'm happy for the Beagle to serve me breakfast and a great playlist anytime, especially Sunday morning.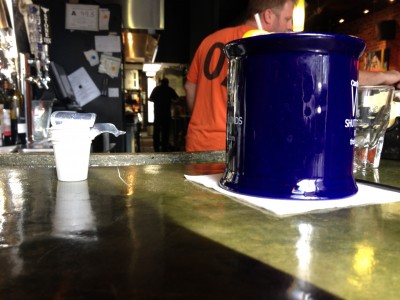 Jack Beagle's Info:
3213 N Davidson St Charlotte, NC 28205
Phone: 704.334.5140     Fax: 704.334.5146
Monday 11:30 am to 2:00 am
Tuesday 11:30 am to 2:00 am
Wednesday 11:30 am to 2:00 am
Thursday 11:30 am to 2:00 am
Friday 11:30 am to 3:30 am
Saturday 7:00 am to 3:30 am
Sunday 7:00 am to 2:00 am