Perfecto – Arturo Taco Truck
A couple Saturdays ago after a strenuous Muay Thai class, I declared to a couple of the girls, "I'm going to find Taco Truck." A bit of a false statement as I knew exactly where it was. I was met with mixed reactions. One of them wanted me to eat enough for her; the other didn't know how she felt about eating food prepped in a truck. I urged her to pay no attention to her misgivings and gave her directions.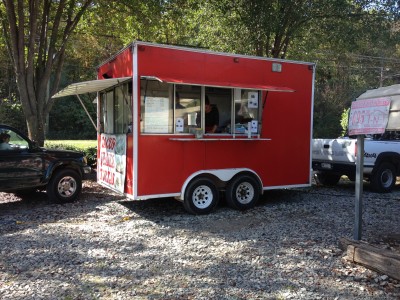 I'm not quite sure why some Charlotteans are hesitant to eat at food trucks (Perhaps it is that there really aren't that many here, unlike New York or Houston), but whatever the reason, I urge all of you, like I urged my friend, give this truck a chance. You will not regret it.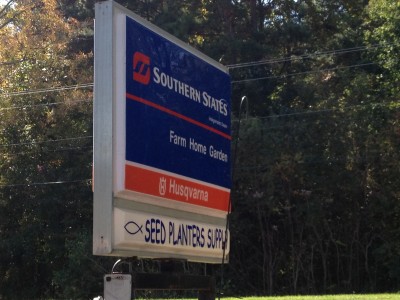 Arturo Taco Truck roams the Huntersville area (I will provide their schedule at the end of this post), and they serve up some of the best tacos I have ever eaten. The last time Mike and I went, they were parked at the Southern States Seed Planter's Supply store in Huntersville on Saturdays.  Every time we have been, a glorious smell smacks us in the face as soon as we open our vehicle doors, even if we're not parked right next to the truck. The staff is friendly and fast and amazingly talented in their culinary specialty.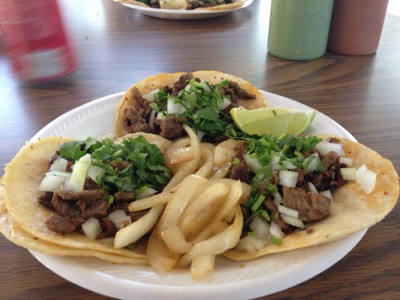 I am only slightly embarrassed to say that I have only ever eaten the Azada (Steak) Tacos, and that is because these tacos are so mouth-watering I haven't been able to bring myself to get anything else. (Though I have vowed to try something different next time and will report back.)  These tacos are very simple – perfectly seasoned and prepared steak, onion, grilled onion, and cilantro. They are served with lime on the side and your choice of salsa. Mike always gets the rojo, and I always get the verde.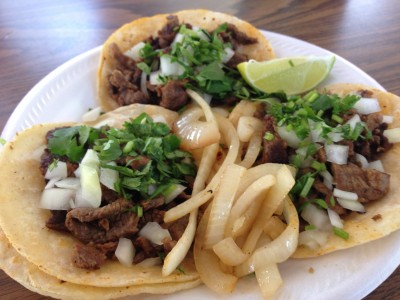 If you own a pickup truck and the day is nice, drive it. You can picnic on the tailgate. If you do not, there is a nice covered, area at the Seed Supply with tables and chairs where you can feast. I can't speak for the BP location, as we haven't been there yet. For a Saturday afternoon or, if you work in or around Huntersville, any afternoon, do yourself a favor, go find Taco Truck, and eat authentic, perfect Mexican food.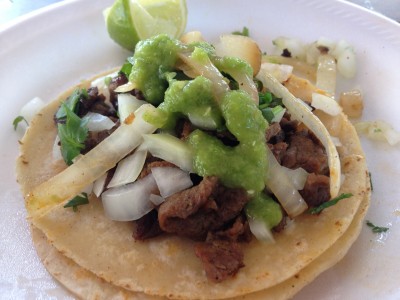 Mike's Asinine, Alliterative Assumption regarding Taco Truck: "Taco Truck takes tacos to the turnpike."
Taco Truck's New Schedule:
Monday & Tuesday: 9924 Knockando Ln. Advance Auto Parts
Wednesday to Saturday: Harvest Market BP gas station on Hwy 115
For more info call: 704-453-6133