Mmmmmm…pasta, cream, and tomatoes. These all make the top of HannaH's yummy list. So as you can imagine, this is one of my favorite dishes.
Its birth was quite accidental. I was ravenous after an evening of skateboarding and had precious little in the pantry. But I did have pasta, some cherry tomatoes, and half-and-half. Olive oil and garlic have long been staples in my kitchen, so I literally just started throwing ingredients into the pot. Luckily, I had a planter full of fresh oregano on the back porch. The result was perhaps my very happiest accident, and its recipe follows. I have, over the years, tweaked it here and there, but it is basically the same. Simple, flavorful, and fast, cook it up and be satisfied. Directions here feed two.
If you have the time and the equipment, I'm going to suggest fresh pasta. It will increase your prep time significantly, but it really is worth it.  That said, if you don't have the time or equipment, dry pasta works just fine (and is actually what I use most because, often, I don't have the time). When using dry pasta, I would suggest a smaller variety that's textured. The sauce will hang in these textures. My favorites are Barilla Piccolini Farfalle or an Orecchiette.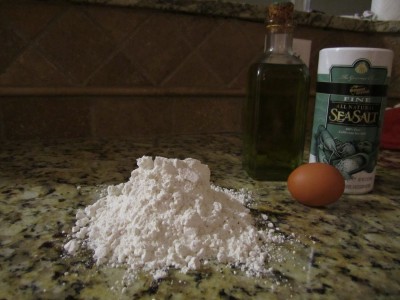 For fresh pasta you need: flour, egg, olive oil, salt, some water, and a pasta roller. Let's get started.
Gather the egg, salt, and olive oil, and put them close by.  You should probably also have a measuring cup of cool water nearby as well. Dump one cup of flour on your counter top.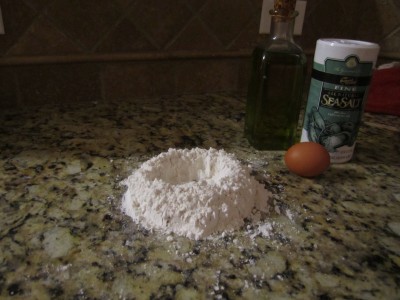 Then make a flour volcano.  Be sure the sides are fairly high. You don't want the egg spilling out everywhere before its time.
In your volcano, crack and dump the whole egg, pour about one tablespoon of olive oil in with the egg, and add half a teaspoon of salt.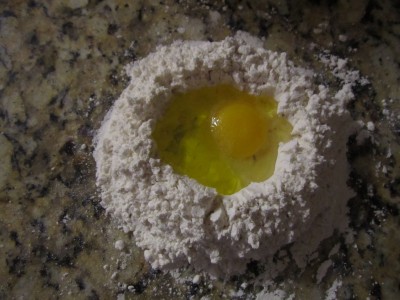 With a fork, start mixing the egg, oil, and salt.  Once it looks scrambled, start incorporating flour from the sides. Yes, your volcano is about to collapse on itself, but that's okay.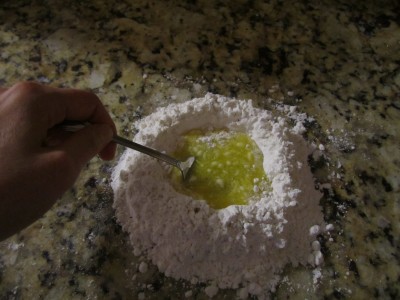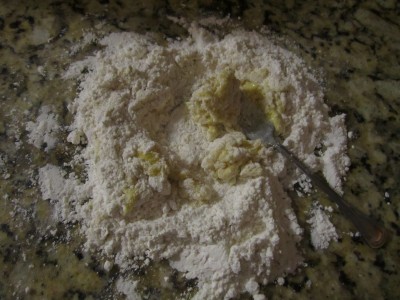 Oh look, it collapsed. Now, mix all the flour into the egg. Make a mess…the messier the better.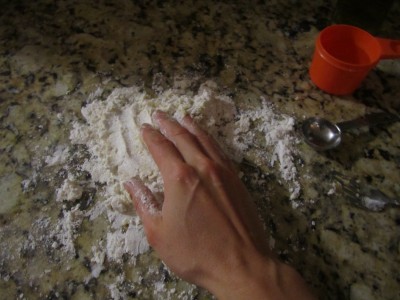 Once the egg is incorporated, begin working with your fingers. As you knead you may find that the mixture is too dry, and you may need to add a little water. How much will depend entirely on the size of your egg.  Add a tablespoon or half a tablespoon at a time, and continue to work.  The consistency of the dough needs to be pliable but not so sticky that is leaves a trail on the counter after all is incorporated, so add water slowly if needed.  Once you have a nice dough ball, knead for seven minutes more.
Tear the dough apart, and form into three or four balls.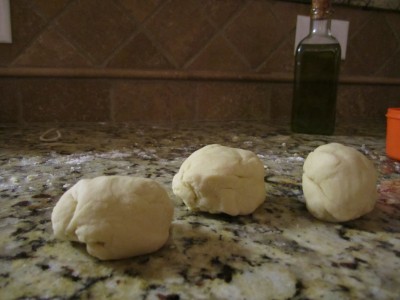 Wrap these in plastic and let them rest on the counter for 30 minutes. Do not put them in the fridge.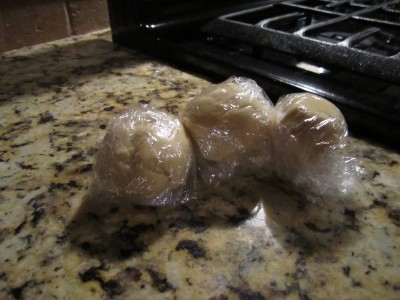 Now let's start the sauce.  Here's what you need: fresh garlic, olive oil, anchovies (trust me on this!), cherry tomatoes, salt, fresh oregano, and half-and-half.
If you aren't making fresh pasta, you can cut time by starting the dry pasta while your tomatoes are cooking as this particular sauce doesn't take much time to cook. The moment the pasta is ready, you'll have the sauce ready to go.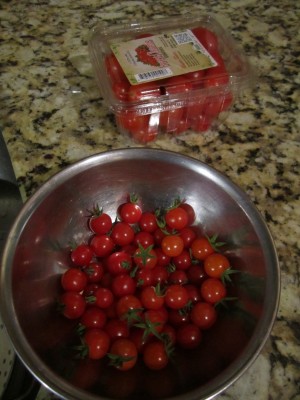 Prep and wash one pint of cherry tomatoes. Here, I used some from my plants out back. I didn't have enough, so I had to supplement from the grocery.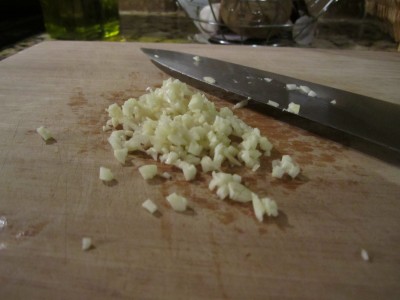 Next, mince three cloves of garlic.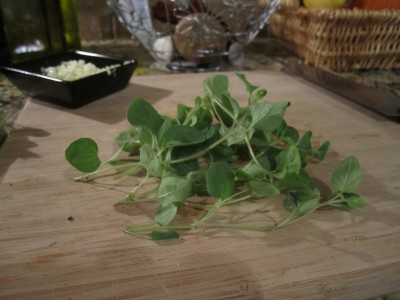 Pick about two tablespoons of fresh oregano from their stalks.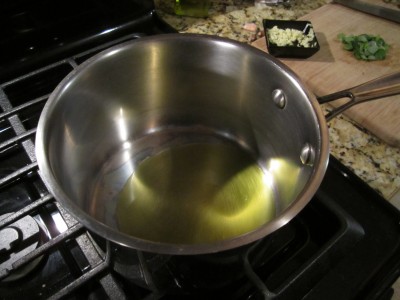 Pour two or three tablespoons of olive oil in the pot, and turn the heat on low.
Now, trust me on this. You need these.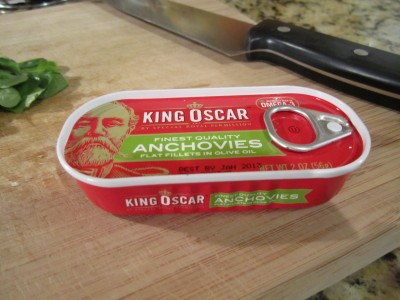 I know many are super squeamish about anchovies, but you will not get giant bites of them in this sauce. They simply add a layer of flavor that is to die for. Toss six or seven anchovy filets in the pot.  Stir them around until they melt into the olive oil like this.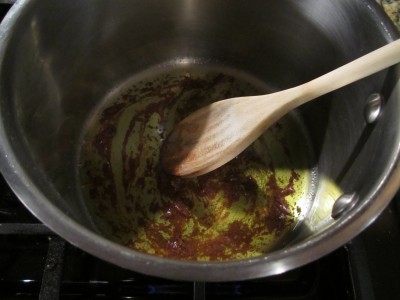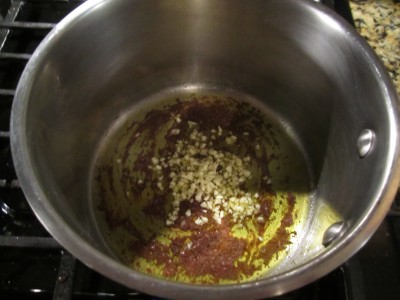 Once the anchovies have melted, throw the garlic in. Stir and cook for about 30 seconds. Your kitchen should start smelling super good about now.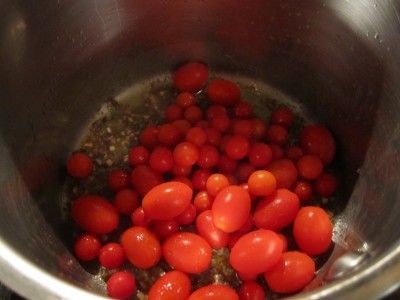 Toss in the tomatoes, and increase the heat to medium-low.  Grab the lid and put it on the pot.  Toss the tomatoes until they are coated, and set them back down on the heat. Walk away.
But keep an ear open. As the tomatoes cook, their skins will burst. You should hear these little pops after a few minutes if you aren't too far away.
When thoroughly cooked, they will look like this when the lid is removed. It should take 10-15 minutes, depending on how ripe your tomatoes are.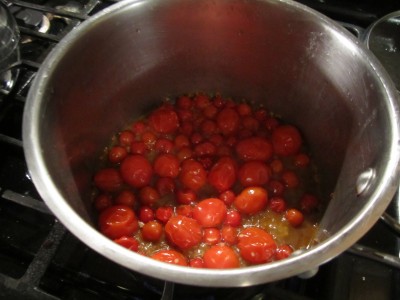 Mash them up with your spoon. If your tomatoes have cooked enough, this will be very easy.  If they are still hard, and you are popping them yourself with the spoon, put the lid back on and cook a few minutes more.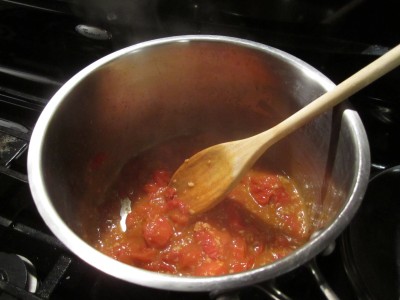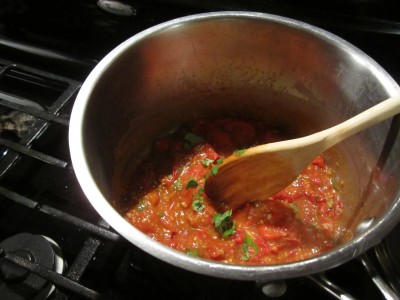 Add a scant half-teaspoon of salt and the oregano. If the leaves are big, I tear them as I throw them in.  I don't cut them with the knife though. Let the sauce simmer for three or four minutes.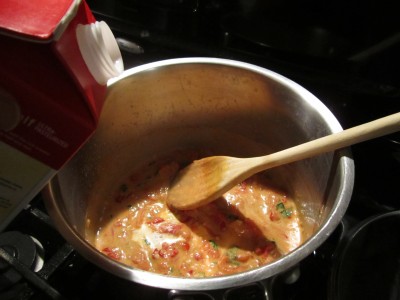 Next, reduce the heat back to low, and pour in some half-and-half until the sauce turns a creamy orange color. If you are not using fresh pasta, let the sauce simmer for about five minutes so it is thoroughly heated. Drain the cooked pasta, and toss it into the saucepan. Stir thoroughly, and let it cook two minutes more.
But if you are using fresh pasta, let's go back to that.  Your sauce will be fine on low. Prep your roller, and unwrap the dough balls. Mash them as flat as possible, and run through the roller a couple times on the thickest setting. Between each pass, fold the dough in half. This is really the final kneading process.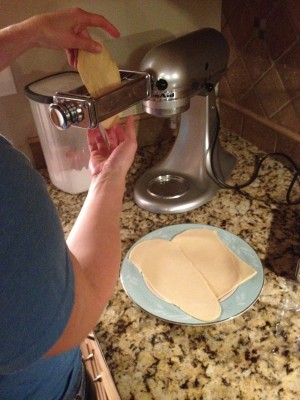 Pass the dough through incrementally thinner settings until it is the desired thickness. Be sure to have some flour on hand to dust the pasta sheets. You don't want them to get sticky.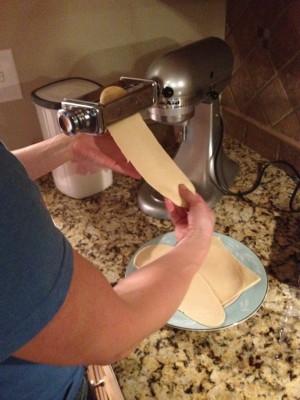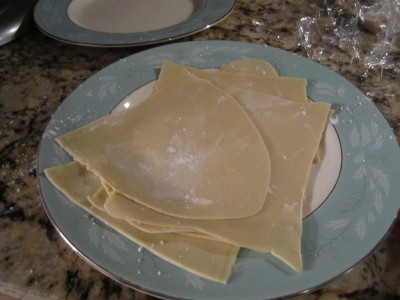 Once the sheets are the correct thickness, I cut the pasta sheets in half so I don't have two-foot long noodles.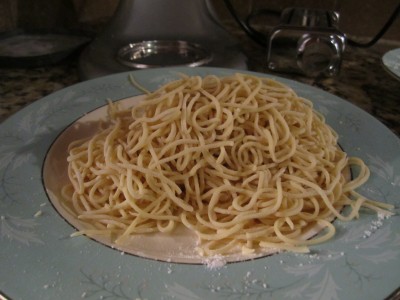 Run the pasta sheets through the cutter until you have a pile of fresh pasta like this.
Fresh pasta cooks MUCH faster than dry pasta. Drop it into boiling water for about three minutes then drain.
Now…
This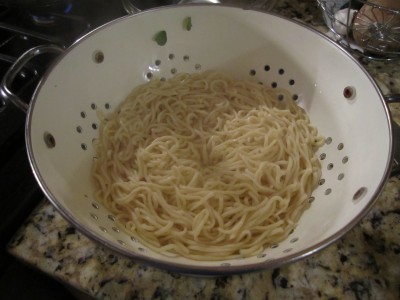 + This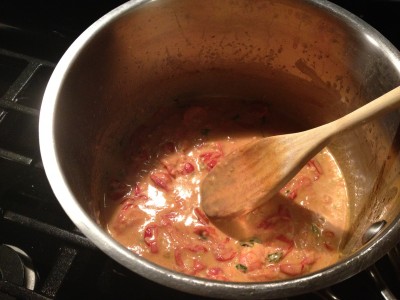 = THIS.
Allow it to cook a couple minutes more so the sauce bonds to the pasta.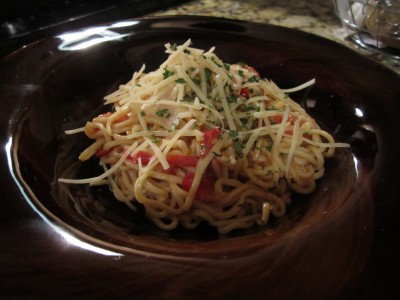 Plate and top with shredded Parmesan and parsley.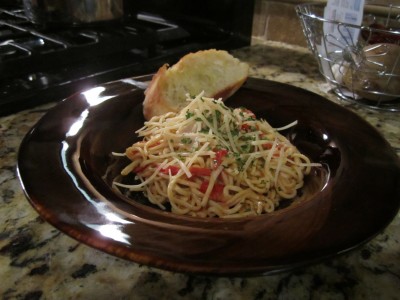 Viola!
Serve with crusty bread and maybe a Caesar salad.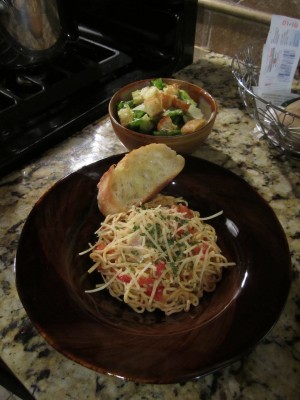 Variations:
Add asparagus in the simmer prior to adding the half-and-half.
Serve with grilled chicken on top.
Recipe The Old Fashioned Way:
Creamy Tomato Sauce
3 cloves fresh garlic (minced)               1 pint cherry tomatoes
6-7 anchovy filets                           .5 teaspoon salt
3 tbsp olive oil                             2 tbsp fresh oregano
half-n-half
Heat olive oil on low. Add anchovies and melt into the oil. Add garlic and cook 30 seconds. Add cherry tomatoes to the pot, and put the lid on. Toss the tomatoes until the oil mixture covers them. Turn the heat to medium low.  Cook 10-15 minutes until tomato skins have burst. Mash the tomatoes with a spoon. Stir in salt and oregano. Cook 3-4 minutes more. Add half-n-half until the sauce is a creamy orange color. Reduce to low and cook  5 minutes or until sauce is thoroughly heated.