Satisfying Southern Breakfast – College Barbeque
When Mike and I began dating, it didn't take him long to discover how much I love breakfast.  And one characteristic that makes him so awesome is how devoted he is to finding me a good breakfast.
My preferences in breakfast are simple; they really are. While I will enjoy a breakfast that is more upscale or trendy with benedicts, crepes, or items that don't traditionally fit the part, I am happiest at a diner with that thick white coffee cup, jams and jellies in a metal rack, and the kitchen tucked behind the front counter.  I appreciate the other and enjoy it from time to time, but with the diner breakfast, I am happiest.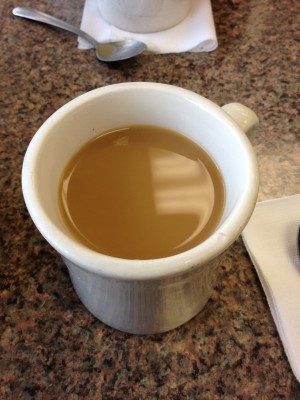 Also, when Mike and I began dating, he lived in Salisbury and commuted to Charlotte to attend school. (Yes, quite the drive.)  A huge bonus of this was that it allowed me access to a lot of good ol' southern diners. Small town North Carolina is rich with them; big city Charlotte – not so much. While Mike lived in Rowan County, he introduced me to my favorite diner breakfast of them all – College Barbeque – which we occasionally drive to from Charlotte (now that we both live here) on a Saturday or Sunday morning.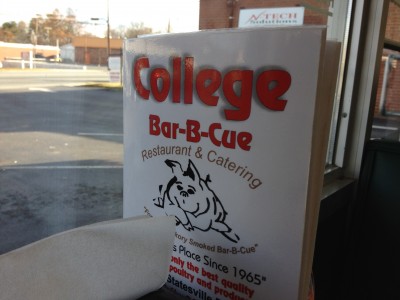 College Barbeque is an established, small (as most of them are) barbeque joint off of Stateseville Avenue near the heart of Salisbury, NC. I'm going to go ahead and emphasize that I am speaking entirely to breakfast at this diner as I have never been there for lunch or dinner (which is a little embarrassing but now that you understand my love affair with breakfast, perhaps you'll pardon that).  While I cannot speak with any authority on lunch and dinner, if you are considering barbeque in the Rowan area, I would still suggest it. The barbeque is cooked in an on-site pit that smells up the entire block. We had one of these at a barbeque restaurant in my hometown, and pit cooked barbeque really is the best. But let's talk breakfast.
What can you get?  Southern diner breakfast: egg plates, all manner of pork breakfast meats, grits, pancakes, hash browns, home fries, toast, and sandwiches.  They'll even do a side of sliced tomatoes.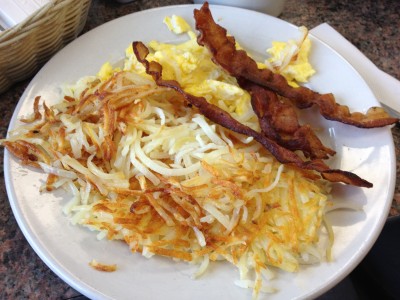 Whatever you do, get a plate with hash browns. I don't know how these guys are cooking them. Mike and I have tried to replicate with butter, canola oil, combinations of butter and various oils.  None of our attempts come close.  They are crisp on the outside and melting on the inside.  Sprinkled with a little salt, I down a double portion.  Eggs are real and cooked to order, so you're not getting scrambled eggs that have been cooked in bulk and sitting in a heating tray for half an hour.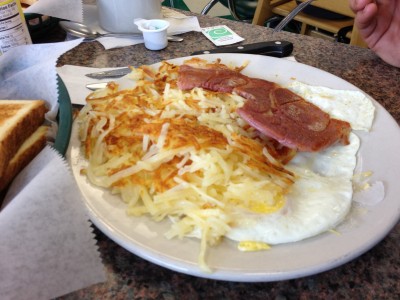 Obviously at a barbeque restaurant, there is going to be a lot of pork, and while I have often wished that College Barbeque had my favorite breakfast meat, Corned Beef Hash, I can't really blame them for not having it. They're a barbeque joint; they specialize in pork. The bacon is thick and cooked perfectly, and they do have some of the best country ham in the area. There have been times that it has been better than others, but I highly recommend it.  Even on a not-as-good day, it's as good as you would get in any other restaurant.  And if you happen on one of those perfect days, your taste buds and stomach will rejoice.  Oh and don't forget – they have apple butter!
Service is fast and friendly.  Depending on what time of morning you go, you might have a short wait, but because they are fast and efficient, no wait is long. And the fact that the place is full should tell you something about what's in store for your stomach.
Mike's Asinine Alliterative Assumption regarding College Barbecue: "proudly presenting properly prepared pork."
So this Sunday morning, as I write to encourage you to try to College Barbeque, I am dreaming of the best hash browns, that heavy, white, steaming, coffee cup, and an intense hickory smell as the pork shoulders for lunch reach perfection and sighing – soon.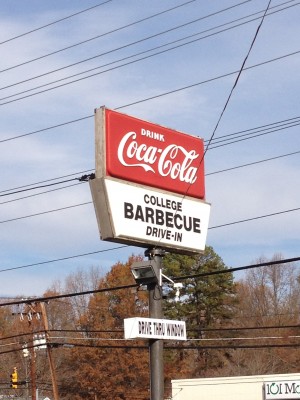 College Barbeque Info:
117 Statesville Blvd. Salisbury, North Carolina 28144
(704) 633-9953
| | |
| --- | --- |
| Mon: | 7:00 am – 2:00 pm |
| Tue – Fri: | 7:00 am – 8:00 pm |
| Sat: | 7:00 am – 3:00 pm |
| Sun: | 7:00 am – 8:00 pm |